How lockdown prevented lakhs of corona cases, asks Anand Sharma
Senior Congress leader Anand Sharma on Wednesday questioned the Union government's claim that the nationwide lockdown prevented up to 29 lakh coronavirus cases and lack of data on assistance to and deaths of migrant labourers.
"The Health Minister said that this decision (lockdown) prevented 14-29 lakh COVID-19 cases and 37,000-78,000 deaths. This House must be told what is the scientific basis on which we have reached this conclusion," the Rajya Sabha member said. He called it a "very wide gap".
On Monday, Union Health Minister Harsh Vardhan had told the Lok Sabha: "The nationwide lockdown, a bold decision by the government, is testimony to the fact that India collectively stood up to manage Covid-19. It has been estimated that this decision prevented 14-29 lakh cases and 37,000 to 78,000 deaths."
Sharma, a former Union Minister, also questioned why the government had no data on assistance provided to migrant workers and the number of deaths while they were returning to their native place after the imposition of the lockdown.
He also highlighted that had facilities like quarantine centres been in place in cities for migrant workers, their reverse migration could have been restricted and the pandemic prevented from spreading in rural areas.
Minister of State for Labour and Employment Santosh Kumar Gangwar had told the Lok Sabha that statewise data was "not available on the assistance provided to migrant workers."
Asked by several MPs if "thousands of migrant labourers have died during the lockdown", Gangwar replied that "no such data is available".
Sharma also urged the Centre to speak to the states on ways to improve the public health system, dubbing it a "wake-up call".
Sonia slams Congress leaders for speaking to media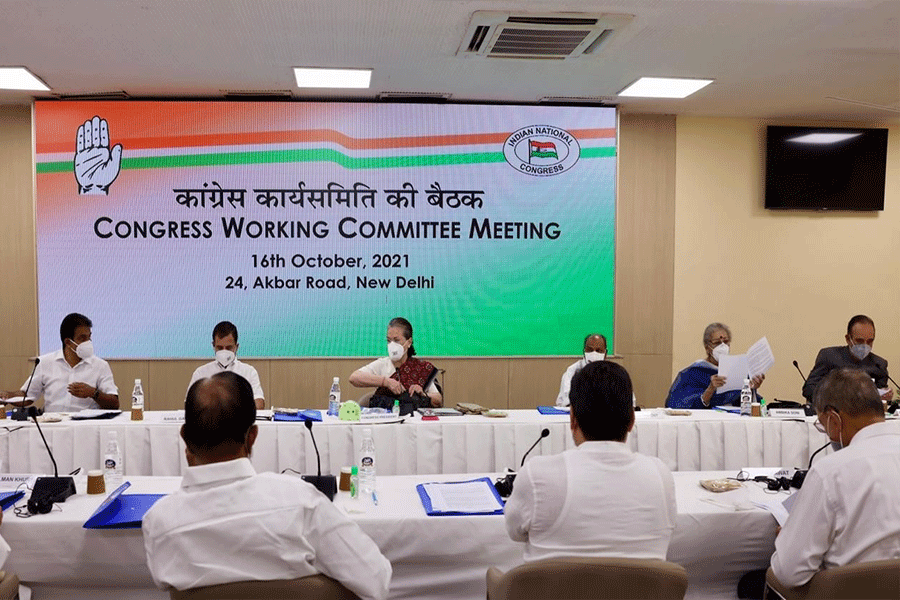 Addressing the Congress Working Committee (CWC) meeting, interim President Sonia Gandhi on Saturday slammed party leaders for speaking to the media.
In her opening remarks, she said: "I have always appreciated frankness. There is no need to speak to me through the media. So let us all have a free and honest discussion. But what should get communicated outside the four walls of this room is the collective decision of the CWC."
Sonia Gandhi's statement comes after after senior party leader Kapil Sibal had recently said that "there is no president in our party, so we do not know who is taking all the decisions. We know it, yet we don't know, one of my senior colleagues perhaps has written or is about to write to the interim president to immediately convene a CWC meeting so that a dialogue can be initiated".
In her remarks on Saturday, she also said the party is ready for the internal elections.
"The entire organisation wants a revival of the Congress. But this requires unity and keeping the party's interests paramount. Above all, it requires self-control and discipline. I am acutely conscious of the fact that I have been interim Congress President ever since the CWC asked me to return in this capacity in 2019. We had thereafter, you may recall, finalised a roadmap for electing a regular President by June 30, 2021."
But due to the second wave of Covid-19 pandemic in the country, this deadline was extended indefinitely by the CWC in its meeting held on May 10, she added.
"Today is the occasion for bringing clarity once and for all. A schedule for the full-fledged organisational elections is before you."
She also praised young leaders for taking over leadership role
"In the last two years, a large number of our colleagues, particularly the younger ones have taken on leadership roles in taking party policies and programmes to the people, whether it be the agitation of farmers, provision of relief during the pandemic, highlighting issues of concern to youth and women, atrocities on Dalits, Adivasis and minorities, price rise, and the destruction of the public sector. Never have we let issues of public importance and concern go unaddressed."
Regarding the farmers protests, the Congress interim President said: "The shocking incidents at Lakhimpur Kheri betrays the mindset of the BJP, how it perceives the Kisan Andolan, how it has been dealing with this determined struggle by Kisans to protect their lives and livelihoods.
She said that the economy continues to be a cause of great concern in spite of the government propaganda and the only answer the Centre seems to have for the country's economic recovery is selling off national assets built with great effort over the decades.
"The public sector has had not just strategic and economic objectives, it has had social goals as well, as, for instance, empowerment of scheduled castes and scheduled tribes and development of backward areas. But all this is in jeopardy with the Modi government's single-point agenda of 'Becho, Becho, Becho'."
She said that prices of essential commodities, including food and fuel continue to rise unabated.
"Could anyone in the country ever imagine that petrol prices would be over 100 Rs rupees a litre, diesel would be nearing the Rs 100 a litre mark, a gas cylinder would cost Rs 900 and cooking oil would be Rs 200 a litre. This is making life unbearable for people across the country."
Sonia Gandhi also condemned the killings in Jammu and Kashmir and said minorities clearly have been targeted.
"This must be condemned in the strongest possible terms. We have done so and I do so again this morning. Jammu and Kashmir has been a Union Territory for two years. The entire responsibility for bringing the perpetrators of these barbaric crimes to justice is that of the Union government. Restoring social peace and harmony and confidence amongst the people in Jammu and Kashmir rests with the Modi government too.
"There has always been a broad consensus on foreign and neighbourhood policy in our country. But that consensus has been damaged because of the Prime Minister continued reluctance to take the Opposition into confidence in any meaningful manner. Foreign policy has become a diabolical instrument of electoral mobilisation and polarisation. We face serious challenges on our borders and on other fronts. The Prime Minister telling the opposition leaders last year that there had not been any occupation of our territory by China and his silence ever since is costing our nation dearly," she added.
The Congress faces many challenges but, "if we are united, if we are disciplined and if we focus on the party's interests alone, I am confident that we will do well".
Bombay HC endorses Goa govt's decision to bar Goans from entering casinos
Bombay High Court.
Barring local residents from entering casinos by the Goa government is "well-founded" and not violative of Article 14 of the Indian Constitution, the Bombay High Court bench in Goa has said.
The Court was hearing a petition filed by a local lawyer, who had argued that the Goa government decision in February last year to ban domiciled Goans from entering casinos was discriminatory and violative of Constitutional provisions.
"Gambling is totally prohibited, but by way of some exceptions a certain class of places and people are exempted from such prohibition. The object of the State is naturally to prevent the person domiciled in Goa to be lured into such chance games and to suffer poverty and mental trauma for their families.
"The classification is founded with the object of preventing the spread of gambling and transforming the exception into a rule," a High Court bench comprising Justices M.S. Sonak and M.S. Jawalkar said in the order on Thursday.
"Such classification grouping person domiciled in Goa and on the other hand tourist having a tourist permit is well-founded. The classification between tourists who come to Goa for a few days to entertain themselves and locals domiciled in Goa is based on an intelligible differentia (reasonable basis for differentiation). Section 2(7) defines tourists quite clearly and excludes persons domiciled or permanently residing in Goa," Court also said.
The Court also said that unlike tourists, locals would have "much greater opportunities" to visit casinos and said that "there is nothing arbitrary or discriminatory in the object or the classification".
"The petitioner does not challenge the entry of tourists in casinos but insists on permitting him to enter (casinos). Since the petitioner and the tourists belong to separate classes, no case of breach of Article 14 is made out," the Court also said.
In his petition, advocate Shukr Usgaonkar had said that the Goa government's decision to bar domiciled Goans from entering casinos was violative of his personal rights, because it barred him from visiting casinos.
"The impugned provisions contravene Article 14 of the Constitution of India by prohibiting access to persons, who are permanent residents of Goa.
"The distinction being made between tourists and non-tourists miserably fails the test of reasonable classification which must be fulfilled by any classification to withstand the rigors of Article 14. What is good for tourists cannot be bad for the Goans or non-tourists," Ugaonkar had said.
Goa has five offshore casinos and around 10 onshore casinos operational in the coastal state.
Gehlot to meet Sonia after 8 months, a day ahead of CWC
Ashok Gehlot.
Rajasthan Chief Minister Ashok Gehlot is slated to meet Sonia Gandhi on Friday, eight months after he last met the interim Congress President. The meeting comes a day ahead of the Congress working Committee (CWC) meeting to be held on Saturday.
Gehlot, as per programme, will depart to Delhi on Friday afternoon to attend the Congress Working Committee (CWC) meeting scheduled on October 16. This will be his second visit to Delhi this year after his trip to the national capital on February 27.
During his visit, the long-pending issues of cabinet reshuffle, political appointments and organisational expansion may be discussed with the party high command. Sources said that these pending issues are likely to receive green signal when Gehlot meets Sonia Gandhi on Friday.
Former Rajasthan Deputy CM Sachin Pilot's camp has been demanding a cabinet reshuffle for a long time now. Apart from this camp, even MLAs from the BSP have been raising the demand for cabinet berths and political appointments.
Maken has set deadlines for a possible cabinet expansion many times, but has been unable to meet them. Now after Gehlot's proposed visit to Delhi, the winds of change have again gathered momentum in this desert state.
However amid the differences, Rajasthan Chief Minister Ashok Gehlot and former state Congress chief Sachin Pilot were seen seated together in a helicopter last week as both were headed to Vallabh Nagar and Dhariyawad constituencies where nominations were to be filed by candidates, namely, Preeti Shaktawat and Nagraaj Meena.
Gehlot shared a picture on his Twitter handle in which party General Secretary Ajay Maken, state Congress president Govind Singh Dotasara and former deputy CM Sachin Pilot along with him were seen smiling in a helicopter.