Hotels prepare to re-open, 50% may shut permanently
With hotels and restaurants preparing to reopen for business after nearly four months, the prospects of around 50 per cent of them shutting permanently also loom large, top players warn.
The Centre has indicated July 8 as the target date for the hospitality industry to throw open its doors to guests and patrons, but there is no clear signal yet from the Maharashtra government.
"The situation is bad and getting desperate daily. Till June 30, the hospitality industry piled up around Rs 1.25 lakh crore losses. Many hotels and hospitality chains have expressed inability to continue operating partially or fully," Gurbaxish Kohli, Vice-President of the Federation of Hotel & Restaurant Associations of India, told IANS.
"The proposed reopening is welcome but delayed. Initially, around 35 per cent of the industry will shut and by the year-end, this could go up to 50 per cent," an equally worried Indian Hotel & Restaurant Association President Shivanand D. Shetty told IANS.
Both rue that despite the hospitality sector contributing 10 per cent to the national gross domestic product (GDP) and accounting for 12.50 per cent of jobs, "the industry has been completely ignored" by the government.
A delegation of the hospitality industry met Chief Minister Uddhav Thackeray on Sunday but returned without a final commitment on the reopening date, though the government has prepared a set of mandatory SOPs.
"We understand one-third occupancy and restarting restaurants for guests within the premises may be permitted. The fate of standalone restaurants will be decided separately. But more delays will impact our very survival," Shetty said.
Kohli said there were 53,000 hotels in the regulated sector, and a similar number in the unorganised sector, which impacted revenues of the recognised industry.
Besides, there were around 5,00,000 eateries, encompassing all outlets — from roadside dhabas to the restaurants and big chains, which would be hit by the 50 per cent closure, Shetty said.
The situation was alarming even in Maharashtra where over 1,00,000 big and small restaurants would shut, entailing a major disaster in the form of over 5,00,000 job losses, said Hotels & Restaurants Association of Western India (HRAWI) spokesperson Suhas Awchat.
"Restaurants opened across India on June 8, but not in Maharashtra, where we pay among the highest statutory fees and levies in advance, which kept increasing even during lockdown," Awchat said. The HRAWI launched a campaign a#KhadyagruhaWachva (#SaveRestaurants) last week.
Remote holiday resorts had their own problems, said Pankaj Barve, owner of a 10-cottage Vulcan Wildlife Resort in the heart of the Pench Tiger Reserve of MP. "Besides taking care of staff during the lockdown, we have to ensure their well being till October, when the tiger sanctuary will reopen for tourists," Barve told IANS.
"Until the vaccine comes, the situation will remain uncertain. It will be difficult for most operators to adhere to the stringent conditions demanded by the government, but we are ready to start," said Payyade Hotels Director P.V. Shetty, a former Joint Secretary of the Mumbai Cricket Association.
With barely 20-25 per cent availability, there was shortage of skilled staff for restaurants, and at one-third guests/patrons norms, it could be difficult even to recover operating costs, he said.
Sudhakar Shetty, a restaurateur with a chain of restaurants, like Hotel Riviera and Hotel Surbhi in Thane and Mumbai, said those operating from leased premises would be the worst-hit.
"They will first have to pay the accumulated rents of the past four months, and it may take at least another four months to stabilise business. They may not find it feasible to continue operating," Shetty said.
The industry leaders apprehend that even after reopening with limits, there are big questions: "Where are the guests or patrons who are still scared, and our workers have left and will take long to return comfortably".
Besides, there has been no decision on the demand for moratorium and other relaxations sought by the industry. Union Tourism Minister Prahlad Singh Patel has not "met the industry even once" and there's no clarity on the government's plans for the hospitality sector, which will make its survival "difficult and unviable".
Kohli said over 22 million Indians travelled abroad each year, which had stopped due to the long lockdown. But if Indian states relaxed their respective rules, at least half of them could be attracted to the domestic sector, instead of visiting neighbouring countries, like Sri Lanka, Nepal, Thailand, the UAE, he said.
SpiceJet plane lands in Mumbai with cracked outer windshield
A SpiceJet flight landed safely in Mumbai with its outer windshield of the cockpit cracked, an airline spokesperson said on Monday.
The incident took place on SpiceJet flight SG-3324 operating from Kandla (Gujarat) to Mumbai by a turboprop Q400 aircraft.
At around 23,000 feet height, the outer pane of the windshield on the co-pilot's side cracked but the cabin pressurisation was observed to be normal.
The flight landed safely at Chhatrapati Shivaji Maharaj International Airport later, said the spokesperson, but the cause of the accident – the second on Monday for the low-cost carrier – is not clear yet.
Nepal's economy not like Sri Lanka's, but can go that way: Former central bank Guv
Dipendra Bahadur Chhetri, the former Governor of Nepal Rastra Bank (NRB), has said that the situation of Nepal's economy is not like that of Sri Lanka.
However, if the political rights are given to the wrong persons like in Sri Lanka, there is a possibility of Nepal becoming the next Sri Lanka, he said, Republica reported.
Speaking at an interaction programme on the current economic situation in Nepal held in Kathmandu, Chhetri said the present situation in Sri Lanka is due to arbitrary tax rates imposed by the same family as the president, prime minister and finance minister.
He also mentioned that Nepal should not be associated with Sri Lanka as it has just held local elections and is now preparing to hold federal and provincial elections, Republica reported.
Similarly, the former central bank Governor said that Nepal's foreign exchange reserves, SDRs and gold in foreign currency accounted for seven months of imports to meet the growing imports and consumption of petroleum products.
Likewise, he doubted that the forthcoming monetary policy to be introduced by the NRB would be as extensive as in the past. He said that the loans given by the banks to expand the capacity of the industry were used for import.
Turkey increases minimum wage amid soaring inflation, currency volatility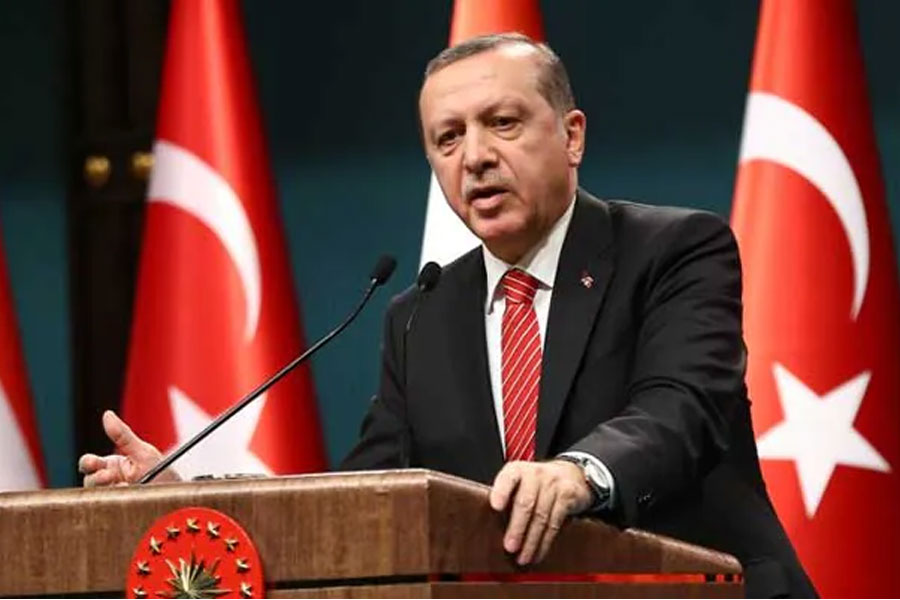 Turkish President Recep Tayyip Erdogan announced that the country's minimum wage would be hiked up in the face of soaring inflation and volatile currency rates.
"The minimum wage will be 5,500 Turkish liras ($328) with an interim increase of 30 percent, effective immediately starting on July 1," Erdogan said.
At the beginning of this year, the government increased the monthly minimum wage by 50 per cent to alleviate the financial burden on workers, reports Xinhua news agency.
Turkey has long been struggling against ever-increasing inflation.
In June, the total losses of the Turkish lira against the US dollar amounted to almost 100 per cent in one year.
Erdogan has long been focusing on a low-interest policy to increase exports and production for a stabilised lira, asking for patience from his voters.