High retail investments in stock market may help finance India's infra needs
Rising retail participation in the stock market can enable to create a larger resource pool for financing India's infrastructure requirements, according to an SBI Ecowrap report.
It further said that in case retail investments in the stock market increases to 1 per cent of GDP and further even if half of this can be tapped and channelised into infrastructure spending, then it can cover around 24 per cent of the IBER (other than railways) of the government in FY22.
"Other option for financing infrastructure that is also being explored is the InvIT (Infrastructure Investment Trusts). Government owned Financial Institutions like PFC, REC etc. are setting up InvITs and providing equity capital for new projects. These are all positive developments in the long term financing story of India," said the report authored by Soumya Kanti Ghosh, Group Chief Economic Adviser, State Bank of India.
The report noted that with the onset of pandemic and subsequent lockdown, household financial savings had initially showed a significant jump in Q1 FY21, and then a sharp moderation in Q2 FY21. However, the data shows that currency in circulation again increased in Q3 and Q4 FY21.
Furthermore, the markets have progressively improved with Sensex increasing from 28,265 at the beginning of April 2020 to above 52,000 now, it said. This has led to increased investment in stocks and mutual funds in H2 FY21 and this higher retail participation in stock markets may become more of a self-fulfilling prophecy.
The number of individual investors in the market has increased by a whopping 142 lakh in FY21, with 122.5 lakh new accounts at CDSL and 19.7 lakh in NSDL. Furthermore, another 44.7 lakh retails investor accounts have been added during the two months of this fiscal.
Also, the share of individual investors in total turnover on stock exchange has risen to 45 per cent from 39 per cent in March 2020, as shown, by NSE data.
Within retail, maximum allocation has been to financials, followed by consumer staples, energy and IT. Globally, there has been significant increase in the market capitalization in stock markets across the world in the last one year.
However, in India it has been higher than other major countries. The market capitalization of Sensex has increased by 1.8 times its value one year ago. However, sector-wise 1-year return in Indian stock markets indicates that IT and Materials have performed better and IT.
"This clearly indicates the movement in Indian stock markets is increasingly being clearly interlinked with a supposed infrastructure power play in coming days."
There is also a renewed interest in healthcare stocks and of course financial stocks with stories of Indian financial ecosystem being effectively acting as a conduit of large liquidity finding investment avenues.
Lower rate in other saving avenues amidst the low interest rate regime has led to greater interest by individuals in the stock market.
Another reason could be the significant increase in global liquidity, it noted. Additionally, the pandemic which has resulted in people spending more time in their homes might also be another reason for individuals' tilt towards the stock market trading.
The Ecowrap report, however, said it is yet to be seen if this increasing retail participation is transitory or the beginning of long-term behavioural change. Additionally, the rise in stock market without significant development in real economy may raise issue of financial stability which as per our financial stability index shows modest improvement in April 2021, but lower than the peak witnessed in December 2020.
However, it is expected to have declined in May 2021.
Cyclicals to drive Q3FY22 earnings growth: MOFSLA
Corporate earnings growth for the third quarter of FY22 is expected to be led by cyclical stocks, Motilal Oswal Financial Services (MOSFL) said in a report.
Earnings growth is anticipated to be driven by metals, oil and gas and BFSI (Banking, Financial Services and Insurance) sectors.
In its report, MOSFL said that economic recovery backed by festive demand, higher commodity prices and improvement in asset quality in financials are expected to back this trend.
"There remains a clear divergence in 3QFY22 earnings growth. Global cyclicals, such as oil and gas and metals, continue to drive aggregate earnings growth, while BFSI profits are led by improvements in asset quality and credit growth," the report said.
"Technology is likely to continue its momentum, propelled by strong revenue growth," it added.
The auto and cement sectors are anticipated to drag earnings down, led by poor demand and higher commodity prices.
"Consumer, healthcare, capital goods, consumer durables and specialty chemicals are predicted to report single-digit YoY profit growth. Input cost pressures continue to weigh on gross margins for cement, specialty chemicals, autos, consumer staples and durables sectors," the report said.
The report pointed out that Asian Paints, Bharti Airtel, BPCL, IOC, Tata Steel, JSW Steel, Titan, Hindalco and ONGC have seen an upgrade in their FY22 earnings.
"Companies that have seen downgrades to their FY22E earnings are Tata Motors, Maruti Suzuki, Ultratech Cement, Hero Motors, Shree Cement, Coal India, Axis Bank and HUL," it said.
HDFC Bank's Q3FY22 YoY net profit up 18.1%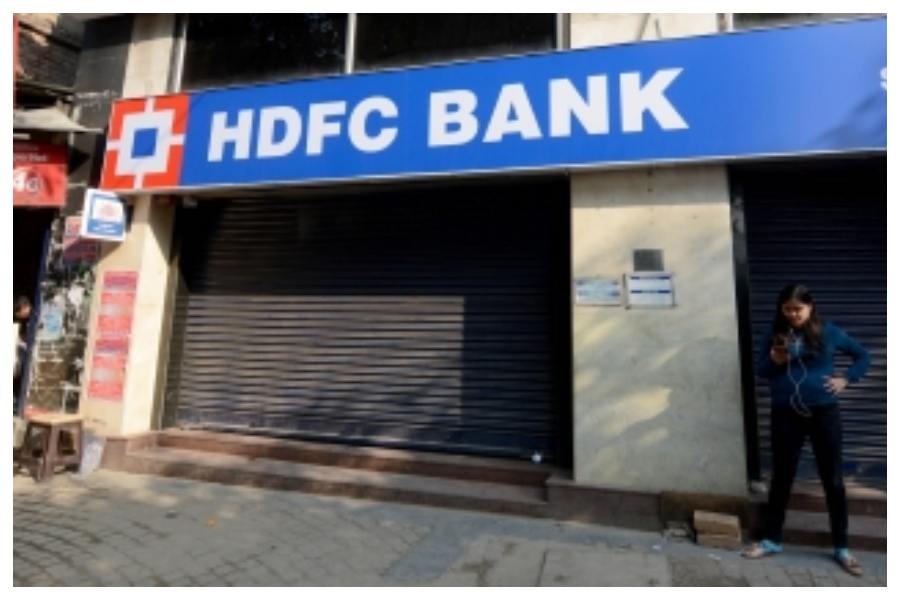 Lending major HDFC Bank on Saturday reported a year-on-year rise in net profit of 18.1 per cent for the third quarter of FY22.

The bank's net profit increased to Rs 10,342.2 crore during the period under review over the quarter ended December 31, 2020.

Besides, the bank's net interest income (income earned less interest expended) for the quarter under review grew by 13 per cent to Rs 18,443.5 crore from Rs 16,317.6 crore for the quarter ended December 31, 2020.

The lender's net revenues (net interest income plus other income) increased by 12.1 per cent to Rs 26,627 crore from Rs 23,760.8 crore for the quarter ended December 31, 2020.

"Advances grew at 16.5 per cent, reaching new heights driven by relationship management, digital offering and breadth of products. Core net interest margin was at 4.1 per cent. New liability relationships added during the quarter remained at an all-time high," HDFC Bank said in a statement.

"This continued focus on deposits helped in the maintenance of a healthy liquidity coverage ratio at 123 per cent, well above the regulatory requirement, which positions the bank favourably to capitalise on growth opportunities," it added.

As per Q3FY22 results, provisions and contingencies for the quarter rose Rs 2,994 crore (consisting of specific loan loss provisions of Rs 1,820.6 crore and general and other provisions of Rs 1,173.4 crore) as against total provisions of Rs 3,414.1 crore for the quarter ended December 31, 2020.

"Total provisions for the current quarter included contingent provisions of approximately Rs 900 crore," it said.

"The total credit cost ratio was at 0.94 per cent, as compared to 1.30 per cent for the quarter ending September 30, 2021 and 1.25 per cent for the quarter ending December 31, 2020," it added.


Lenders expected to exhibit strong Q3FY22 results
Listed lenders in India's equity markets are expected to report 'optically' strong earnings growth for Q3FY22, said HDFC Securities in a report.

Accordingly, the brokerage house expects its coverage universe of 23 lenders to report 51 per cent YoY growth during the period under review.

This trend, the report said will come largely on the back of expected normalisation of provisions.

"The pace of collections and recoveries continues to improve, which, concurrent with normalised economic activity, is likely to moderate the stressed pool," the report said.

"Disbursements are likely to witness healthy growth, driven by seasonal pick-up in retail loans as large corporate Capex remains elusive."

As per the report, the revival in business momentum is likely to drive a 10.4 per cent YoY loan growth for the brokerage house's coverage universe, with large private banks and large NBFCs (BAF) continuing to clock market share gains.

"The third wave of the pandemic is unlikely to impact Q3 earnings except in underlying sectors like travel and tourism that are already under stress."

"However, we expect most lenders to maintain a surplus provisioning buffer for potential asset quality issues. We tweak our FY22E-FY24E forecasts for select lenders to factor in lower credit growth and marginally higher credit costs."

Besides, HDFC Securities continue to prefer large banks with strong balance sheets and formidable deposit franchises.

Furthermore, it cited that business momentum continues to gather pace.

"In a quarter relatively unaffected by the pandemic and near-normal resumption of economic activity, we expect to see strong sequential growth in disbursements, particularly in retail and SME segments, riding on seasonal and pent- up demand."

"Provisional filings suggest that banks within our coverage universe continue to gain market share as reflected in loan growth at 12 per cent YoY compared to system-wide YoY credit growth at 7 per cent."

At present, the brokerage house has 23 lenders in its coverage universe including ICICI Bank, SBI, Bajaj Finance, SBI Cards, and Axis Bank.