Gundecha Brothers accused of sexual harassment: BBC
Dhrupad maestros, Gundecha brothers have been accused of sexual harassment and assault by female students of their school, Dhrupad Sansthan in Madhya Pradesh, as per a BBC investigation.
BBC said Monica's name has been changed to protect her identity because she fears reprisal. But she is keen to share her story. She alleges that she was raped by the late Ramakant Gundecha, a famous classical Indian musician, while she was a student at his school, Dhrupad Sansthan, in the central Indian state of Madhya Pradesh.
Gundecha died in November 2019 but he and his brothers, Umakant and Akhilesh, have since been accused of sexual harassment and assault by female students of the music school.
Over the course of a three-month investigation, the BBC has heard multiple allegations against all three Gundecha brothers. Umakant and Akhilesh deny the allegations, the report said.
Ramakant was and Umakant still is a famous exponent of Dhrupad, one of the oldest genres of Hindustani music, while Akhilesh is a percussionist. In 2012, Ramakant and Umakant received the Padma Shri, India's fourth-highest civilian award for their contribution to music.
The report said Dhrupad Sansthan, the prestigious school they founded and taught at, has attracted hundreds of students, foreign and Indian, from across the globe. It claims to have accreditation from Unesco's Intangible Cultural Heritage Committee. But the Unesco told the BBC that it had no links to the school and said it will be sending a 'cease and desist' notice demanding the withdrawal of such claims.
BBC said the allegations against the brothers have sent shockwaves through the classical music world, where they enjoy fame and status. The allegations have also shone a spotlight on an ancient tradition, the guru-shishya parampara – an informal contract by which the student is usually expected to completely surrender to the will of the teacher.
Allegations against the three brothers range from sharing flirtatious and sexually suggestive messages to exposing themselves during class to molestation and, in the case of Ramakant, even rape, the report said.
As per the report, Monica said she was in her first week at the school when she began receiving inappropriate WhatsApp messages from Ramakant. She alleged that one evening he drove her to a dark car park and molested her in the backseat of his car.
"He started kissing me. I pushed him away but he kept trying," she said. "He touched my body and tried to unclothe me. At that time, I realised I was not moving. I was like a stone. At one point he realised that I was not responding. So he asked me, should I drop you back at the school? But I couldn't even reply."
The report mentioned that Monica said she wanted to erase the memory of the incident. She didn't leave the school immediately because she loved the music and was keen to pursue it further. She had left her job and invested all her money to study at the school.
But then three months later, she alleged, Ramakant raped her. "[He] entered the room, pulled my pants off and forcefully had sex with me. And when he had finished he just left. I went to the door and bolted it. And for three days, I didn't eat," she said.
The report said Sarah, another student at the school, whose name has also been changed, told the BBC that she was molested by Akhilesh Gundecha.
"I got sick when I was there and was hospitalised," she said. "Akhilesh came to take me back to the school. He sat next to me in the car and started touching my hands. I pulled them away. It felt very strange."
In total, five women told the BBC they had witnessed abuse and harassment on the Dhrupad Sansthan campus. Some said that when they rebuffed sexual advances from Ramakant Gundecha, he lost interest in teaching them. They also alleged that if a student complained, she was often publicly humiliated in class.
BBC said Rachel, who didn't want to remain anonymous, said she had found the strength to speak up now, several years later, only after similar allegations came to light in a Facebook post shared by a group called 'Dhrupad Family Europe' in September 2020.
As per the report, through their lawyers, both Akhilesh and Umakant Gundecha denied all of these allegations, stating that "vested interests" from outside the student community were trying to "further their agenda of causing damage to the art and reputation of the Gundecha Brothers and Dhrupad Sansthan".
But the charges are also being investigated by an internal complaints committee over the last four months.
BBC said students say the committee at Dhrupad Sansthan was formed only after they put pressure on the school. Former students, who are part of a support group for the survivors, have also alleged that they have received threats on multiple occasions for speaking out in support. Survivors are bound by law not to disclose the results of the investigation.
Delhi Police has conducted raids on journalists and their associates associated with News Click.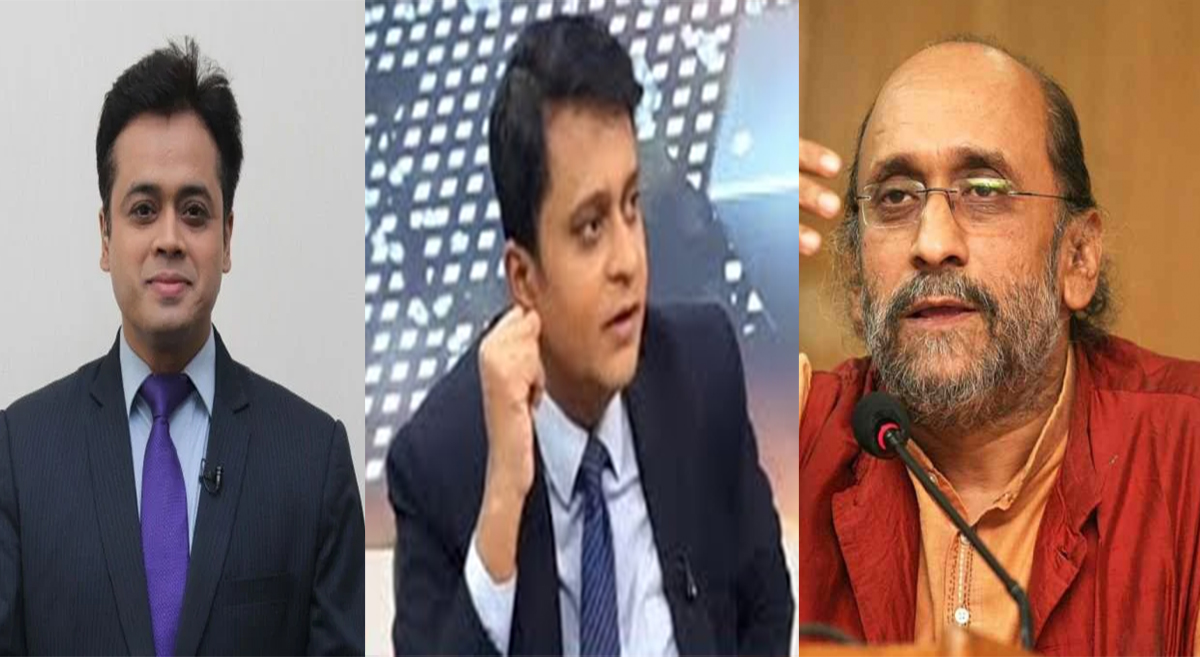 Delhi Police raided the houses of senior journalists Abhisar Sharma, Sanjay Rajoura, Anindya Chakraborty and Paranjay Guha Thakurta this morning. His mobile and laptop were confiscated for investigation.
Delhi Police raids the houses of journalists Abhisar Sharma and Bhasha Singh, mobile-laptop seized
Action taken as soon as the day broke amid allegations of Chinese funding
Delhi Police raided the house of journalists Abhisar Sharma and Bhasha Singh associated with news portal News Click on the morning of October 3. This action has been taken in connection with the allegations of the news portal getting funding from China. Journalist Abhisar Sharma himself informed about the action. Has tweeted.
Abhisar Sharma tweeted, "Delhi Police reached my house in the morning and confiscated my laptop and mobile.
Journalist Bhasha Singh
Police has also raided the house of. Bhasha also gave information by tweeting. He wrote, "This is my last tweet. Delhi Police has confiscated my mobile."
What was the whole matter?
A report in The New York Times alleged links between Neville Roy Singham, who financed the news website NewsClick, and the Chinese Communist Party. The report claimed that Neville Roy Singham's network promoted disinformation and was pro-China. Influenced the mainstream narrative by promoting messages.
Union Minister Anurag Thakur had given information in a press conference regarding the raid on @newsclickin. He said that Singham financed NewsClick and he is being funded by China. The Enforcement Directorate (ED) had started investigating New Delhi-based NewsClick in the year 2021 regarding foreign funding. According to the Indian Express report, the ED had raided the offices of Newsclick and the residences of its directors in connection with "allegedly received foreign funds totaling Rs 30.51 crore".
Major action by Delhi Police in the case registered under UAPA Act
Search operation at some employees/journalists associated with an organization named News Click….
This search operation is going on in Delhi-NCR… This search operation is going on in the case registered under the UAPA Act by the Special Cell of Delhi Police…
According to Delhi Police source, search operation is going on at about 30 to 40 places…
Customs Arrest Kenyan Woman With Gold Worth Rs.1.6 Cr From Mumbai Airport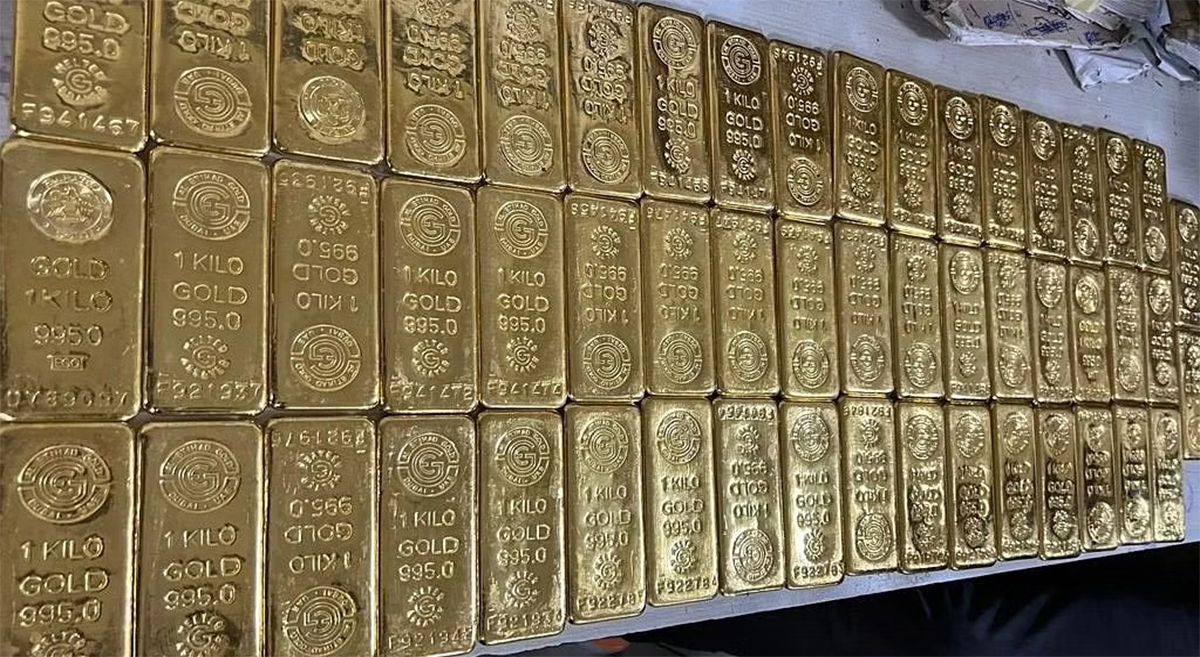 The Air Intelligence Unit (AIU) of Customs has arrested a Kenyan woman from Chhatrapati Shivaji Maharaj International (CSMI) Airport and seized gold worth ₹1.63 crore from her. She had come from Nairobi on a passport issued by the United Kingdom and Northern Ireland.
Acting on a tip-off, the AIU intercepted Sahra Mohammed Omar, 40, at CSMI airport on Saturday. The officials recovered gold weighing 3,404 gm hidden in her inner wear and from her body. According to the officer, it appears that Omar has been involved in smuggling activities. The investigating agency said that the probe is still at initial stage hence the nexus is yet to be revealed. Omar has been sent to judicial custody for 14 days.
Ghaziabad: Hindu Group Manhandles Traffic Cop After He Fined A Vehicle With 'Jai Mata Di' Sticker On It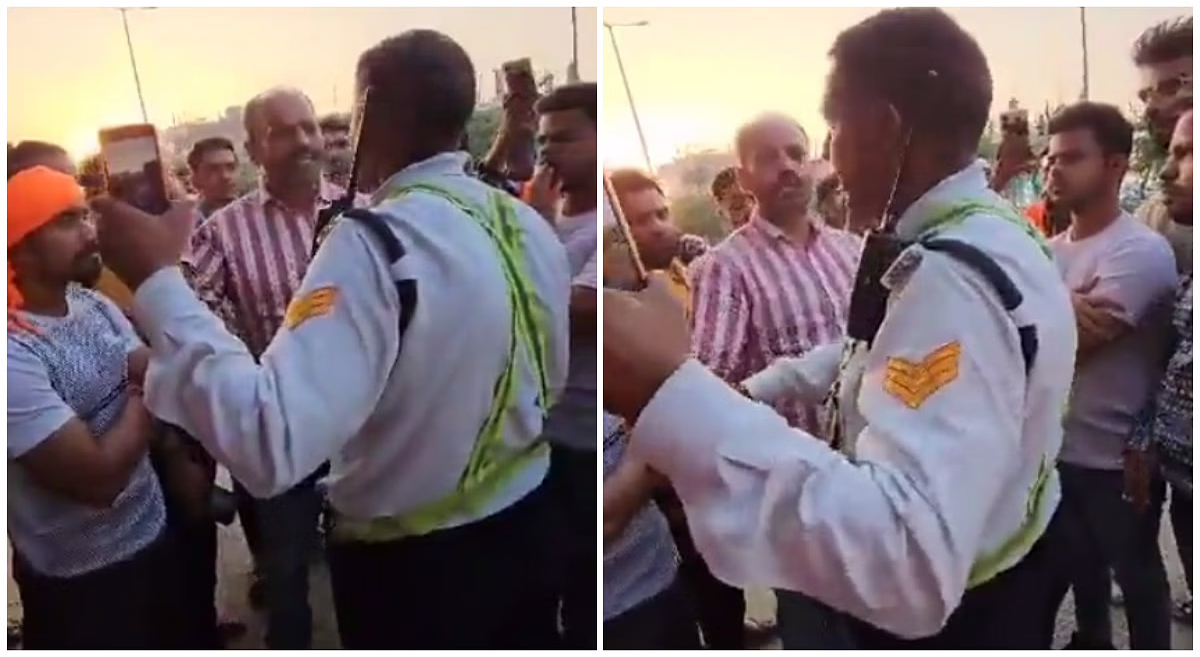 Ghaziabad: A shocking video has been doing rounds on social media in which the president of a Hindu organisation can be seen misbehaving with a traffic police constable in Ghaziabad. The incident of an altercation between Hindu Raksha Dal National President Pinky Chaudhary and Ghaziabad Traffic Police constable was caught on social media. The argument took place after a car was fined by the constable.
There was a fierce argument
There was a fierce argument between the national president of Hindu Raksha Dal who was accompanied by few of his followers or members. They are also seen in the video surrounding the traffic cop and arguig with the police personnel over the issue. After few minutes of argument with the cop, Pinky Chaudhary stepped in and shouted at the traffic police constable.
The traffic police constable allegedly fined the national president for writing 'Jai Mata Di' on his car
The traffic police constable allegedly fined a car at Rajnagar Extension for writing 'Jai Mata Di' on the car. The video of the altercation is going viral on social media. Pinky Chaudhary is seen yelling at the police constable in the video. After shouting at the constable, Pinky Chaudhary also tried to take the mobile phone of the constable, in which he was recording the act of Pinky Chaudhary.
Pinky Chaudhary also asked the traffic police constable to call 'Yogi'
Pinky Chaudhary also asked the traffic police constable to phone his seniors and also asked him to call 'Yogi' if he has the guts. Pinky Chaudhary was trying to show the constable that he is not afraid to talk to Uttar Pradesh Chief Minister Yogi Adityanath and asked the constable to call the CM if has the gut. The traffic police constable stood patiently and was recording the act of Pinky Chaudhary and his followers who were along with him.