Gujarat Assembly passes 'Love Jihad' Bill
The Gujarat Assembly on Thursday passed a Bill to amend the 'Dharma Swatantrya' (Freedom of Religion) Act, 2003 which aims to combat forceful religious conversions, better known as 'Love Jihad', on the concluding day of the Budget session.
However, the opposition Congress questioned its intentions and dubbed the bill as a tool to attain political mileage and create religious divide.
Tabled by the ruling BJP, the amendment seeks to prohibit and punish religious conversion promising better lifestyle, divine blessings and impersonation on the pretext of marriage.
The Bill was tabled in the state Assembly by Legislative Affairs Minister Pradeepsinh Jadeja.
The Gujarat Freedom of Religion Act, 2003 sought to deal with religious conversion through allurement, force or by misrepresentation or by any other fraudulent means. However, the state government felt that there were episodes of religious conversion promising better lifestyle, divine blessings and impersonation.
"The state government feels that there is an emerging trend where women are lured to marriage for the purpose of religious conversion," cited the BJP government as the reason to bring in this amendment.
While speaking on the Bill, Pradeepsinh Jadeja quoted facts and figures and data related to many states like Kerala, Madhya Pradesh, Odisha, Uttarakhand and Uttar Pradesh, but the minister did not disclose any figures regarding incidents of such kind of marriages and forceful religious conversions in Gujarat.
"By bringing in this new amendment Bill, the state government is admitting that the 2003 'Dharma Swatantrya' (Freedom of Religion) Act has proven meaningless and even after 17 years of framing that law, you (BJP) have to bring this Bill. There is not a single mention of 'Love Jihad' in this Bill," said Leader of Opposition Paresh Dhanani.
"IPC Sections 406, 417 and 419 are already in effect which address these issues intended to be covered by this new Bill. Despite such clauses, the Gujarat government could not curb such crimes in the state, which is an indirect admission by the Home Minister," added Dhanani.
"Don't politicise this issue of religion. We once again say that hang those who are fraudulently marrying. Attempts should be made to bring together all religions and not create a divide," said Gyasuddin Sheikh, the Congress MLA from Dariyapur.
"We have not said that the victims belong to any specific religion anywhere in the Bill. It is our responsibility to safeguard the interests of the daughters of the state, but the opposition Congress has made this issue as an issue of life and death. I guarantee that anybody in the state will endorse this Bill," said Deputy CM Nitin Patel.
According to the provisions of the Bill, whoever is found to be carrying out such religious conversion by marriage, or getting a person married or by aiding a person to get married shall be punished with imprisonment of not less than three years and up to five years and will also be liable to pay a fine of Rs 2 lakh.
If the marriage is in respect of a minor, a woman or a person from SC or ST community, the punishment shall be of imprisonment of a minimum of four years to a maximum of seven years and fine of Rs 3 lakh.
Further, any such marriage carried out for the purpose of unlawful conversion by the person of one religion with the person of another religion, either by converting himself or herself before or after marriage, shall be declared void by the family court or any other similar court.
The provisions of the proposed amendment further states that if any institution or organisation is found to be in charge of or responsible for such marriage, it shall be punished with imprisonment of minimum three years and up to 10 years and a fine of up to Rs 5 lakh.
Moreover, the provisions say that the burden to prove that a religious conversion was not affected through misrepresentation, force, undue influence, coercion, allurement or any other fraudulent means shall lie on the accused and his or her facilitators.
The offence of such religious conversion through marriage shall be considered cognisable and non-bailable and shall be investigated by an official above the rank of a Deputy Superintendent of Police (DSP).
CAG frowns at BMC in Special Audit of expenses during MVA rule
The Accountant General (Audit-I) Maharashtra has rebuked the country's biggest and richest civic body, BrihanMumbai Municipal Corporation (BMC), for certain lapses and irregularities in a Special Audit of 76 identified works worth Rs 12,000 crore.
The audit, covering nine key BMC departments, was performed for works carried out between November 28, 2019 – the day when Maha Vikas Aghadi (MVA) came to power in the state and Uddhav Thackeray took oath as the Chief Minister – and October 31, 2022.
Ordered on October 31, 2022 by the new government headed by Chief Minister Eknath Shinde, the audit also included the expenditure on 13 Jumbo Covid Centres, 24 ward offices, five major hospitals, six specialised hospitals, 17 peripheral hospitals, one dental hospital and others.
However, the BMC had sent a legal notice to the CAG on November 17, 2022, not to go ahead with any audit of acts, works or decisions taken for Covid management or expenditure of Rs 3,538.73 crore, referring to the Epidemic Act, 1897 and Disaster Management Act, 2005.
The state government, in November 2022, rubbished the BMC's contentions, and despite many reminders, the Mumbai civic body did not produce records related to Covid-19 management.
Accordingly, the Special Audit has omitted the Covid-19 management part on grounds that without the relevant records, no confirmation can be made in audit on the propriety, efficiency, economy and effectiveness of Covid 19 related expenditure by BMC.
"Needless to mention that non-cooperation of BMC in producing the Covid-19 management records for the purpose of Special Audit, apart from impinging on the Constitutional Aresponsibilities devolved on the Comptroller and Auditor General of India, also deprived BMC of crucial audit inputs. As per the powers and functions entrusted under Constitution and DPC Act and in keeping with legal replies filed as mentioned above, further appropriate steps, are reserved," said the Audit Report.
Established in 1873, the BMC administers an area of 480 sq km through three divisions, seven zones and 24 Wards, that makes up the country's commercial capital.
Developed INDIA with efforts of every single individuals by:PM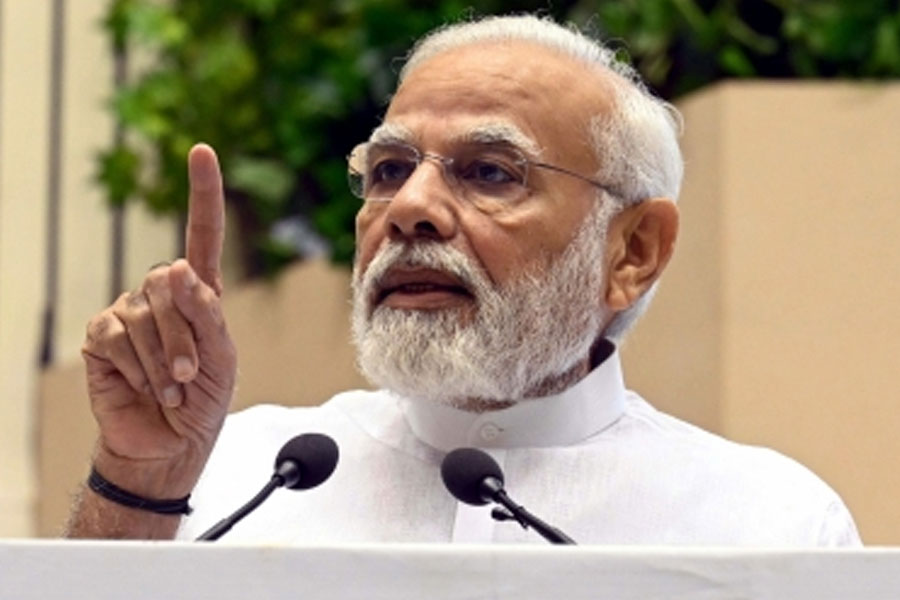 India will emerge as a "developed" nation by 2047 with efforts of every single individual, Prime Minister Narendra Modi said here on Saturday.
He was addressing a gathering after inaugurating Madhusudan Sai Medical Sciences and Research Institute of Satya Sai Ashram at Muddenahalli here.
"People ask how will India progress to become a developed nation within a short period by 2047, which marks the 100th year of independence? The answer with conviction and commitment would be "sab ka prayason se" (with the efforts of all).
The dream will turn into a reality with the hard work of every single individual of the country. The government is encouraging collective efforts. The role of social and religious institutions in this regard is also important, PM Modi stated.
There were less than 380 medical colleges in the country and after BJP took over, the number has increased to 650. Among them, 40 are located in the aspirational districts. The number of medical seats have been increased in the country considerably, PM Modi said.
Number of doctors who passed out in 75 years, will now graduate in 10 years. There are 70 medical colleges in Karnataka and a double engine government has established one in Chikkaballapur, he noted.
The previous governments were engaged in enacting games over languages. No step was taken to ensure medical and engineering education in Kannada language. No interest was shown. "Now, provision has been made to pursue medical education in all Indian languages, including Kannada," PM Modi explained.
The opposition has treated the poor as their vote bank. But, BJP made it the highest objective to uplift the poor. The BJP is providing them with medicines at a cheaper price through Pradhan Mantri Janaushad outlets. The poor did not dare to go to hospitals and the government has made arrangements to get free treatment up to Rs 5 lakh, PM Modi stated.
Anti-hijack drill conducted at Jammu Airport
An anti-hijack drill was jointly conducted by different agencies at Jammu airport to validate the processes by inter agencies during such crisis, a defence spokesperson said in a statement on Saturday.
"A Full Fledged Anti Hijack Drill was conducted by NSG at Jammu airport on March 24 with activation of Anti Hijack committee at Air Force Station Jammu," the statement said.
"This exercise involved all key stakeholders from Indian Air Force, AAI, state government, JKP, CISF, IOC and other key players."
The drill involved entire spectrum of events including negotiations with hijackers followed by intervention and overpowering of hijackers by a potent team of NSG.
"The exercise gave a unique opportunity to validate processes by inter agencies during such crisis. An Air India aircraft which landed at Jammu in the afternoon was utilised for the realistic drill. The exercise was successfully conducted bringing valuable lessons and training for all stakeholders," the statement added.