Google eyes public sector growth with 2nd India Cloud region
As digital transformation picks up speed amid the pandemic in India, Google on Thursday launched its second Cloud region in the country — in Delhi-NCR and close to the government quarters — to further serve businesses of all sizes especially the public sector.
The tech giant said that it has made the new Cloud region compliant with the Ministry of Electronics and Information Technology (MeitY) in the country and has started the process to get it certified as well, like its first Cloud region in Mumbai that was launched in 2017.
Alphabet and Google CEO Sundar Pichai said that Internet creates and empower more businesses through technology and Google Cloud embarked on a new 5G partnership with Reliance Jio last month which aims to help people access a better, faster Internet.
"We are proud to launch our Delhi-NCR Cloud region. This is our second Cloud region in India. It will help businesses of all sizes solve complex challenges while using reliable and secure cloud technology even closer to home," Pichai said in his keynote during a virtual launch event.
"That includes companies such as HDFC Bank which is using Google Cloud for scale and operational resilience, and ShareChat (vernacular social media platform) which is harnessing Google Cloud to better serve their customers across 15 different Indian languages," Pichai informed.
Google Cloud in February achieved a full Cloud Service Provider (CSP) empanelment after completing an audit from the MeitY.
The empanelment has enabled the Indian public sector to deploy their workloads on Google Cloud, including government agencies at the Central and state level, and PSUs across sectors like power, transportation, oil & gas and public finance, etc.
According to Thomas Kurian, CEO of Google Cloud, India is one of the most dynamic and entrepreneurial countries in the Asia-Pacific region.
"We have seen a sharp increase in online banking and digital payment adoption, rising to historic highs across the country. Google Cloud is firmly committed to supporting India's business and economic recovery, a central piece of this is providing cloud infrastructure and technologies to support the digitisation of organisations of all sizes, and at scale," Kurian emphasised.
The Delhi-NCR region is the second Google Cloud region in India and 10th in Asia Pacific.
With this new region, Google Cloud customers operating in India will benefit from low latency and high performance of their cloud-based workloads and data.
The current customer list of Google Cloud has an interesting mix of businesses of all sizes, like Dr Reddy's, Wipro, Reliance Jio, LIC, Dailyhunt, HCL, Glance, Vistara, ICICI Prudential, ShareChat, Hero and others.
Designed for high availability, the region opens with three availability zones to protect against service disruptions, and offers a portfolio of key products, Google said.
"We've been fortunate to partner with and serve people, companies, and government institutions around the world. The Google Cloud region in Delhi NCR will help our customers adapt to new requirements, new opportunities and new ways of working", said Bikram Singh Bedi, Managing Director, Google Cloud India.
The Delhi-NCR region has joined the existing 25 Google Cloud regions connected via Google's high-performance network, helping customers better serve their users throughout the globe.
"The Google Cloud region in Delhi NCR will enable us to enhance our resiliency and help us in building an active-active design framework for our new generation applications on cloud," said Ramesh Lakshminarayanan, CIO, HDFC Bank.
According to Mohit Saxena, Co-founder and Group CTO of Inmobi, with the arrival of the Google Cloud Delhi NCR region, InMobi Group sees the opportunity to continue closing the gap between our users and products.
"Glance, especially, has been serving AI-powered personalised content to over 120 million active users. We can't wait to continue giving our users truly meaningful experiences that are speedy, scale well, and are relevant to them," he added.
Pichai said that he looks forward to seeing how the country's businesses and institutions will use the power of cloud to build the future of India and beyond.
"We see so much opportunity ahead. As the world reimagines how we live and work," he noted.
Indian stainless steel sector drowning in Chinese imports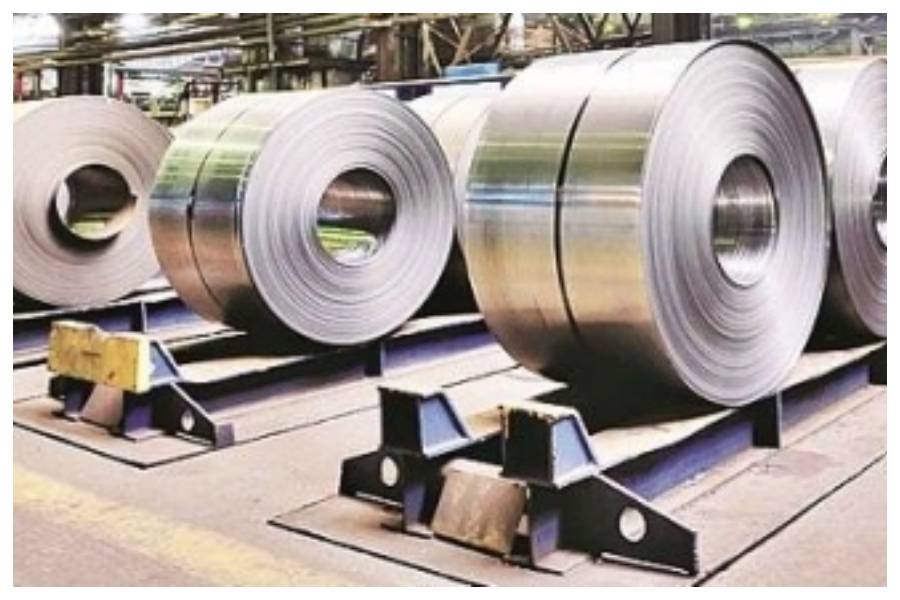 The first half of 2021-22 has seen a 185 per cent increase in stainless steel imports compared to the average monthly imports in the last fiscal, creating havoc for the Indian players.

The import tide of stainless steel from China and Indonesia is fast turning into a deluge destroying many companies on its way, and threatening the very existence of the small, medium and micro industries in India. After all, the first half of 2021-22 witnessed a staggering 185% increase in import volumes of stainless steel flat products compared to the average monthly imports in the last fiscal, fuelled mostly by surge in Chinese and Indonesian imports.

The two countries China and Indonesia, which increased their exports by 300 per cent and 339 per cent, respectively, in the first half of this fiscal compared to the average monthly imports of the last fiscal, now have a share of 79 per cent of the total stainless steel flat product imports in the first half of FY22. It is a significant jump compared to the 44 per cent share in FY21. The average per month imports has jumped from 34,105 tonnes per month in FY21 to 63,154 tonnes per month this current fiscal–FY 22.

Indonesia's imports share, which was virtually non-existent in 2016-17, has climbed to 23 per cent in the first half of this fiscal, with its average monthly exports increasing from 4,355 tonnes/month in the last fiscal to 14,766 tonnes/month in the first half of this fiscal. China's average monthly exports too has jumped from 10,697 tonnes/month in the last fiscal to 35,269 tonnes/month in the first half of this fiscal.

The surge in imports was the result of the Finance Ministry's decision of September 30, 2021 to revoke the imposition of CVD on China (September 2017) and end provisional duties on Indonesia (October 2020), which was based on the recommendations of the Director-General of Trade Remedies (DGTR), after a detailed investigation. The investigation had revealed that the two countries were resorting to non-WTO compliant subsidies to boost their exports to India and causing injury to Indian manufacturers.

In fact, the DGTR and their global counterparts had conclusively proved in its final finding that both these countries provide non-WTO compliant subsidies to the tune of 20 per cent to 30 per cent to their stainless steel manufacturers. And, these subsidies have created an imbalance in the Indian and international markets, reduced the competitiveness of Indian products in the domestic industry, causing material injury and persistent financial stress for home-grown businesses. It has forced the domestic industry to seek redressal from the surge in imports.

In fact, in India a disaggregated study of imported products in the first half of the current fiscal also reveals how excessive dumping has taken place in a particular J3 grade of stainless steel in the country. Imports of J3, a subsidised and dumped 200 series grade of stainless steel, with about 1 per cent nickel and 13 per cent chromium from China, has jumped from an average of 1,779 tonnes/month in 2019 to an average of 4,425 tonnes/month in 20-21 (249 per cent increase) and to average 25,346 tonnes to in just six months of 2021-22 (1,424 per cent) increase compared to the same period last year.

The share of this grade in total imports from China increased 23 per cent in 2019-20 to 72 per cent in 2021-22. Much of this import is even below the scrap prices and it hurts the MSME sector, the hardest. Such dumping also means major losses in terms of national exchequer through tax evasion and revenue losses.

This onslaught of Chinese exports to India has decimated the micro, small and medium enterprises (MSME), which had to bear the brunt of the impact. In fact, the imposition of provisional CVD on Indonesia in October 2020 and CVD on China in place from September 2017, had provided a "level-playing field" to these players, which got a much-needed relief from the dumped subsidised imports. The MSME, an industry having the capacity to produce about 1.2 lakh tonnes of hot and cold-rolled flat products, was able to operate at 90 per cent plus capacity utilization between October 2020 to February 2021.

However, the MSME sector suddenly finds itself grasping for breath to survive after the announcements of the 2021-22 Budget. Small-scale stainless- steel rollers and re-rollers, who make ingots from recyclable scrap as the first step in stainless- steel product manufacturing, and then produce hot and cold rolled materials for the all-India market, find themselves swamped by a massive and subsidised surge of imports from China and Indonesia.

Today, more than 80 induction furnaces and 500 patti/patta units, which provides primary raw materials for various downstream industries, are in dire straits. These downstream industries manufacture a variety of stainless steel household goods such as kitchenware, tableware, cooking range, sanitary items, cutlery pots, etc.

Prakash Jain, President, All India Stainless Steel Cold Roller Association, says: "The smaller Indian stainless steel players finds it virtually impossible to compete with the state-subsidised Chinese players, who get an 18 per cent incentive to export, under invoice their products by changing the label of the products to avoid paying duties and sell it at Rs 15 to Rs 17 per tonne cheaper in the Indian market."

According to Jain, Gujarat has 70 rolling mills, each employing around 300 people and 50 induction furnaces, which makes ingots, the raw material for rolling mills and employs 500 each.

Not only will many of these jobs be lost resulting in massive unemployment but force many manufacturers to turn traders unless the CVD is imposed on imports from China and Indonesia.


Diesel, petrol prices steady in metros on Tuesday
Prices of diesel and petrol remained unchanged across major Indian cities on Tuesday.
Accordingly, diesel and petrol prices in Delhi stood at Rs 86.67 per litre and Rs 95.41 per litre, respectively.
In the financial capital Mumbai, they were priced at Rs 94.14 and Rs 109.98, respectively.
Prices also remained static in Kolkata at Rs 89.79 and Rs 104.67, respectively.
In Chennai too, it remained untouched at Rs 91.43 and Rs 101.40, respectively.
Across the country as well, the price of the fuel largely remained unchanged on Tuesday but retail rates varied depending on the level of local taxes.
Notably, fuel prices remained largely steady since Diwali (November 4) when the Centre and some states reduced duties on them.
Sensex, Nifty up during early trade on Tuesday
The 30-scrip Sensitive Index (Sensex) rose reasonably higher during the early trade on Tuesday.
At 9.45 a.m. the S&P BSE Sensex traded at 57,310 points, up 1 per cent.
It opened at 57,125 points from the previous close of 56,747 points.
Till now, it had touched a low of 56,992 points.
Besides, the broader 50-scrip Nifty at National Stock Exchange (NSE) opened at 17,044 points after closing at 16,912 on Monday.
It traded at 17,078 points, up 1 per cent during the early-morning trade session.
Hindalco, Interglobe Aviation, JSW Steel and Bandhan Bank were some of the top gainers during the early trade, exchange data showed.
On the flip side, pharma stocks such as Cipla, Dr. Reddy's Labs, Alkem Laboratories, Divi's Labs were some of the losers.