Fresh woes for Arjun Rampal as NCB nabs his Aussie architect friend
Bollywood actor Arjun Rampal's troubles mounted as the Narcotics Control Bureau (NCB) arrested his Australian friend Paul Bartel in a drug-related case investigation, official sources said here on Friday.
Bartel was reportedly in regular contact with Agisialos Demetriades, an alleged drug peddler, arrested by NCB in Oct., and the brother of Gabriella Demetriades, Rampal's live-in partner.
An architect living in Bandra, Bartel was questioned by NCB on Thursday and early Friday placed under arrest in the same case in which Bollywood actress Rhea Chakraborty and at least 20 others have been arrested in the past three months of NCB probe.
Since this afternoon, Rampal is being grilled by the NCB, his girlfriend Gabriella was questioned for more than 12 hours spread over Wednesday-Thursday, while Bartel was quizzed on Thursday.
Agisialos has been booked in another drug case after the probe revealed his connections with a Nigerian cocaine supplier, Omega Goodwin.
Both Bartel and Agisialos are known to Rampal as well as other filmdom personalities as the NCB tightens it grip on the Bollywood-drugs mafia cartels.
The NCB's Bollywood drugs angle probe was launched after the death of Bollywood actor Sushant Singh Rajput at his Bandra home exactly five months ago – on June 14 – in which several prominent personalities have been either questioned or arrested, and many others are on the agency's radar.
Debutante Sharvari: 'Bunty Aur Babli 2' is my big-screen debut, have given it my all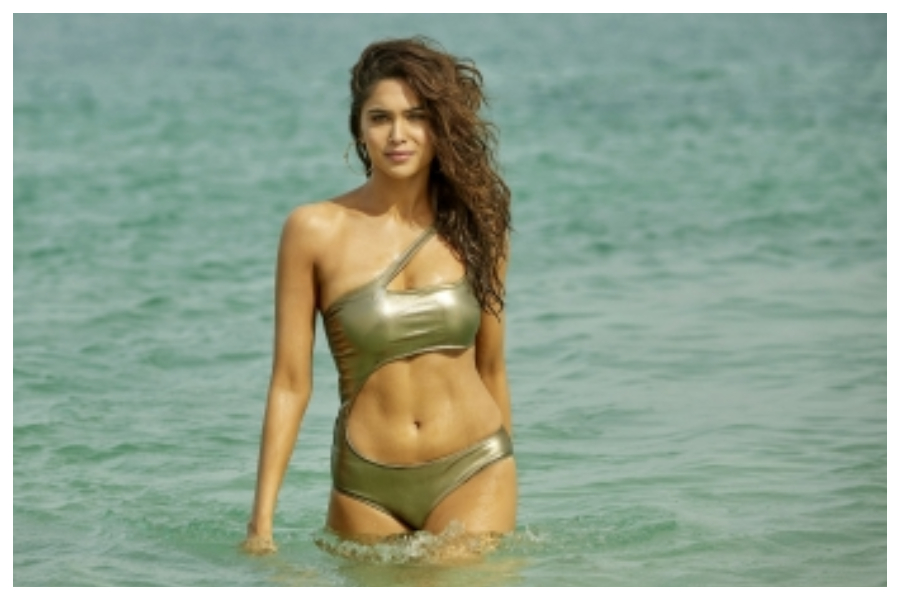 Debutante Sharvari will be seen as the new 'Babli' in the comedy 'Bunty Aur Babli 2'. She says it is her big screen debut and has given it her all.
Sharvari said, "I was honoured that YRF could see me as the new Babli in the film. 'Babli' is an iconic character in the history of Indian cinema, thanks to Rani ma'am's incredible work in the first film. I'm a big fan of her and hope that I have done justice to the role."
The new actress is being presented in an uber-glam avatar in the film in which she has been paired opposite Siddhant Chaturvedi who plays the new 'Bunty'.
Sharvari will imbibe all the characteristic traits of Babli — highly intelligent, sassy, always up for a great challenge, and most importantly a supremely talented con-woman. The new Babli is tech-savvy, she is a product of the digital boom and thus, supremely skilled and equipped to pull off intricate cons.
"Since my character is based in today's times, I have tried to play it in my own way and I only hope that Rani ma'am and the audiences will love my effort. This is my big-screen debut and I have given it my all. I can't wait to see all the responses that my performance will evoke. I'm keeping my fingers crossed," she added.
'Bunty Aur Babli 2' is an out-and-out family entertainer that is set to release on November 19. The film has been directed by Varun V. Sharma.
Bombay HC to hear Aryan Khan's bail plea on Oct 26
The Bombay High Court on Thursday posted to October 26 the hearing of the bail application of Aryan Khan, arrested in a drugs case by the Narcotics Control Bureau.
The matter came up before Justice N.W. Sambre with Khan's lawyer Satish Maneshinde seeking urgent hearing on Friday or Monday.
However, Justice Sambre decided to take up the matter on Tuesday next, and Aryan Khan may have to spend five more days in custody.
Khan, the son of Bollywood superstar Shah Rukh Khan, has challenged a ruling of the Special NDPS Court on Wednesday, rejecting his bail plea, along with co-accused Arbaaz Merchant and Munmun Dhamecha.
Nawazuddin says good people are needed for making good content
Actor Nawazuddin Siddiqui, who has been nominated in the Best Actor category at the International Emmy Awards for the Netflix film 'Serious Men', says for that making good content, good people are also needed.

Talking about what's more important according to him – content of a project or who all are starring in it, Nawazuddin in a conversation with IANS said: "I think both are important."

"A lot of content is being made but it will not come out and shine till the time the directors, actors and their performance isn't there."

He says if the actor or the maker are not good then there is no meaning to the content.

"No matter how good the content is, if the actor or the director is not good then there is no meaning to the content. For making a good thing, good people are needed," he concluded.

'Serious Men' is based on Manu Joseph's book of the same name. The film, directed by Sudhir Mishra, is a sharp take on ambition and caste politics, put in perspective in the Indian context.