Filmmaker Shoojit Sircar: Big B is never intimidating
Filmmaker Shoojit Sircar says Amitabh Bachchan is one of the most fascinating actors to work with.
The two have worked together on films such as "Piku", "Shoebite" and, most recently "Gulabo Sitabo", which also stars Ayushmann Khurrana.
"Since I have worked with both of them earlier, somewhere down the line, there is trust, bonding, and comfort between us, and that has grown slowly and matured. Of course, it is a creative process, and we keep challenging each other all the time."
"We challenge Mr Bachchan, and he challenges us. That is very important for that good, healthy working relationship. The vision of the film needed the chemistry between these two people to be crackling. It took a little time. If you work with Mr Bachchan for the first time, it does take a little time to get past that aura and in the beginning, that hesitation was there with Ayushmann and then it became fine. Mr Bachchan also made him very comfortable. In fact, he's (Big B) never intimidating, he's very easy. He may look like he isn't easy, but on set he's absolutely a director's actor, and also one of the most fascinating co-actors to work with," the filmmaker added.
"Gulabo Sitabo" released this year. Talking about the film, the director said: "It's a satire on very simple people who are struggling with their lives every day. There are these two characters — Banke (played by Ayushmann) and Mirza (played by Bachchan) — and also many other characters. In this film, I have explored a world which is an absolutely new and challenging world for me. I've not ventured into these characters and this space before. I wanted to present Lucknow with a new visual feel, which the audiences have appreciated."
"Gulabo Sitabo" will air on Sony MAX.
Sushmita Sen wins International Association of Working Women Award for 'Aarya 2'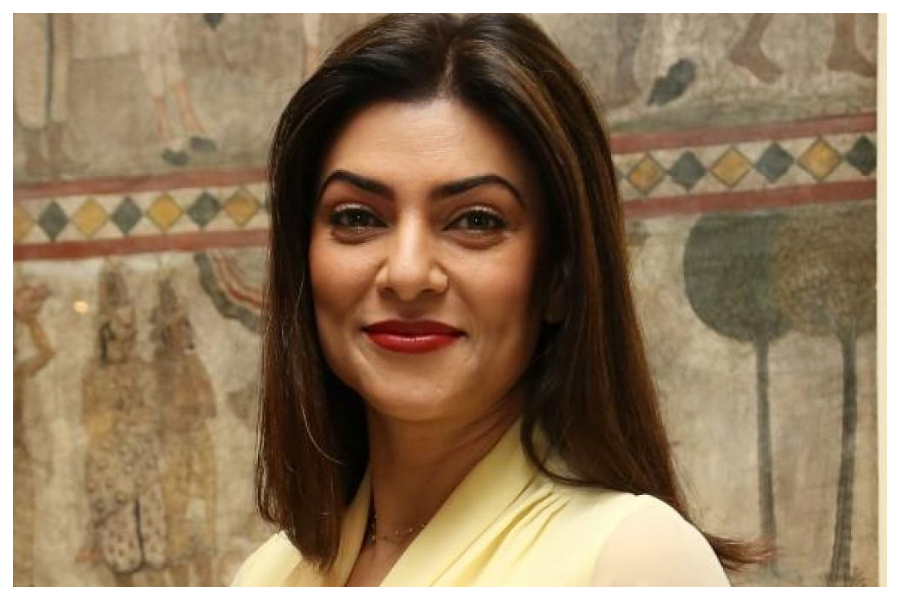 Bollywood actress and former Miss Universe Sushmita Sen is elated on being conferred the International Association of Working Women Award for an outstanding performance by a female actor in a TV series for her show 'Aarya 2'.
The award is presented by the DC South Asian Film Festival (DCSAFF), which is currently underway virtually starting from January 16 to January 30.
The actress credits the team of 'Aarya' for working tirelessly for the show that is now gaining global recognition. Sharing her excitement, the actress said in a statement, "I am overwhelmed with all the love and appreciation being showered on 'Aarya 2'. The entire team has worked strenuously to put together a work of art that would be loved by everyone."
"It's euphoric to win the International Association of Working Women Award for an outstanding performance by a female actor in a television series. I would like to thank the organisers of the DC South Asian Film Festival for bestowing this honour on me and the entire team. This is surreal!" the statement further said.
Talking about DCSAFF, the film fest which started in 2012 featuring Shyam Benegal's classic film 'Mammo' as the opening title, is currently in its 10th edition and will feature films from India, Pakistan, Nepal, Canada, and the US and many regional languages.
The 2022 edition of the film fest opened with a book discussion with writer, director, and actor Ananth Mahadevan about his new book 'Once Upon A Prime Time' and the Nepali feature film 'Mahanagar/One Night in Kathmandu', directed by Mohan Rai. Filmmaker Vishal Chaliha's Assamese film 'Sijou' will be the closing film of DCSAFF 2022 on January 30.
Hrithik shares glimpse of his 68-year-old mother's intense workout
Bollywood star Hrithik Roshan has shared a glimpse of his 68-year-old mother Pinkie Roshan's intense workout. The actor says it gives him hope that everyone can continue to get better no matter what the age.
Hrithik on Thursday posted a slew of video clips, where his mother is seen doing high intensity workout.
He wrote as the caption: "To see her giving her all to fitness and wellness at the age of 68 gives me hope that we all can continue to get better no matter what the age. A big, big hug to all of you out there for supporting and sharing this relentless, joyful passion with my mom."
The actor said that he knows his mother has bad days "we all do, and time and again I have seen how hard it is for her to get into the gym and get started."
"But she does it because of the sense of community she has started feeling with all of you supporting her on insta. So this really is a thank you post for all of you helping my mom get stronger. I wish and pray that everyone out there who is pushing themselves to get better has that support from friends and family. I wish you all a beautiful day."
Hrithik shared that his mother started working out at the age of 58.
"Just thought I should add that fact for other parents who feel it's too late for them. It's NEVER too late. Do it for your kids. They will love you for it," he wrote.
On the work front, Hrithik will next be seen in 'Vikram Vedha'.
The film stars Hrithik and Saif Ali Khan in lead roles, with Radhika Apte in a crucial role. Pushkar and Gayatri, the original writers and directors, are donning the director's hats for the Hindi remake as well.
A cult film in its own right 'Vikram Vedha' is a neo-noir action crime thriller film. Based on the Indian meta-folktale 'Vikram aur Betaal', the film tells the story of a tough police officer who sets out to track down and kill an equally tough gangster.
This original Tamil blockbuster starred R. Madhavan and Vijay Sethupathi.
He also has 'Fighter' with Deepika Padukone.
Meera Jasmine opens Instagram account, posts still from comeback movie 'Makal'
Actress Meera Jasmine, who breathed life into memorable characters on-screen, has finally announced her presence on social media.
The actress on Wednesday opened an Instagram account and posted a working still from director Sathiyan Anthikad's Malayalam film 'Makal', which will mark her return to the silver screen.
Meera plays Juliet, the lead role along with Jayaram in the film, the shooting of which was recently wrapped up.
The National Award-winning actress, who has delivered several memorable performances in both Tamil and Malayalam films, had stayed away from the limelight for over a decade.
In her first post, Meera Jasmine said, "Let's always nourish beginnings. For sometimes, it is not all about being somewhere, but about the seeds of that change. Delighted to be taking this step that will bring us all closer to each other, one memory at a time. Sending heaps of love and light to all."
Within a day of joining Instagram, her follower base swelled to 95,000.
Many celebrities, both from the industry and outside, welcomed Meera to the platform and extended their love and warm wishes.