ED again raids Anil Deshmukh, MVA slams BJP, Centre
For the second time in 60 days, the Enforcement Directorate (ED) teams raided four locations, including the Nagpur and Mumbai residences of former Home Minister Anil Deshmukh in connection with an alleged corruption case filed against him, officials said here on Friday.
The raids were carried out in at least four locations as part of the probe into a money-laundering case under the Prevention of Money Laundering Act, lodged in May against Deshmukh, a senior Nationalist Congress Party (NCP) leader, even as the ruling Maha Vikas Aghadi slammed the Centre and Bharatiya Janata Party.
Earlier on April 24, around 10 locations of Deshmukh in multiple cities were raided by the ED on April 24 and he was detained for several hours after he was booked.
Prior to that, on April 6, the Central Bureau of Investigation (CBI) had registered a preliminary enquiry following a Bombay High Court order asking the agency to probe the allegations of corruptions and misuse of office levelled by former Mumbai Police Commissioner Param Bir Singh.
Soon after the dawn raids started, the ruling MVA allies Shiv Sena-NCP-Congress slammed the Centre and the BJP for "misusing central probe agencies" to harass opposition parties.
Sena MP and Chief Spokesperson Sanjay Raut besides NCP State President and Minister Jayant Patil accused the Centre of constantly misusing various probe agencies to target opposition parties' and their leaders on flimsy charges.
In a sharp attack, Congress Spokesperson Sachin Sawant sought to know "what the ED is trying to search while raiding the residence of Anil Deshmukh" since both Param Bir Singh and sacked cop Sachin Vaze "never said money was given".
"If the ED feels that money was given, why no raids on Vaze and Singh who supposedly gave the money? Sad state of Democracy We must save Democracy," said Sawant.
He rued that all national investigation agencies have surrendered their independence before the (Narendra) Modi government and are being used as political weapons against the Opposition.
Sawant called upon the three ruling allies to "unitedly oppose this ploy to defame the MVA by torturing its leaders".
NCP MP Supriya Sule said that while the entire state government is working round-the-clock to tackle the challenges of the upcoming Covid-19 'third wave', the Centre is letting loose central agencies to pursue 'vendetta politics' against the Opposition.
In Nagpur, a large group of NCP activists lodged strong protests and raised slogans against the BJP and Centre for "blatantly misusing" central probe agencies like ED, CBI, NIA, etc. to hound opposition leaders.
2 held, 6 cops suspended after clash with 'job aspirants' in Prayagraj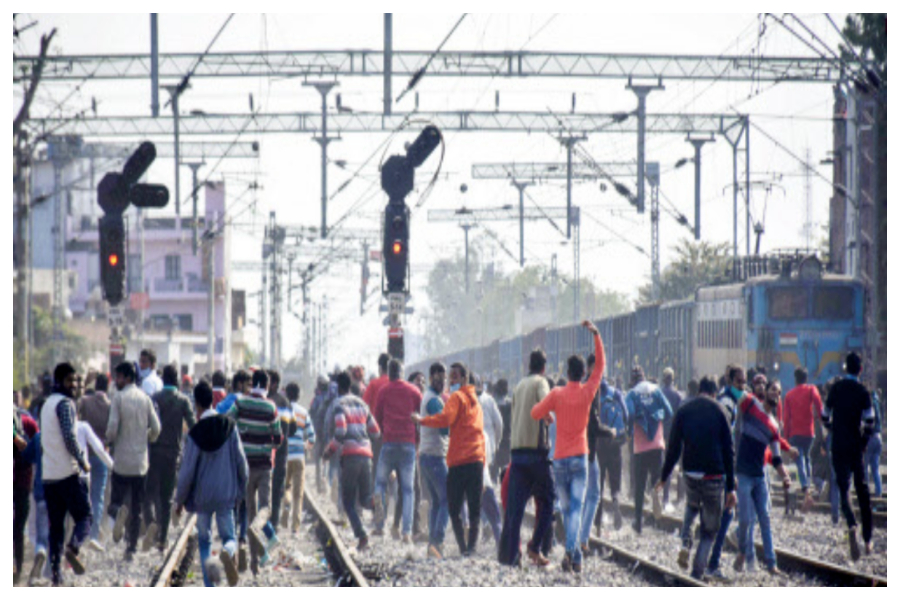 Two persons have been arrested and a case has been lodged against around 1,000 unidentified persons in connection with the alleged rioting and blocking of the rail track at the local railway station by some job aspirants.
Scores of students preparing for competitive exams had made an abortive bid to stop a passenger train. However, alert GRP and RPF personnel foiled their attempt to stop the train.
Six policemen have also been suspended with immediate effect for using unnecessary force during the incident which took place on Tuesday.
A letter petition has been filed in the Allahabad High Court by five lawyers, seeking a judicial probe in the lathi charge on students.
Meanwhile, the search is on for another accused who allegedly made provocative remarks on social media.
A senior police official told reporters that it appears that the accused had taken 'money from some political parties' to create unrest. A police team has been constituted to probe the incident from this angle.
A video of the incident had surfaced on social media, following which Congress general secretary Priyanka Gandhi Vadra had condemned the use of force against job aspirants, who had gathered there in protest against alleged irregularities in a railway recruitment exam.
The two people arrested in connection with the case have been identified as Pradeep Yadav and Mukesh Yadav while the search for another suspect, Rajesh Sachin, is on, the police said.
Rajesh Sachin had made "inflammatory remarks" on social media.
Senior Superintendent of Police (SSP) Ajay Kumar said a video of the incident had surfaced on social media, in which some policemen were seen using unnecessary force.
Those policemen have been identified as sub inspectors Rakesh Bharti, Shailendra Yadav, Kapil Kumar Chahal and constables Mohammad Arif, Achhe Lal and Durvesh Kumar.
They have been suspended with immediate effect and departmental action is being taken against them, he said.
The SSP said there is no quarrel between police and students and those who play with students' future will not be spared.
He said that they have registered a case against 1,000 unidentified people under 13 serious sections.
Meanwhile, a Congress candidate from Prayagraj, Anugrah Narayan Singh, condemned police action against students.
Singh said the unemployed youth are demanding their rights and seeking one's rights is not crime.
Around 1.24 lakh students had applied for railway jobs under Group D since March, 2019. The government suspended recruitment for three years and in such a situation, their anger is justified, the Congress leader said.
A large number of students had gathered on the railway track but were chased down by police. During this, some students allegedly pelted stones on policemen.
Imam held for raping 8-yr-old girl in UP district
An eight-year-old girl was allegedly raped by the Imam of a mosque in Mainpuri district.
After committing the crime, the accused made the victim swear by the Quran that she would not tell anyone about it.
When the girl reached home, profusely bleeding, her family members came to know of the incident and lodged a case with the police.
The police arrested the Imam on Wednesday night and sent the girl for treatment and medical examination.
The Incident took place in a village in Kisni police circle of Mainpuri.
Jamal Ahmed, 52, has been in charge of the mosque since the past ten years and also teaches children here. The girl used to go to the mosque to study.
She used to return home by 4 p.m but on Wednesday, she reached home late crying. Her clothes were stained with blood and when her mother asked her, she narrated her ordeal.
Two injured after drone falls on them during R-Day celebration
Two persons were injured after a drone camera fell on them during the Republic Day celebrations in Madhya Pradesh's Jabalpur on Wednesday.
A large number of people had gathered to witness the Republic Day function at Pandit Ravi Shankar Shukla stadium. While the programme was underway, a drone camera fell on two spectators.
Those sustained injuries during the event have been identified as Indu Kunjam (38) and Gangotri Kunjam (18). They have been admitted at local district hospital for medical assistance, the police said.
The injured individuals had come to participate in a tribal dance in the Republic Day function when the incident occurred at the stadium.
"They have received minor injuries and are undergoing treatment at a hospital," said Additional Superintendent of Police Rohit Kashwani.
Both belong to the tribal community from Dindori district, and had travelled to Jabalpur to participate in the Republic Day function.