DGGI busts Rs 118 cr GST refund fraud, nabs kingpin
Crime.
One person operating through seven companies has been arrested in connection with an alleged Rs 118 crore GST fraud involving fake bills without supplying goods or services, officials said here on Saturday.
The operation was carried out by the Directorate-General of GST Intelligence (DGGI), Mumbai Zonal Unit, which led to the arrest of the mastermind, Santosh Doshi, who is the Managing Director of Masum Overseas Pvt Ltd.
Doshi also runs/controls seven other companies: Amal Overseas, C-Kluster Expotrade, Meticulous Overseas, Ekon Crystalmerchants, Ninad Overseas, White Opal Expotrade and Parees Overseas.
Of these, White Opal Expotrade fraudulently availed input tax credit (ITC) on bogus invoices without actually supplying goods/services to claim refunds of Rs 118 crore against non-existent exports.
Explaining the modus operandi of the financial fraud, DGGI officials said that several dummy companies were formed in Jharkhand and West Bengal using forged documents, which in turn passed the bogus ITCs to shell trading firms acting as intermediary entities in Chhattisgarh.
Several similar fake units were set up as export fronts in Mumbai and Pune, which purportedly acquired the fictitious export goods from Chhattisgarh.
As it turned out, the exporting units were created solely for the purpose of availing ITC refunds fraudulently, without any actual transactions taking place.
During investigations, the DGGI sleuths raided several key persons and officials engaged in exports or freight forwarding and recorded their statements.
The DGGI found that Doshi, a resident of Pune, was the promoter and operator of the above seven export firms, and used a web of complex, multi-layered transactions starting with manufacturers to traders to middlemen to exporters to facilitate encashing the claims under ITC.
Doshi, who was earlier arrested by the Mumbai Customs in another case, was produced before a designated court which shunted him to judicial custody. Further probe is on.
Maharashtra: Police constable dies by suicide in Dhule; probe underway
A 57-year-old police constable allegedly hanged himself to death at his native village in Dhule district of north Maharashtra, an official said on Friday.
The incident took place on Thursday evening at Pohbara in Sakri taluka and the deceased constable was identified as Kaluram Chaitram Ahire, he said.
"Ahire was posted at the Mantralaya, the state secretariat, in Mumbai for security. He had been at his native place since the last few days," he said.
He was found hanging in the cattle stable in the premises of his residence, the official said, adding that the exact reason behind the suicide is yet to be known.
Investigation into the case is being conducted by Pimpalner police.
In another case recently, a 24-year-old youth from Shivshakti Nagar in Turbhe allegedly died by suicide. The police said that the youth was going through financial issues which prompted him to take the grave step.
Identified as Kiran Ghadge, the deceased worked in private company's housekeeping department.
Fake post on Shraddha Walkar-like case goes viral in Assam; police clarifies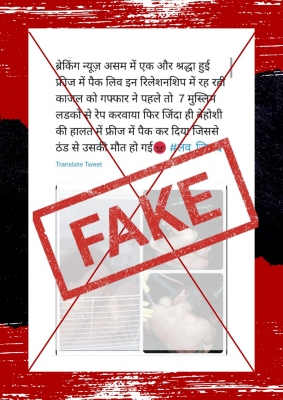 With an aim to disturb communal harmony in Assam, a group of unidentified miscreants on Wednesday shared a post on Shraddha Walkar-like case on social media.
Taking swift action, the state police termed it "fake" news and said that it was taken from a Portuguese blog.
The miscreants claimed about a Shraddha-like incident in Assam and termed it 'Love-Jihad'.
"A girl named Kajal who was in a live-in relationship was first raped by seven Muslim boys and then packed alive in a fridge where she died of hypothermia. Her live-in partner Ghaffar and his companions used to take the body out of the fridge and indulge in necrophilia daily."
The cyber cell of Assam police quickly jumped into action and found the post to be fake.
In a Twitter post, Assam police wrote, "An image from a Portuguese blog of 2010 is being shared with a completely false context on Social Media. Appropriate action will be taken against those found sharing such messages."
Meanwhile, a senior police officer urged the netizens for staying extra cautious while reacting to this kind of social media posts.
An investigation is underway.
Maharashtra: Man kills mother in Palghar; arrested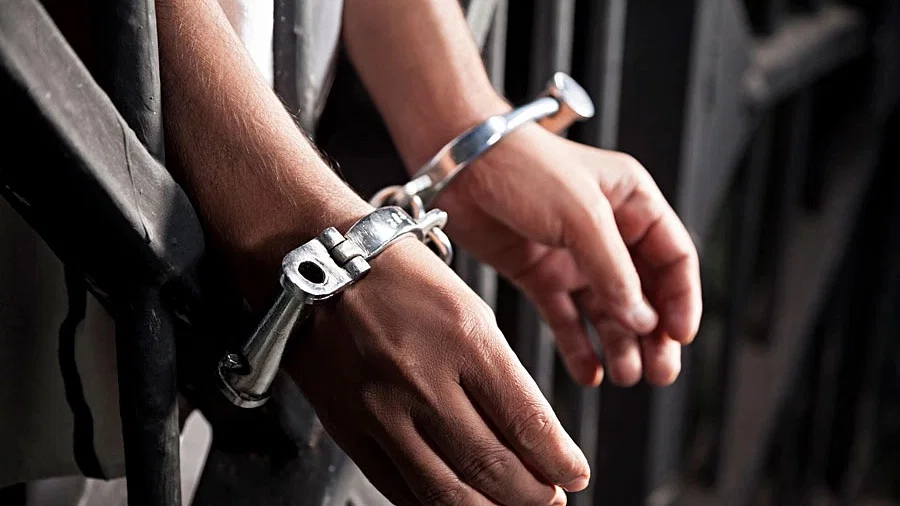 A man allegedly killed his 50-year-old mother after a dispute in Maharashtra's Palghar district, police said on Wednesday.
The incident took place on Tuesday evening in Vikramgad area and the 30-year-old accused was arrested on Wednesday, they said.
The accused had a dispute with his father over the construction of their house under a government scheme.
On Tuesday, the accused beat up his father over the issue. When his mother intervened to save her husband, the accused allegedly attacked her with a roof tile and killed her, police spokesperson Sachin Navadkar said.
Their neighbours alerted local police who rushed to the spot and sent the body to a government hospital for post-mortem, he said.
Based on a complaint by the deceased woman's husband, the police arrested the accused and registered a case against him under relevant provisions, the official said.
In another incident from the district, a mob brutally assaulted a man they suspected was a thief. A gruesome video of the same went viral on social media.
The police said that the mob had allgedly caught him when he broke into a gold jewellery shop and was stealing valuables. The locals beat him with rods, kicked him and punched him.
The police then booked a five persons for assault and the victim has been booked for theft.