Covid-19: Maharashtra CM Uddhav Thackeray forms 'Task Force for Industry'
With the threat of a third wave of Covid-19 looming large, Maharashtra Chief Minister Uddhav Thackeray on Monday directed the formation of a 'Task Force for Industry'.
The Task Force for Industry would be monitored directly by the Chief Minister's Office to ensure that the state's economic cycle and industrial production continues unhindered even during the pandemic situation.
"Maharashtra has set an example for the whole country when industries continued to operate without hindrance even during the Covid-19 pandemic last year," Thackeray said, addressing an online meeting of top corporates and industry honchos.
Some of the prominent personalities present at the meeting were representatives of the CII, Uday Kotak, Jane Karkada, Niranjan Hiranandani, Harsh Goenka, Salil Parekh, Neel Raheja, Anant Goenka, Baba Kalyani, B. Thiagarajan, Anant Singhania, Banmali Agrawala, Nikhil Meswani, Ashwin Yardi, Rashesh Shah, Keshav Murugesh, Bharat Puri, Asim Charania, Sunil Mathur, Sanjeev Singh, Naushad Forbes, D.K. Sen, Sulajja Firodia-Motwani, Sharad Mahindra, among others.
Thackeray pointed out that the state was fully geared to combat the potential 'third wave' with oxygen production and stocks, planning mass vaccination of industrial workers, continuing the economic cycle despite tightening of restrictions, arrangements for temporary field accommodation for employees in the company premises, and other measures.
State Industry Minister Subhash Desai, Chief Secretary Sitaram Kunte, Additional Health Secretary Pradeep Vyas and other top officials discussed various aspects of tackling the upcoming health scenario on the government side.
Thackeray pointed out that currently around 1,300 tonnes of liquid medical oxygen is produced daily in the state which is expected to be scaled up by more than double if the coronavirus challenges increase.
He urged all the corporates to get their employees and workers vaccinated on a mass scale, especially since private hospitals have been given stocks of around 25 per cent Covid-19 vaccine doses by the Centre.
The CM also called upon small and big enterprises to continue safe production by creating a 'bio-bubble system' within the Covid protocols and plan out shifts to avoid crowds without increasing stress on any facility.
Thackeray cautioned however that in view of the new Delta strain, more vigil must be maintained, and pointed out that many countries have started re-imposing public restrictions on a large scale.
Vyas said that in the first wave, the state had 20 lakh cases, while in the second wave, the figure had more than doubled to 40 lakh in barely 2 to 3 months, and said the speed of the next (third) wave is anticipated to be much higher with increasing number of infections in western and coastal Maharashtra.
The corporate heads assured the state government of their fullest cooperation to ensure that the virus doesn't affect industrial production or industrial precincts.
Did Mumbai police impose curfew in city? Watch what Joint CP Vishwas Nangre Patil has to say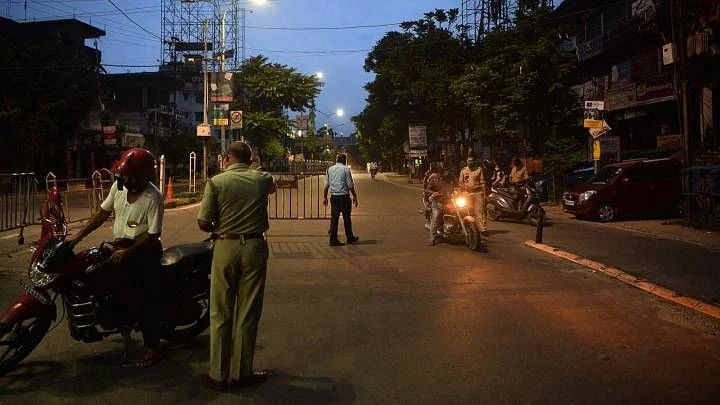 The news about the Mumbai Police imposing curfew has been doing rounds on social media. However, the Mumbai police have clarified that it is a routine order. They have also made it clear that this is not a new order but the same order which is renewed every 15 days.
On December 2, several news reports claimed that the Mumbai police has issued an order under which it imposed a prohibition of the gathering of more than four-five people and banned the use of loudspeakers among other things till January 2.
Refuting the claims about the same, Vishwas Nangre Patil, Joint CP (Law & Order), in a video, explained how it is just a routine order renewed every 15 days, and appealed to all to not share it further. He informed that it is a routine procedure under the prohibitory orders under section 37 of the Maharashtra Police Act in Mumbai.
He stated that the order will change nothing for residents and that all the scheduled functions can be celebrated as per the plan. He stated that the order will largely affect those who will be involved in illegal protests and gatherings and not common residents.
The video was shared by official handle of Mumbai Police with the caption, "Clarification on CRPC #144 The news of 'curfew' imposed in Mumbai is doing rounds of the Internet. Joint CP @vishwasnp (Law & Order) explains how it is just a routine order renewed every 15 days, and appeals all to not share it further."
On Camera: Fire engulfs apartment in Malad high-rise, no injuries reported so far
On Saturday morning, a massive fire broke out on the third level of the 21-story skyscraper Marina Enclave in Janakalyan Nagar, Malad in Mumbai.
The blaze erupted in the flat located on the third floor of the high rise building in Malad around 11 am.
At least four fire tenders were rushed to the spot and the fire was doused within 15 minutes, he said, adding that nobody was injured in the incident.
The cause of the fire is being ascertained and further details are awaited, he said.After the entire floor was engulfed in flames, some people on the floor were seen coming to the balcony and calling for help. With the help of locals, the people caught in the fire were brought out safely.
Mumbai: Will schools, colleges remain closed due to section 144 across the city? Here's what we know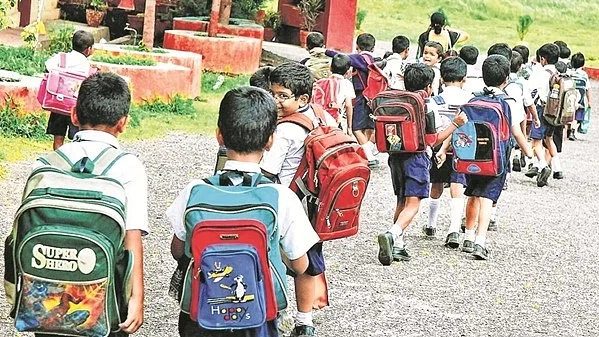 With the Mumbai police imposing section 144 across the city as prohibitory orders due to reports of disruptions of public order and peace in the near future, posing a threat to human life and property, there has been concerns over what activities have been permitted and what haven't been. 
Schools, colleges, and other educational institutions have also been considered by the Mumbai Police while releasing the diktat, which has been extended till January 2. 
It should be noted schools and colleges across Mumbai will not be impacted by the extension of section 144 across the city and will continue to function in accordance with their academic calendars.
There have been no official notifications by the authorities or institutions regarding the closure of schools and colleges in the city so far. 
Vishal Thakur, Deputy Commissioner of Mission Department, Mumbai Police, issued the orders via press release .
Bursting and playing loudspeakers, instruments, bands and crackers
Any kind of processions are not permitted
Loudspeakers are not allowed at the processings
Processions on all kind of marriage ceremonies, funeral meetings, on the way to cemeteries, legal meetings of companies (at major scales), clubs, cooperative societies and other associations
Social gatherings, at mass level, around clubs, theatres or places of public entertainment film in or around any place, gathering for the purpose of watching plays or programmes, acts
Gatherings of people around courts and government offices and around local bodies performing government or semi-government functions, meeting for schools, colleges and other educational institutions for educational activities, factories, general business,
Meetings for business and solicitation in shops and establishments, demonstration of other gatherings and processions, those who are allowed have been expelled from this order by the divisional deputy commissioner of police and his monitoring officers.