CM Uddhav Thackeray, 8 others take oath as MLC
Maharashtra Chief Minister Uddhav Thackeray was on Monday afternoon sworn in as a Member of the Legislative Council here.
Eight other members of different political parties also took oath as members of the Upper House of Maharashtra Legislature in a brief ceremony.
Legislative Council Chairman Ramraje Nimbalkar administered the oath to the nine new members who were declared elected unopposed last week.
They include Legislative Council Deputy Chairperson and Shiv Sena's Neelam Gorhe, Nationalist Congress Party's Shashikant Shinde and Amol Mitkari and Congress' Rajesh Rathod.
From the Opposition Bharatiya Janata Party the new MLCs are Ranjitsinh Mohite-Patil, Ramesh Karad, Pravin Datke, and Gopichand Padalkar.
Thackeray was accompanied by his wife Rashmi Thackeray and other government officials.
Thackeray has now become only the second member of the state's numero uno political family to enter the legislature after his son Aditya Thackeray who was elected an MLA from Worli in October 2019 and is now a Cabinet Minister.
Sworn in as Chief Minister on November 28, Thackeray had to fulfil a constitutional requirement of becoming a member of either house of the state legislature within six months.
Maha Congress jibe: Putin's 'governance model' already implemented in India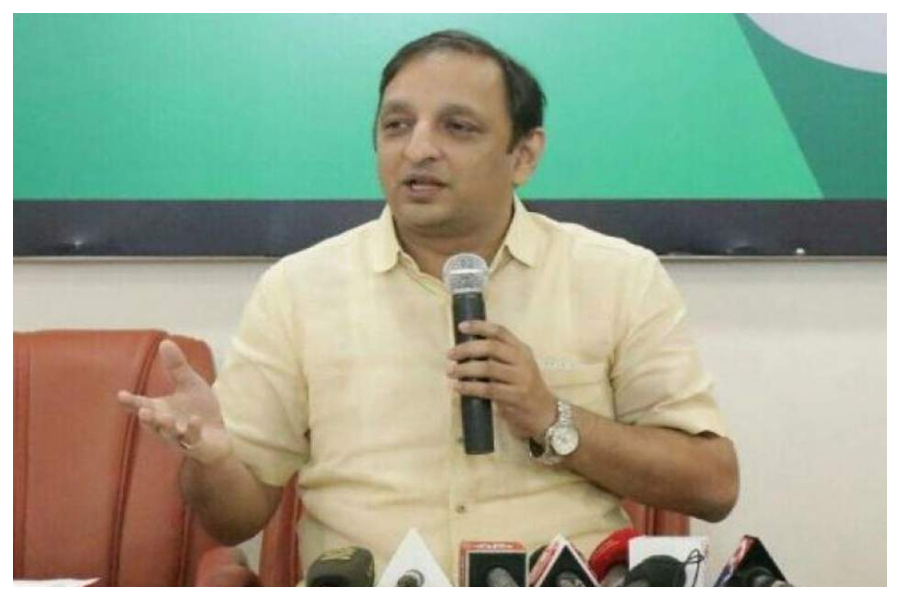 Taking a dig at the ongoing visit by Russian President Vladimir Putin at the invitation of Prime Minister Narendra Modi, the Maharashtra Congress has said that the visiting dignitary's 'Governance Model' vis-a-vis the corporates is already functional in India.
In a statement, state Congress General Secretary Sachin Sawant said that under President Putin, the Russian businessmen have been following three 'cardinal rules' in that country.
"These are: No donations to Opposition, No Criticism of Government and No support to Opposition… In India, these same conditions are being adhered to by the corporates," claimed Sawant in a series of tweets.
Citing the latest Prudent Electoral Trust (PET) financials submitted to the Election Commission of India (ECI) last week, the Congress leader said that it has donated a staggering 95.64 per cent only to the ruling Bharatiya Janata Party and its allies, while the rest — a paltry 4.36 per cent — went to the Opposition kitty.
Elaborating, Sawant said of the total dole of Rs 245.70 crore in 2020-2021, the PET donated Rs 209 crore to BJP, and to its two allies — Rs 25 crore for Janata Dal (United), headed by Bihar Chief Minister Nitish Kumar, and Rs 1 crore to Lok Janshakti Party led by Union Minister P.K. Paras, with the three parties cornering the lion's share of the corporate donations.
On the other hand, the country's main Opposition party, Indian National Congress got just Rs 2 crore, with a ditto amount for Lalu Prasad Yadav's Rashtriya Janata Dal.
However, the Congress ally, both in the UPA and in Maharashtra, Sharad Pawar-led Nationalist Congress Party got Rs 5 crore, but its rival Aam Aadmi Party led by Delhi Chief Minister Arvind Kejriwal secured Rs 1.70 crore.
"All other parties were ignored by the PET… In the past few years, corporate donations to Opposition parties dropped drastically but have gone up phenomenally for the ruling BJP and its allies," Sawant pointed out.
He contended that the Electoral Bonds were devised with the intention to starve the Opposition parties of corporate fundings, but "when there's no level playing field, democracy can't be in a good shape."
"The Modi Government's celebration of Constitution Day was a hypocritical act as it has itself undermined both Democracy and the Constitution," Sawant said sharply.
Interestingly, others like Janata Nirvachak Electoral Trust, ABG Electoral Trust, Triumph Electoral Trust and New Democratic Electoral Trust have declared 'nil' contributions to any political party for the period 2020-2021.
Money-laundering case: Maha Chief Secy Sitaram Kunte at Mumbai ED office
Maharashtra Chief Secretary Sitaram Kunte on Tuesday appeared before the Enforcement Directorate (ED) in Mumbai to get his statement recorded in connection with the money-laundering case against former state Home Minister Anil Deshmukh.
ED had summoned him in the recent past too. Deshmukh is currently in judicial custody.
The elite probe agency is likely to quiz Kunte in connection with the transfer and postings of police officials during the tenure of Deshmukh.
The ED case is based on the FIR lodged by the CBI in which they have accused Deshmukh for allegedly asking former Mumbai Police official Sachin Waze to extort Rs 100 crore each month from eateries of Mumbai.
Rashmi Shukla, the then chief of State Intelligent department had tapped telephone calls exposing a big nexus. A confidential report was then made by the department which is now with the probe agency too. This confidential report was first shared with then Director General of Police Subodh Jaiswal. Later this was shared with Kunte to decide future course of action after discussing with the Maharashtra chief minister. However, no action was taken on the report.
Now ED will record the statement of Kunte.
The Enforcement Directorate is investigating a money laundering case against Maharashtra's former Home Minister Anil Deshmukh.
Prior to meeting Rahul Gandhi, Sanjay Raut declares 'MVA a mini-UPA'
Ahead of his meeting with Congress MP Rahul Gandhi later on Tuesday, Shiv Sena MP and Chief Spokesperson Sanjay Raut has declared that the "Maha Vikas Aghadi government is like a mini-United Progressive Alliance" which is doing well.
He said there has been a lot of media speculation whether the Sena is joining the UPA and if it would support the Congress in the upcoming Assembly elections in Uttar Pradesh, Goa and other states.
"The Congress is in power along with Sena and NCP in the MVA and the state government is doing very well. We function on the basis of a Common Minimum Programme, similar to the UPA or even the NDA where parties with different views come together for the national cause," Raut pointed out.
He said in the National Democratic Alliance (NDA), during the leadership of the late Prime Minister Atal Behari Vajpayee, there were many having ideological differences and some even opposing the Ram Temple in Ayodhya, but they all worked together.
"The MVA also has three parties with dissimilar views working on a common minimum programme. It is an experiment and the MVA is like a mini-UPA… Such experiments must be emulated elsewhere in the country," Raut urged.
Whether the UPA or the Opposition parties, they should come forward and provide alternatives, and this is the viewpoint of both Maharashtra Chief Minister Uddhav Thackeray as well as NCP President Sharad Pawar, he asserted.
Raut's statements assume significance, coming barely a week after All India Trinamool Congress (AITC) chief and West Bengal Chief Minister Mamata Banerjee had loudly hammered coffin-nails for the UPA following her meetings with Sena and Nationalist Congress Party leaders in Mumbai, while the Congress was kept out.
As a seething Congress reacted furiously, the Sena not only reiterated — akin to the NCP — that "no opposition unity was possible in the country without the Congress", but Raut also decided to mend the fences by meeting with Rahul Gandhi and possibly even Priyanka Gandhi Vadra.
On his upcoming rendezvous with Rahul Gandhi, he said the Sena strongly believes in dialogue with its allies and they would discuss Maharashtra, the functioning of the MVA and the future course for the country as a whole.
To a query whether the Sena will join the UPA and unitedly fight the oncoming Assembly elections in different states, Raut shot back that for all these issues, CM Thackeray will take the final call after considering all factors and discussing with the MVA partners.