China has designed a strategy to intrude into Indian banking sector: CAIT
CAIT(phototwitter)
The Confederation of All India Traders (CAIT) has strongly criticized ICICI Bank for allowing Peoples Bank of China to invest in the bank despite strong sentiments prevailing in the country against China and its anti-India policies.
The CAIT said that this is a second such instance of a Chinese bank trying to make inroads into the Indian banking system.
The People's Bank of China had earlier this year made an investment in HDFC Bank. "The CAIT has asked Finance Minister Nirmala Sithraman to direct both ICICI & HDFC Bank to return the investments by Chinese bank," a statement said.
CAIT Secretary General Praveen Khandelwal said that it seems quite clear that China has designed a well planned strategy to make an intrusion into the Indian banking sector which is quite well regulated and is very important for the financial health of the country.
Even though the Government had introduced a mechanism to check the foreign portfolio investments, there is nothing concrete yet from the RBI to restrain and control the funding coming in from China.
CAIT National President B.C. Bhartia has said that this sudden interest of China into India's banking sector raises an alarm bell for the entire banking sector and the Reserve Bank of India, being the custodian of India's banking sector must now be on high alert to closely monitor this sinister strategy of China which in the long run can be detrimental to the nation.
"Certainly, the present investments might be small but we should not forget that its a part of strategy of China," he added.
In matter of exports of Chinese goods to India, China started the first year in 2001 with only $2 billion of exports to India which has risen up to $70 billion in 2019. A whopping increase of 3500 per cent and in the same way, China must be looking at country's financial and banking sectors.
Both CAIT leaders have urged Sitharaman to take immediate cognizance of this entire matter and devise a policy framework to thwart China's plans and protect the sovereignty of the banking system as also advise the RBI to take necessary steps immediately.
Cyclicals to drive Q3FY22 earnings growth: MOFSLA
Corporate earnings growth for the third quarter of FY22 is expected to be led by cyclical stocks, Motilal Oswal Financial Services (MOSFL) said in a report.
Earnings growth is anticipated to be driven by metals, oil and gas and BFSI (Banking, Financial Services and Insurance) sectors.
In its report, MOSFL said that economic recovery backed by festive demand, higher commodity prices and improvement in asset quality in financials are expected to back this trend.
"There remains a clear divergence in 3QFY22 earnings growth. Global cyclicals, such as oil and gas and metals, continue to drive aggregate earnings growth, while BFSI profits are led by improvements in asset quality and credit growth," the report said.
"Technology is likely to continue its momentum, propelled by strong revenue growth," it added.
The auto and cement sectors are anticipated to drag earnings down, led by poor demand and higher commodity prices.
"Consumer, healthcare, capital goods, consumer durables and specialty chemicals are predicted to report single-digit YoY profit growth. Input cost pressures continue to weigh on gross margins for cement, specialty chemicals, autos, consumer staples and durables sectors," the report said.
The report pointed out that Asian Paints, Bharti Airtel, BPCL, IOC, Tata Steel, JSW Steel, Titan, Hindalco and ONGC have seen an upgrade in their FY22 earnings.
"Companies that have seen downgrades to their FY22E earnings are Tata Motors, Maruti Suzuki, Ultratech Cement, Hero Motors, Shree Cement, Coal India, Axis Bank and HUL," it said.
HDFC Bank's Q3FY22 YoY net profit up 18.1%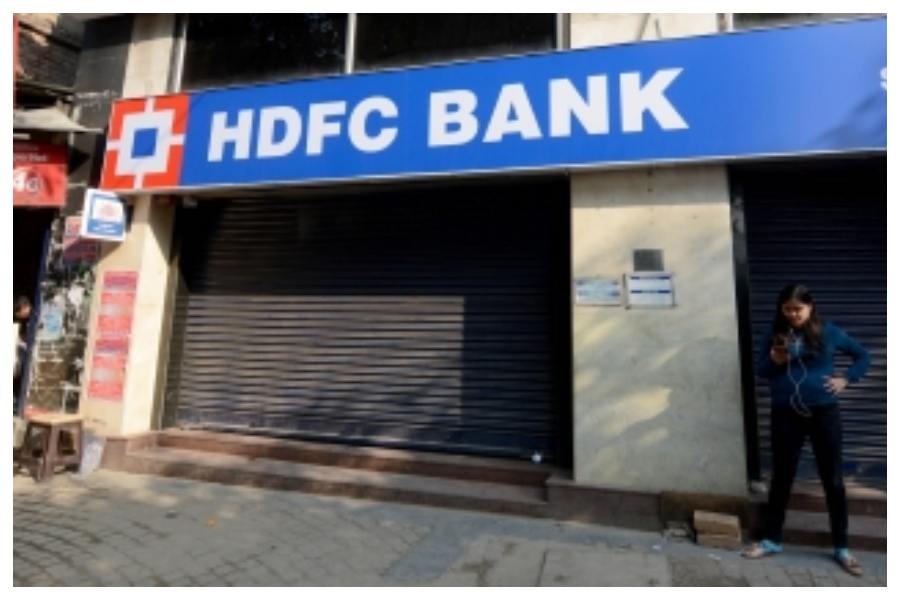 Lending major HDFC Bank on Saturday reported a year-on-year rise in net profit of 18.1 per cent for the third quarter of FY22.

The bank's net profit increased to Rs 10,342.2 crore during the period under review over the quarter ended December 31, 2020.

Besides, the bank's net interest income (income earned less interest expended) for the quarter under review grew by 13 per cent to Rs 18,443.5 crore from Rs 16,317.6 crore for the quarter ended December 31, 2020.

The lender's net revenues (net interest income plus other income) increased by 12.1 per cent to Rs 26,627 crore from Rs 23,760.8 crore for the quarter ended December 31, 2020.

"Advances grew at 16.5 per cent, reaching new heights driven by relationship management, digital offering and breadth of products. Core net interest margin was at 4.1 per cent. New liability relationships added during the quarter remained at an all-time high," HDFC Bank said in a statement.

"This continued focus on deposits helped in the maintenance of a healthy liquidity coverage ratio at 123 per cent, well above the regulatory requirement, which positions the bank favourably to capitalise on growth opportunities," it added.

As per Q3FY22 results, provisions and contingencies for the quarter rose Rs 2,994 crore (consisting of specific loan loss provisions of Rs 1,820.6 crore and general and other provisions of Rs 1,173.4 crore) as against total provisions of Rs 3,414.1 crore for the quarter ended December 31, 2020.

"Total provisions for the current quarter included contingent provisions of approximately Rs 900 crore," it said.

"The total credit cost ratio was at 0.94 per cent, as compared to 1.30 per cent for the quarter ending September 30, 2021 and 1.25 per cent for the quarter ending December 31, 2020," it added.


Lenders expected to exhibit strong Q3FY22 results
Listed lenders in India's equity markets are expected to report 'optically' strong earnings growth for Q3FY22, said HDFC Securities in a report.

Accordingly, the brokerage house expects its coverage universe of 23 lenders to report 51 per cent YoY growth during the period under review.

This trend, the report said will come largely on the back of expected normalisation of provisions.

"The pace of collections and recoveries continues to improve, which, concurrent with normalised economic activity, is likely to moderate the stressed pool," the report said.

"Disbursements are likely to witness healthy growth, driven by seasonal pick-up in retail loans as large corporate Capex remains elusive."

As per the report, the revival in business momentum is likely to drive a 10.4 per cent YoY loan growth for the brokerage house's coverage universe, with large private banks and large NBFCs (BAF) continuing to clock market share gains.

"The third wave of the pandemic is unlikely to impact Q3 earnings except in underlying sectors like travel and tourism that are already under stress."

"However, we expect most lenders to maintain a surplus provisioning buffer for potential asset quality issues. We tweak our FY22E-FY24E forecasts for select lenders to factor in lower credit growth and marginally higher credit costs."

Besides, HDFC Securities continue to prefer large banks with strong balance sheets and formidable deposit franchises.

Furthermore, it cited that business momentum continues to gather pace.

"In a quarter relatively unaffected by the pandemic and near-normal resumption of economic activity, we expect to see strong sequential growth in disbursements, particularly in retail and SME segments, riding on seasonal and pent- up demand."

"Provisional filings suggest that banks within our coverage universe continue to gain market share as reflected in loan growth at 12 per cent YoY compared to system-wide YoY credit growth at 7 per cent."

At present, the brokerage house has 23 lenders in its coverage universe including ICICI Bank, SBI, Bajaj Finance, SBI Cards, and Axis Bank.