Centre to SC on vax policy: No judicial interference needed, trust wisdom of executive
In a late night affidavit submitted in the Supreme Court, the Centre defended its Covid vaccination policy, which has been criticised for differential pricing, shortage of doses, and slow rollout.
The Centre added that the price factor will not have any impact on the ultimate beneficiary namely, the eligible person getting the vaccine since all state governments have already declared their policy decision that each state will be administering vaccine to its residents, free of cost.
Urging against judicial interference on its vaccine policy, the Centre's Sunday night affidavit said: "Any overzealous, though well-meaning judicial intervention may lead to unforeseen and unintended consequences, in absence of any expert advice or administrative experience, leaving the doctors, scientists, experts and executive very little room to find innovative solutions on the go."
The Centre said it is most respectfully submitted that in the times of such grave and unprecedented crisis which the nation is fighting the disaster of an unprecedented magnitude, the executive functioning of the government needs discretion to formulate policy in larger interest.
"It is submitted that in view of the unprecedented and peculiar circumstances under which vaccination drive is devised as an executive policy, the wisdom of the executive should be trusted," said the affidavit.
The affidavit said with a view to ensure that there is no disparity between the states inter-se, with active consultation of the Centre with both the manufacturers, the central government has successfully fixed uniform price to be paid by all the State Governments.
Defending its vaccine policy, the affidavit said: "The policy is framed as above which is just, equitable, non-discriminatory and based upon an intelligible differentiating factor between the two age groups (45 plus and below)."
The affidavit added: "This policy thus, conforms to mandate of Article 14 and Article 21 of the Constitution of India and is made after several rounds of consultation and discussion with experts, State Government and vaccine manufacturers requiring no interference by this Court as while dealing with a pandemic of this magnitude, the Executive does have a room for free play in the joints, in larger public interest."
The Centre said the policy was framed keeping in mind limited availability of vaccines, vulnerability of age groups, and the fact that vaccinating the entire country was not possible in one go due to the suddenness of the pandemic, as the prime considerations.
The Centre emphasized that it is ensured that the pricing of vaccine is also not only reasonable but uniform throughout the country removing any possibility of one citizen in one state getting the vaccine at a higher price as compared to a similarly situated resident residing in another state.
"Due to consultations and "persuasion" by the Central Government both the manufacturers of vaccine, Bharat Biotech and SII, have declared their respective prices which are uniform for all State Governments," added the affidavit.
A bench of Justices D.Y. Chandrachud, L. Nageswara Rao and S. Ravindra Bhat will take up the matter arising out of a suo motu case, later Monday.
The affidavit added that the new 'Liberalized Pricing and Accelerated National Covid-19 Vaccination Strategy would further ramp up the pace of COVID-19 vaccination."
"It aims at liberalized vaccine pricing and scaling up of vaccine coverage to incentivize vaccine manufacturers to rapidly scale up their production and to attract new vaccine manufacturers. It would make pricing, procurement and administration of vaccines more flexible and ensure augmented vaccine production as well as wider availability of vaccines in the country", said the affidavit.
The Centre submitted that two vaccines are currently part of vaccination drive since January 2021. Another COVID-19 vaccine, Sputnik V developed by Gamaleya Institute, Russia and distributed in partnership with Dr. Reddy's Laboratories, has received Emergency Use Authorization by the National Regulator in April 2021 and would be available now. Many other candidates are in the late stages of clinical trials and, therefore, expected to receive 50 necessary approval that would further increase the availability of vaccines.
On April 30, the top court while hearing a suo moto matter in connection with Covid-19 management issues, had called for revisiting the Centre's vaccine policy. The top court had remarked that the manner in which the current policy has been framed would prima facie result in a detriment to the right to public health, which is an integral element of the Article 21 of the Constitution.
"Sometimes, steps that are taken for immediate needs, to tide over an imminent crisis, may turn out to be imprudent in a long run. However, they need to be appreciated, understood and acknowledged, keeping in mind the complete strategy and policy and holistic picture of immediate-, medium- and long-term needs, while also retaining the capacity to remain dynamic to deal with an ever-mutating virus, whose exact graph cannot be predicted with accuracy and continuous upgradation of knowledge pool with further experience and research," added the affidavit.
The Centre said both manufacturers (one an Indian company and second a licensee of a British company) have taken financial risk in developing and manufacturing these vaccines and it is prudent to take decisions on pricing through a negotiations in a transparent consultative process keeping statutory provisions as a last resort under the present circumstances.
Make farmers aware of use of chemical-free fertilisers: PM to BJP workers from Varanasi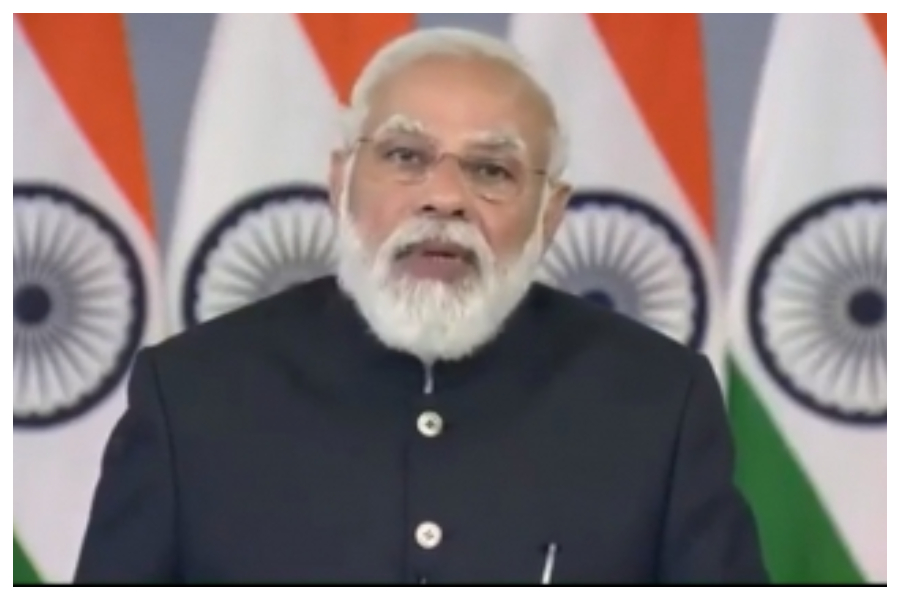 Prime Minister Narendra Modi on Tuesday interacted with BJP workers from his parliamentary constituency Varanasi and urged them to make farmers aware of the use of chemical-free fertilisers.
In an audio interaction with BJP booth level workers, the Prime Minister reaffirmed the BJP's commitment towards development. While interacting with party workers, he discussed several topics including, restoration of Kashi Vishwanath Dham corridor, women empowerment, infrastructure, healthcare development and other issues.
Interacting with one of the BJP workers, Prime Minister Modi asked him to expand the reach of the government's welfare schemes to farmers. The Prime Minister said, "They (workers) should make farmers aware of the use of chemical-free fertilisers."
The Prime Minister, also, talked about the several central schemes which are benefiting the people of Kashi at large.Prime Minister Modi urged people to contribute to a section, Kamal Pushp, in his NaMo app that features some inspiring party members.
"The NaMo App has a very interesting section known as 'Kamal Pushp' that gives you the opportunity to share and know about inspiring party workers," he said.
The Prime Minister further talked about the BJP's special micro-donation campaign, seeking to raise funds through small contributions from its members and others.
It is learnt that about 10,000 BJP workers participated in the interaction. It will be the first interaction of the Prime Minister with the party workers after the announcement of Assembly poll dates in five states.
It will also be the first virtual address with the party workers after the Election Commission of India (ECI) banned physical rallies and road shows till January 15 while announcing the poll dates. On January 15, the ECI extended the ban on the physical rallies and road shows till January 22.
The Uttar Pradesh Assembly polls will be held in seven phases in February-March starting from February 10. Counting of votes will be held on March 10.
BJP takes dig at AAP for procuring 1 electric bus in 7 yrs
As Delhi gets its first electric bus, BJP took a dig at the Aam Aadmi Party-led state government for procuring just a single bus during their last seven years of rule.

"It took 7 years to buy 1 electric bus by AAP government which resulted in Delhi breathing bad air," BJP MP Manoj Tiwari said on Tuesday.

Tiwari blamed the Kejriwal-led government of being "visionless" and "department less". He urged the people of Delhi to look after their well-being as air pollution during winters is dangerous.

Terming it a "beginning of a new-era in the transport sector of Delhi", Chief Minister Arvind Kejriwal had flagged off the first electric bus on Monday.

"We aim to bring in 2,000 electric buses in the coming years. Since 2011, not a single new bus had been procured by the DTC; this is the first new bus being added to its fleet in a decade. The public should also contribute to this war against pollution by switching their vehicles to electric," he said as he flagged off the bus from the Indraprastha depot.

While launching the environment-friendly bus, Transport Minister Shri Kailash Gahlot said that along with promoting environment-friendly transport, the government was committed to providing a world class and smooth transport service to the people of Delhi.

These state-of-the-art buses are 100 per cent electric with zero tailpipe emissions. They are among the 300 electric buses that will be inducted under DTC. The total fleet of 300 buses will run from Mundela Kalan (100 buses), Rajghat (50) and Rohini Sector 37 (150 buses).

The electric air conditioned buses have kneeling ramps for differently abled passengers, and special pink seats for women passengers. They are also equipped with CCTV cameras, connected to a two-way Central Command and Control Centre (CCC) at Kashmere Gate, 10 panic buttons in each bus and a hooter.


Nitish Kumar govt likely to relax liquor prohibition law
Facing criticism over poor implementation of the liquor ban, the Nitish Kumar government in Bihar is likely to give some relaxation to the violators.

According to a top official of the JDU, the state government is ready to review this issue and a proposal is likely to be put on table in the upcoming budget session of the Bihar Vidhan Sabha.

As per the proposal, the violators who are caught in drunken state can be let off after paying penalty on the spot. Though, it is not applicable on repeat offenders. A person repeatedly violating the norms of liquor prohibition law would be liable to face jail term.

Such a relaxation would allow liquor consumption at home and would also promote the home delivery concept, which is already popular among habitual drinkers in Bihar.

The JDU official further said that the vehicle used for smuggling of liquor could be released after paying a fine.

He said that the Chief Minister is under huge political pressure after a series of spurious liquor tragedies in different districts in the last four months that have taken the lives of more than 80 persons and many others have lost their eyesight.

Reacting to it, Danish Rizwan, the chief spokesperson of HAM said: "Chief minister Nitish Kumar, instead of bringing amendment or review of liquor prohibition law, should do a survey on this issue. If common people of the state are satisfied with the amendment or review, our party will not go against it. If people of Bihar are in favour of withdrawal of the liquor ban, we also respect that decision."

The liquor tragedies occurred in Muzaffarpur, Gopalganj, Bettiah, Samastipur, Vaishali, Nawada and now CM's district Nalanda.

This issue is severely affecting Nitish Kumar government especially after its alliance partners BJP and HAM are extremely vocal. They want a review of the liquor prohibition law. The liquor ban was enforced in Bihar in April 2016.

The government also came under criticism by the Patna High Court recently. The court said a large number of liquor related cases are pending which has led to a huge burden on the judicial system. Keeping this in view, the Nitish Kumar government should establish more courts in all 38 districts for speedy trials of liquor related cases.

Though, this would not be the first case of amendment in liquor prohibition act. In 2018, the state government made a provision to grant bail to normal offenders at the police station level. The offenders have to pay Rs 50,000 as fine. In case of offenders unable to give a penalty, they would be liable to face jail term. Under the liquor prohibition law, the maximum jail term is 10 years.