Cashfree, PayPal to help Indian firms sell to 350M customers
Payments and banking technology firm Cashfree on Tuesday announced a partnership with digital payments company PayPal to enable international payments for merchants.
Businesses using Cashfree's payment gateway will be able to add the PayPal 'Express Checkout' option to their order pages and accept payments from over 350 million customers across 200 markets and in more than 28 currencies in a secure and seamless manner.
"The new API integration allows merchants to enable payments using their existing PayPal business accounts and start accepting and collecting global payments in no time. Further, businesses benefit from the PayPal fraud prevention and seller protection tools," said Akash Sinha, CEO & Co-founder of Cashfree.
Cashfree said it does the foreign currency exchange automatically and the amount gets credited to businesses' accounts in Indian rupee.
"Together with Cashfree, Indian small businesses will be able to tap into our 350 plus million consumer base across 200 markets," said Ashish Tandon, Director, Channel Partners, PayPal India.
Businesses partnering with Cashfree can activate One Touch payments that would let their customers stay logged in and check out with a couple of clicks.
Cashfree, as a payment platform, offers businesses with international payment methods like Mastercardand Visa cards, American Express, Diners Club along with PayPal.
Currently, Cashfree supports over 100 payment modes for accepting domestic and international payments.
SpiceJet plane lands in Mumbai with cracked outer windshield
A SpiceJet flight landed safely in Mumbai with its outer windshield of the cockpit cracked, an airline spokesperson said on Monday.
The incident took place on SpiceJet flight SG-3324 operating from Kandla (Gujarat) to Mumbai by a turboprop Q400 aircraft.
At around 23,000 feet height, the outer pane of the windshield on the co-pilot's side cracked but the cabin pressurisation was observed to be normal.
The flight landed safely at Chhatrapati Shivaji Maharaj International Airport later, said the spokesperson, but the cause of the accident – the second on Monday for the low-cost carrier – is not clear yet.
Nepal's economy not like Sri Lanka's, but can go that way: Former central bank Guv
Dipendra Bahadur Chhetri, the former Governor of Nepal Rastra Bank (NRB), has said that the situation of Nepal's economy is not like that of Sri Lanka.
However, if the political rights are given to the wrong persons like in Sri Lanka, there is a possibility of Nepal becoming the next Sri Lanka, he said, Republica reported.
Speaking at an interaction programme on the current economic situation in Nepal held in Kathmandu, Chhetri said the present situation in Sri Lanka is due to arbitrary tax rates imposed by the same family as the president, prime minister and finance minister.
He also mentioned that Nepal should not be associated with Sri Lanka as it has just held local elections and is now preparing to hold federal and provincial elections, Republica reported.
Similarly, the former central bank Governor said that Nepal's foreign exchange reserves, SDRs and gold in foreign currency accounted for seven months of imports to meet the growing imports and consumption of petroleum products.
Likewise, he doubted that the forthcoming monetary policy to be introduced by the NRB would be as extensive as in the past. He said that the loans given by the banks to expand the capacity of the industry were used for import.
Turkey increases minimum wage amid soaring inflation, currency volatility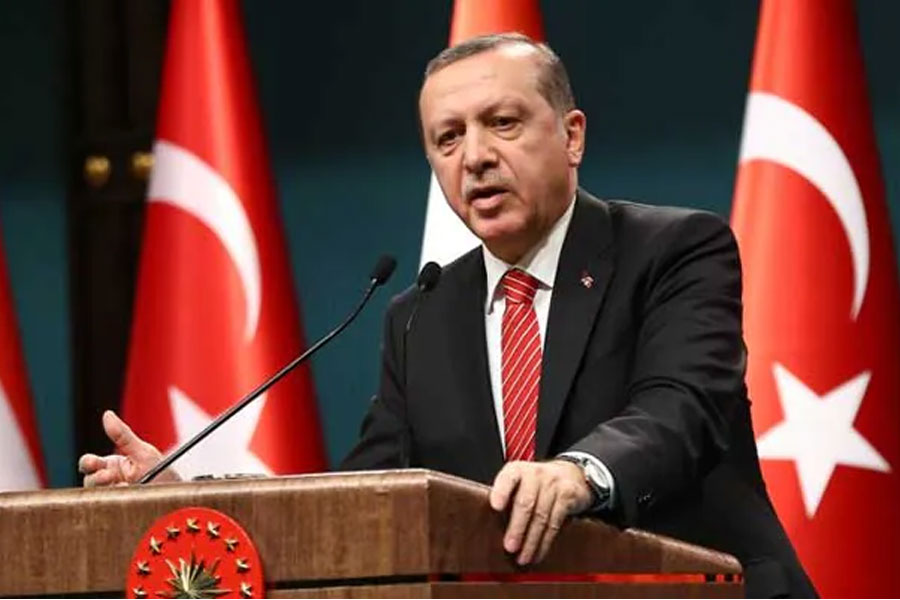 Turkish President Recep Tayyip Erdogan announced that the country's minimum wage would be hiked up in the face of soaring inflation and volatile currency rates.
"The minimum wage will be 5,500 Turkish liras ($328) with an interim increase of 30 percent, effective immediately starting on July 1," Erdogan said.
At the beginning of this year, the government increased the monthly minimum wage by 50 per cent to alleviate the financial burden on workers, reports Xinhua news agency.
Turkey has long been struggling against ever-increasing inflation.
In June, the total losses of the Turkish lira against the US dollar amounted to almost 100 per cent in one year.
Erdogan has long been focusing on a low-interest policy to increase exports and production for a stabilised lira, asking for patience from his voters.