Carlos Brathwaite looking forward to new BBL season with Sydney Sixers
Former West Indies T20I skipper Carlos Brathwaite will be looking forward to another fruitful Big Bash League (BBL) season when he turns out in Sydney Sixers' colours again, and would be aiming to help the side win a hat-trick of titles.
The Barbados-born West Indies all-rounder played a key role in the Sixers' title win in the previous edition, taking 16 wickets for the season.
Brathwaite is best known for his match-winning four consecutive sixes off England's Ben Stokes in the 2016 ICC World Twenty 20 Cup final's last over that propelled West Indies to the title.
The feat prompted commentator Ian Bishop to demand viewers watching coverage around the world get to know Brathwaite with the line "Carlos Brathwaite, Carlossss Brathwaite…. Remember the name."
The 33-year-old all-rounder had played a four-game cameo at the club in BBL7 before returning to help the team claim a second straight title last season in BBL10.
Having finished a busy UK summer playing for the Birmingham Bears in the T20 Blast and captaining the Manchester Originals in The Hundred, Brathwaite is currently preparing to play for the Jamaica Tallawahs in the Caribbean Premier League.
Brathwaite said returning to one of his favourite cities (Sydney), with "a great teammates and wonderful fans was all too appealing an opportunity to pass up".
"Obviously winning (BBL10) and the team's success last year made it attractive to want to come back," Brathwaite said.
"As you get older you definitely want to be somewhere you can hopefully be challenging for trophies but at the Sixers there is a deeper camaraderie and sense of family atmosphere.
"As a team we went through a tumultuous season last year on the road without getting back to Sydney until the final and we built a very strong bond. The BBL is one of the biggest T20 tournaments in the world and hopefully that bond can help us to success again, this time in front of our fans at the SCG all season."
And it is that 'Magenta Movement' — the members and fans of the Sixers — that Brathwaite believes played such a crucial role in the title-winning performance last summer.
"That BBL final at the SCG last season was so special," he remembered.
"We played away from home all year and performed well enough to earn a home final. It was the only game all year with our own fans, played at our home, not someone else's home ground or a neutral venue.
"There was an amazing build-up to the game but even more amazing was our execution and the execution of the fans being our 12th man and cheering us all the way. It made it even more special and exceeded expectations really of what it could be like."
Brathwaite joins fellow international Tom Curran with only two players yet to be confirmed for a BBL11 campaign set to get underway against the Melbourne Stars on December 5.
Squad: Moises Henriques (capt), Sean Abbott, Carlos Brathwaite, Daniel Christian, Tom Curran, Ben Dwarshuis, Jack Edwards, Mickey Edwards, Daniel Hughes, Stephen O'Keefe, Hayden Kerr, Nathan Lyron, Ben Manenti, Josh Philippe, Lloyd Pope, Jordan Silk.
IND v NZ: I think we did a great job in prising out nine wickets on the last day, says Dravid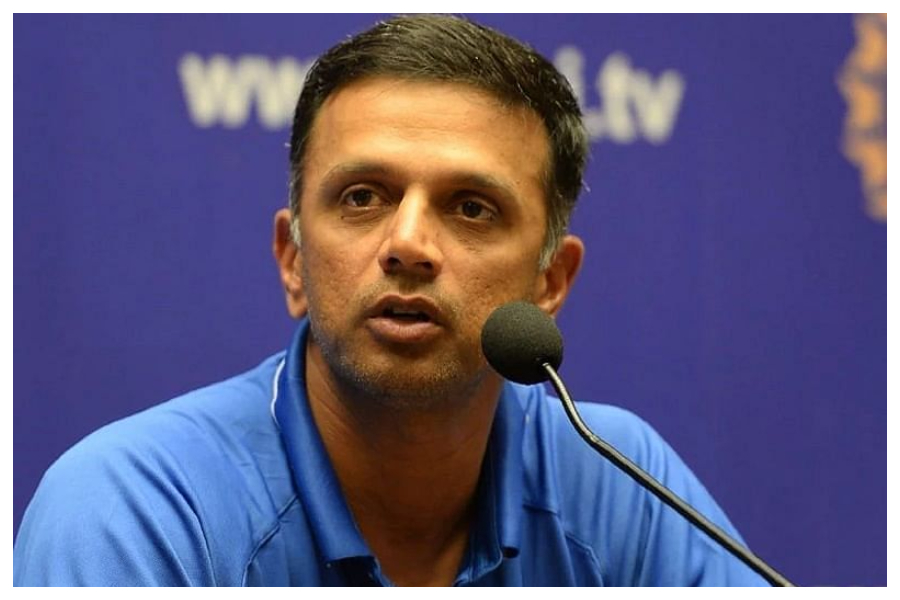 India head coach Rahul Dravid appreciated the efforts of the bowlers in taking out nine wickets on day five in the drawn first Test against New Zealand at the Green Park Stadium on Monday. He added that pitch did not challenge outer as well as inner edges on day five. The last-wicket New Zealand pair of Rachin Ravindra and Ajaz Patel were defiant in keeping India away from a win, managing to save the match in a thrilling draw.

"I guess the facts of the pitch were that it was probably low and slow, didn't have that much of bounce and turn. You probably expect a little bit more of wear and tear on these wickets in Indian conditions over the course of five days. It just didn't seem to have that kind of bite. It's generally in India on Day Five where you can challenge both edges, at least the spinners can challenge the outside edge for the catches and beat people on the inside edge for the lbw. In this game, the outside edge was virtually ruled out, and even till the last day none of the edges were carried. I can't even remember a catch close to the edges. I think Bharat took a couple but other than that, it felt there was only one way to get people out which is bowled and lbw, which was probably true in the last session," said Dravid in the post-match press conference.

"Inspite of that, I think we did a great job in prising out nine wickets on the last day. I have played in Kanpur before but it was slower and lower than I have experienced anything here before. Usually, on Day Five, you should get a bit more help, cracks widen up a little bit. Maybe it's winter or what it was, it felt like if you wanted a block or wanted to score runs, then it felt really difficult to get people out. We saw that as quality guys were able to make a game out of this otherwise it could have easily become a dull draw," added Dravid.

Dravid praised the team for showing the gumption to fight and maintaining their composure on what he felt was an 'unresponsive pitch' and admitted that light would have faded anytime in the closing stages of the match. "It was expected. I mean, we kind of knew the light was going to dip at that point in time. It has been happening sort of every day. Not very difficult. I mean, the guys were pretty switched on."

"I thought we showed composure and great fighting spirit to be able to, sort of, worked really hard in that last session on what was quite an unresponsive pitch even on the fifth day. I think the guys were very good and did a really good effort, considering what it was to take eight wickets after lunch, three in that session, and five in the last one. Really run the game close and with a little bit of luck, could have gone our way as well. But I think the guys fought really hard today."

The 48-year-old defended the timing of the declaration by India in the second innings, saying that the team had timed it well. "No, I don't think so. That's not my reading of the game. Till half an hour before we declared, we were under pressure. All the three results were possible. To be very honest with you, if we had got out, obviously Wriddhiman Saha showed great courage and character in batting with stiff neck he had, we had lost last three wickets quickly and they would have been chasing 230-240 in 110 overs, then they were looking at 2.2 or 2.3 runs per over."

"I thought we timed our declaration really well. We lost Shreyas just before tea and then we had that partnership which was really critical for us from 167/7 to get to 234/7 was absolutely necessary. This wicket was really flat and if it was bouncing or turning and had both edges in play, there would have been a different situation. Even today if you could walk into a ground and see that the opposition needs under three runs an over, that's not a lot of runs if a couple of batsmen get set. I thought we did well, timed it well, managed to get a wicket yesterday, and came close today. So, we timed it well. You people forget that we were under pressure as well even 45 mins before we declared."


IND v NZ: Winning the game would have been icing on the cake, says Iyer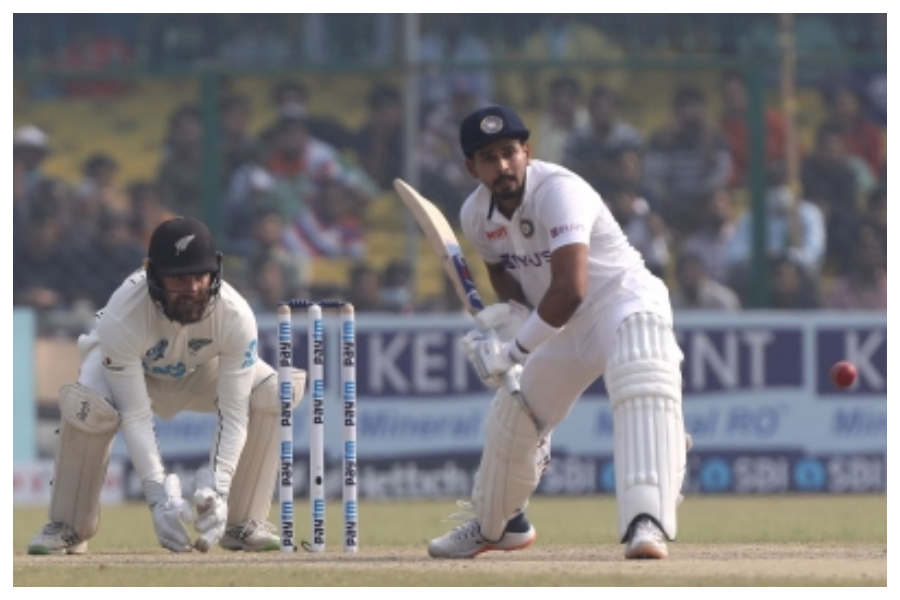 India batter Shreyas Iyer believes that he was happy with his performance in the first Test against New Zealand but would have felt better if Indian had won the match. He added that his mindset was about playing as many balls as possible. Iyer was the player of the match as India and New Zealand played out a thrilling draw for scoring 105 and 65 on debut.
"It's a great feeling but winning the game would have been icing on the cake. You can still see that the pitch was intact but our bowlers showed great fight," said Iyer in the post-match presentation ceremony.
Talking about his batting in both innings, Iyer said, "My mindset was to play the sessions and play as many balls as possible. People say I am a very flamboyant player but the situation required me to play longer. So, I played for the time. Enjoyed batting with Ashwin and Saha."
Asked about his overall assessment of India's performance, who were separated from a win by just one wicket, Iyer remarked, "I am really proud of the way we came out from a difficult position. I am really happy with the overall performance of the team. The pressure is always there, they had a great start and played out the first two sessions really well. But once we got a sniff and got quick wickets, we made the best use of the situation."
With the series at 0-0, both India and New Zealand have the chance to win the series in the second Test at Mumbai, starting from Thursday.
IND v NZ, First Test: Ravindra, Patel's stubborn resistance forces thrilling draw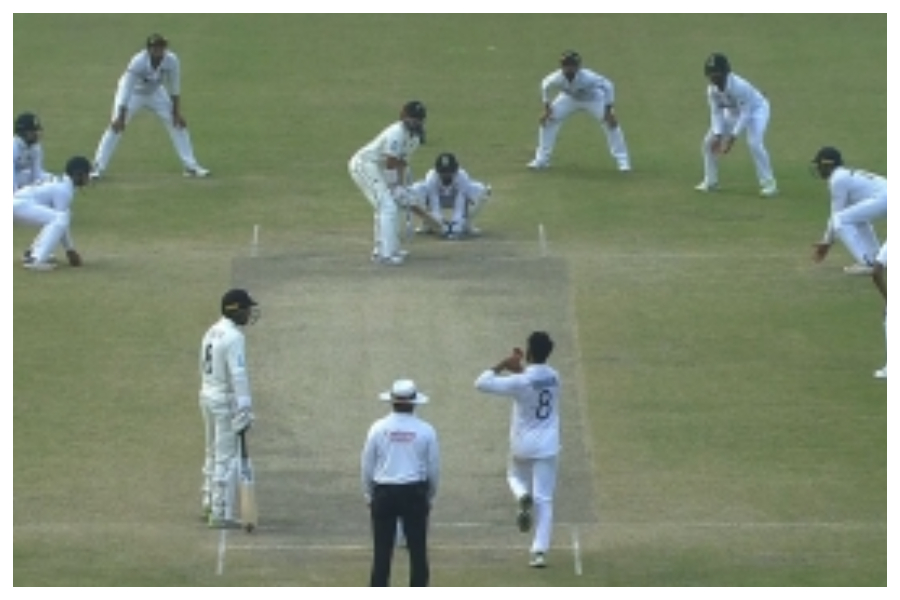 Rachin Ravindra anod Ajaz Patel put up 52 balls of stubborn resistance to help New Zealand force a thrilling draw against India in the first Test of the two-match series at the Green Park Stadium here on Monday. From 155/9, Patel did a fine job of hanging in at the crease but it was the debutant Ravindra, who faced 91 balls and gave a great account of his temperament and composure to deny India a win.
After going wicketless in the opening session of day five, Ravichandran Ashwin, Ravindra Jadeja, Umesh Yadav, and Axar Patel picked eight wickets in the next two sessions. But a stonewalling effort from Ravindra and Patel defied the Indian bowling attack, which was in a race against time as lights began to fade in the final half-hour of the day.
Axar Patel struck on the seventh ball of the final session, trapping Henry Nicholls lbw with the one turning in a little and went past the outer edge to hit the back pad. Ravindra Jadeja got some help from the pitch, getting one to grip and turn past Kane Willia'son's bat, pretty similar to the jaffa from Umesh Yadav which squared up Williamson in the second session. In his next over, Jadeja trapped Williamson plumb lbw on the backfoot with a ball that came in and kept low.
Tom Blundell and Rachin Ravindra batted 54 balls together to try and save the match. Captain Ajinkya Rahane brought Ravichandran Ashwin in and immediately created a chance. But Blundell was saved by a sharp turn on an lbw appeal. India took the review but lost it as the ball was going down the leg-side.
In his next over, Ashwin claimed 'lundell's wicket in a very unusual fashion. Blundell came out to defend a turning delivery. But the ball hit the rough and rolled over to disturb the bails. Kyle Jamieson had some luck on his side as Cheteshwar Pujara was late to react to his left an' couldn't take the catch off Ashwin. But Jadeja ensured that the let-off on the second new 'all won't be costly as Jamieson was trapped lbw by one spinning past the outer edge to hit the back pad.
Jadeja scalped his fourth wicket of the innings by beating the outer edge of Tim Southee's bat and trapping him lbw in front of off-stump. Southee took the review 'ut couldn't change the decision. Ravindra and Patel were sturdy in defence as India were in a race against time to wrap the innings.
Ashwin 'truck Patel's pad but was given not out as the ball pitched outside leg. India took the review but were unable to change the decision, thereby losing all reviews. Ravindra and Patel survived 52 balls for just 10 runs as New Zealand managed to eke out an escape by the barest of margins.
Earlier, India picked up three crucial wickets, including one each on the first and last ball of the second session, to make a comeback in the match. After not getting a wicket in the first session, India got one on the very first ball post-lunch as William Somerville tried to pull a short ball from Umesh Yadav, but it flew to Shubman Gill running in from fine-leg and completing a superb forward diving catch.
Yadav continued to trouble Latham and Kane Williamson, getting a lot of deliveries to keep low and targeted towards the stumps. But the duo continued to put up a defiant show while hitting the occasional boundary. Latham brought up his second half-century of the match with three runs through mid-wicket.
But four overs later, Latham, in a bid to punch through the off-side, chopped on to his stumps off Ashwin. The dismissal also meant that Ashwin went past Harbhajan Singh's 417 wickets to become the third-highest wicket-taker for India (13th overall) in Test cricket.
Ross Taylor was nearly stumped on zero off Ashwin as there was no conclusive evidence to rule him out. His anxious stay at the crease ended on the stroke of tea as Jadeja trapped him plumb in front of the wicket.
Resuming from 4/1, Latham and William Somerville put up a show of stubborn resistance to keep India at bay in a wicketless first session. The duo showed great application in scoring 75 runs in 31 overs. They were rigid in defence, though Ashwin troubled them often while plucking boundaries against the pace of Yadav.
Latham was the first to take a boundary off Yadav, glancing through fine leg while Somerville struck a straight drive. Somerville then crunched delightful back-foot drives on consecutive deliveries off Yadav through off-side and was lucky in getting a boundary off the outer edge off Ishant Sharma.
India seemed to be a bit frustrated over not getting their first wicket of the day. Such was the desperation to get a wicket that they took a review for a Latham lbw despite the impact outside the off-stump, thereby wasting a review as New Zealand survived the rest of the session unscathed and eventually, the day.
Brief Scores: India 345 (Shreyas Iyer 105, Tim Southee 5/69) and 234/7d in 81 overs (Shreyas Iyer 65, Kyle Jamieson 3/40) drew with New Zealand 296 in 142.3 overs (Tom Latham 95, Axar Patel 5/62) and 165/9 in 98 overs (Tom Latham 52, William Somerville 36, Ravindra Jadeja 4/40, Ravichandran Ashwin 3/35).