CA arrested in Rs 3,269 cr Shakti Bhog bank fraud case
The Enforcement Directorate (ED) on Saturday said that it has arrested Raman Bhuraria, a chartered accountant, in the Rs 3,269 crore bank fraud case involving Shakti Bhog Foods Limited.
An ED official here said that the agency arrested Bhuraria for his assistance and complicity in the multi crore bank fraud under the provisions of the Prevention of Money-laundering Act on Friday.
The allegations against the accused include his active assistance and involvement in the bank fraud by way of round tripping through related entities. Siphoning of the funds was being done through fictitious sale or purchase through various dummy and other entities.
Bhuraria was produced before a court which sent him to ED custody till August 20.
The arrest was in continuation of rejection of his anticipatory bail by the Special Court and searches conducted by the ED on various locations.
"During searches various incriminating documents and digital evidence have been recovered," he said.
The ED registered a case of money laundering on the basis of FIR registered by CBI against Shakti Bhog Foods Limited and others, for criminal conspiracy, cheating and criminal misconduct.
Centre clarifies on 3rd wave possibility after Omicron detection
Omicron cases are increasingly being reported from countries outside of South Africa. India has also reported two cases of Omicron Covid variant and is likely to spread to more countries.
"Given the fast pace of vaccination in India and high exposure to Delta variant as evidenced by high seropositivity, the severity of the disease is anticipated to be low. However, scientific evidence is still evolving," said the Health Ministry on Friday. It added further that the scale and magnitude of rise in cases and most importantly the severity of disease that will be caused is still not clear.
On the question of existing vaccine efficacy against this variant, the health ministry has said that there is no evidence to suggest that existing vaccines do not work on Omicron, some of the mutations reported on Spike gene may decrease the efficacy of existing vaccines. However, vaccine protection is also by antibodies as well as by cellular immunity, which is expected to be relatively better preserved.
"Hence vaccines are expected to still offer protection against severe disease, and vaccination with the available vaccines is crucial. If eligible, but not vaccinated, one should get vaccinated," it added.
The response measures for all variants of concern, including Omicron, is the same as that for SARs CoV2. The ministry has said that the precautions and steps to be taken remain the same as before. "It is essential to mask yourself properly, take both doses of vaccines (if not yet vaccinated), maintain social distancing and maintain good ventilation to the maximum possible", said the ministry in a statement.
The government is monitoring the situation closely and is issuing suitable guidelines, said the ministry, adding that the scientific and medical community is geared up for developing and deploying diagnostics, carrying out genomic surveillance, generating evidence about viral and epidemiologic characteristics, and development of therapeutics.
Trouble looms for Balakrishnan as Mumbai HC to hear son's DNA case
The Mumbai High Court has posted for January 4 the case of a DNA test result of Binoy Kodiyeri, the elder son of CPI-M politburo member Kodiyeri Balakrishnan who was all set to return as Kerala CPI-M state secretary.
A woman from Bihar has alleged that Binoy had a relationship with her while she was working at a dance bar in Dubai in 2008 and till 2015, he used to send her money every month. They also have an eight-year-old child.
The woman had first filed a petition in 2019 and in July 2019 Binoy approached the Mumbai High Court seeking dismissal of the rape case filed by the woman. The court asked all the three to go for a DNA test and Binoy appeared for it on July 30, 2019.
Following which the case went into a limbo. In December 2020 the DNA result was filed before the court in a sealed cover and on Thursday the woman approached the court wanting to know the result. The court has now posted this case for January 4.
Incidentally Balakrishnan who is a cancer patient, was given medical leave by the party soon after his younger son Bineesh Kodiyeri was arrested in October 2020 by the Enforcement Directorate under the Prevention of Money Laundering Act.
However Balakrishnan breathed easy when Bineesh got bail from the Karnataka High Court after being in a jail in Bengaluru in October this year. Kerala Chief Minister Pinarayi Vijayan strongly backed Balakrishnan to return to the post and the green signal was to have come from the state secretariat on Friday, when came the news about Binoy.
The news about Binoy has come at a time when the CPI-M, ahead of the party state conference scheduled for early next year, wanted Balakrishnan to take over. Sources in the know of things say Balakrishnan will be asked to take over after the national leadership of the party last month asked the state leadership to take a call on it.
Five dead, one injured in road accident in Gurugram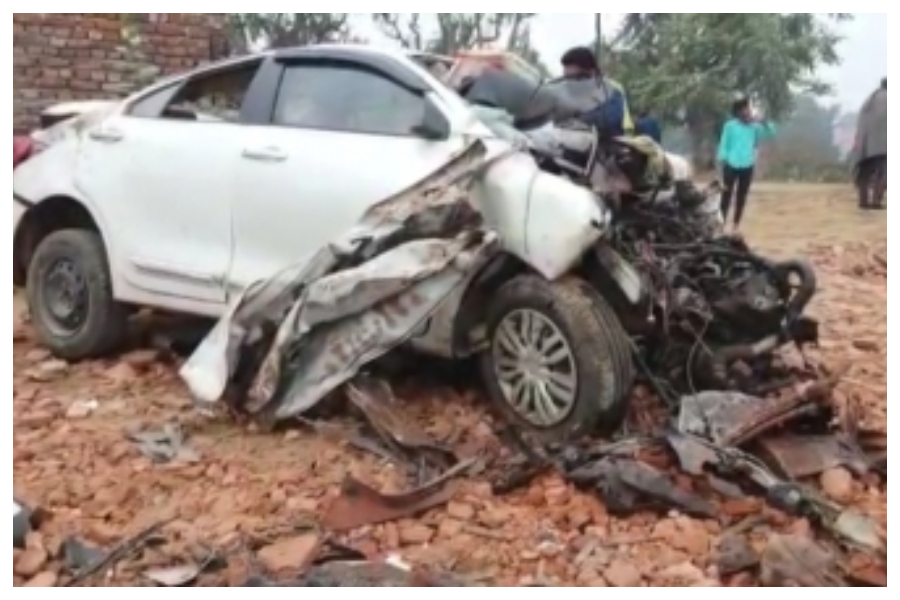 Five people were killed after a car crashed into a roadside wall and overturned on Sadhrana road near Gadhi village here on the intervening night of Thursday and Friday.
According to police, the deceased have been identified as Sagar, Jibech, Niaz Khan, Prince and Jagbir.
One person, identified as Hardik Tiwari, was injured in the incident.
The victims were returning to Gurugram city from Sadhrana village after attending a marriage.
"All of them were coming from a wedding ceremony in Sadhrana village. The mishap was a result of speeding and a damaged road. All the victims used to work in a city-based private hospital. Police are taking necessary action," Gurugram police spokesperson Subhash Boken said.
"The injured man has been shifted to a hospital in critical condition. While the bodies have been sent for post-mortem. Further probe is on," he added.