Bombay High Court hopes Maharashtra Governor will clear list of 12 MLCs soon
Commenting on the delay by the Maharashtra Governor in clearing the list of 12 nominated Members of Legislative Council, the Bombay High Court on Friday said that "eight months was more than enough time" and expressed hope that the matter would be resolved soon.
Disposing off a PIL, a division bench of Chief Justice Dipankar Datta and Justice G.S. Kulkarni said that under Article 361 of the Constitution, the court could not give any directions to the Governor on the matter.
However, it also expressed the clear view that it was the Governor's duty to inform the Chief Minister about his reservations to the nominations "within a reasonable time", failing which "the statutory intent would stand defeated".
The Maha Vikas Aghadi's council of ministers, headed by Chief Minister Uddhav Thackeray, had, in November 2020, submitted the list of nominated MLCs to Governor Bhagat Singh Koshyari and the bench felt that "eight months on facts seems to be beyond reasonable time".
The court added that considering the gravity of the issues involved and the necessity to fill up the 12 vacancies as well as the aims of the Constitution, "would consider it desirable" if the government's application "is discharged without undue delay".
Thane Crime: Man Held For Strangling His Mentally-Challenged Daughter To Death In Dombivli
Thane, September 25: A 35-year-old man has been arrested for allegedly strangling his 10-year-old mentally-challenged daughter to death in their house in Thane district of Maharashtra a day before, police said on Monday. The couple has four daughters, aged between 5 to 14, and the youngest of them lives with her grandparents in their native village, a police official said.
Agrahari is an alcoholic and used to beat his wife
The accused Manoj Agrahari allegedly strangled his daughter, Lovely, at their home in Dombivli when other members had gone out, an official said quoting the FIR. Agrahari is an alcoholic and used to beat his wife, he said.
The accused works at a grocery shop while his wife is employed at a company
The accused works at a grocery shop while his wife is employed at a company in the MIDC area of Dombivli. The victim, Lovely, has been mentally challenged and also speech and hearing impaired since her birth.
When the girl rushed home she saw her sister lying dead on bed and alerted her mother
According to the complaint, Agrahari went to the scrap shop where his 14-year-old daughter was working on Sunday and told her that Lovely was dead. When the girl rushed home she saw her sister lying dead on bed and alerted her mother, the official said. Police have registered a case of murder under the Indian Penal Code and conducting further investigation.
Bombay HC To Hear Fresh Plea Challenging Renaming Of Aurangabad, Osmanabad; Case Listed On Sept 29
Mumbai: Bombay High Court has agreed to hear a fresh petition challenging the renaming of Aurangabad, Osmanabad districts, revenue areas. The hearing for the same has been scheduled on September 29. Earlier, a plea was withdrawn as the Maharashtra government said it had not issued final notifications for their renaming.
This is a breaking news. More details are awaited.
'Congratulations Trolling Gang…': Maha BJP Hits Back At Opposition For Sharing Video Of Fadnavis Allegedly Pushing Nagpur Citizen During Floods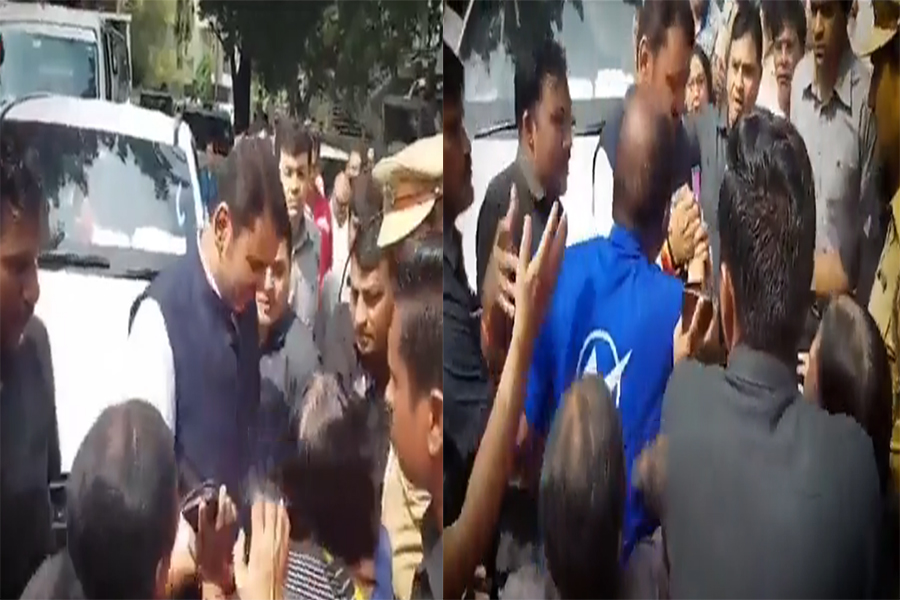 The Bharatiya Janata Party (BJP) has responded to allegations made by the opposition regarding the alleged manhandling of citizens during Deputy Chief Minister (DCM) Devendra Fadnavis' visit to Nagpur on Sunday. Videos were released by the BJP to refute these accusations.
During the visit, it was reported that some citizens wanted DCM Fadnavis to visit their homes, but police appeared to prevent them. However, Devendra Fadnavis took the initiative to visit their homes. The party stated that only a selective portion of the video was circulated by the opposition to support their claims.
BJP's Scathing Response To Opposition
The BJP did not mince words when responding to the opposition's actions. They congratulated former Chief Minister Uddhav Thackeray and the Congress for seemingly prioritising the work of the so-called 'trolling gang' over constructive opposition duties.
Viral Video Sparks Controversy
A video of Devendra Fadnavis engaging with distressed citizens in Nagpur went viral on social media platforms. In the footage, he can be seen talking to residents who were expressing their dissatisfaction with the authorities' response to the city's flooding crisis. The video takes a controversial turn when Fadnavis appears to forcefully push a man who was attempting to communicate with him.
Opposition Criticises Fadnavis
Maharashtra Congress took to social media to criticize the Deputy CM's actions, calling him 'arrogant' for his behaviour toward citizens reporting flood damage. They questioned whether such actions were indicative of an abuse of power.
Shiv Sena (UBT) also condemned DCM Fadnavis' actions, labeling them as 'arrogance of power.' They emphasized the Deputy CM's push to a flood-affected citizen asking for help.
Nagpur Gripped by Flooding
The incident occurred amidst severe flooding in Nagpur, Maharashtra's second capital, caused by relentless rainfall. Thousands of residents were forced to evacuate their homes as floodwaters submerged entire neighbourhoods.
Approximately 10,000 residences were breached by the floodwaters and distressing visuals showed citizens wading through knee-deep water on the streets. Tragically, four lives were lost and at least 400 individuals had to be relocated to safer areas from the affected regions.