Blast near mosque in Bihar's Banka injures several
A massive blast took place on Tuesday morning in a Madarsa under Nagar police station in Bihar's Banka district, which completely destroyed he building. Two to three people are reported to be injured in this incident.
Banka Nagar police station in-charge Shambhu Kumar said that a bomb exploded in a Madrasa, located near a mosque, on Tuesday morning in Navtolia area. The Madrasa building has been completely damaged in this incident.
Two to three people are reported to have been injured in this incident, although the police are yet to confirm it.
The station in-charge told IANS that prima facie it appears to be a case of bomb blast. He said that a team of Forensic Science Laboratory (FSL) is being called to probe the incident. Whether it was a case of bomb blast or a cylinder explosion, will be known only after investigation, police said.
NCB drugs case: No bail for Aryan Khan, 2 others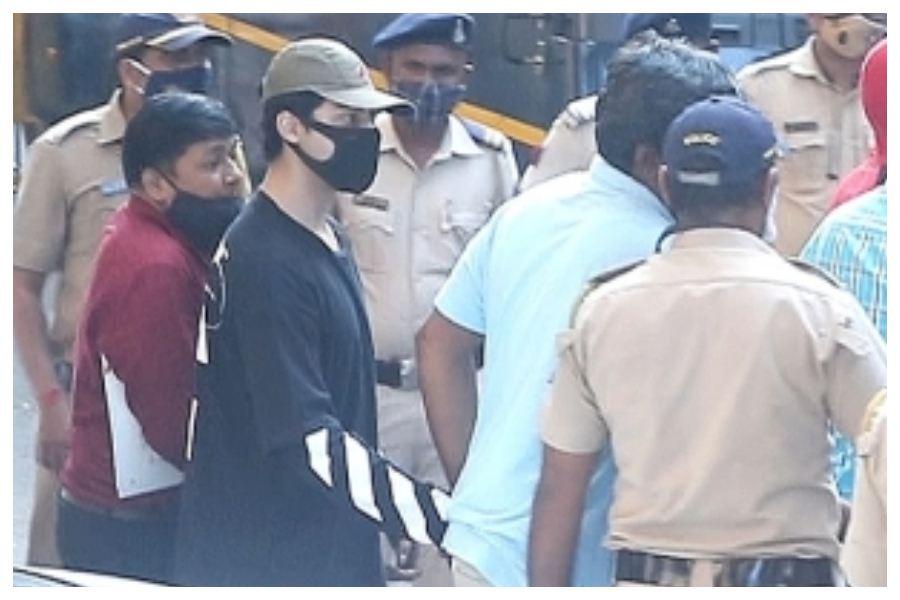 Mumbai Special NDPS Court on Wednesday rejected the bail plea of Aryan Khan, the son of Bollywood superstar Shah Rukh Khan.
The court also declined the bail applications of Arbaaz Merchant and Munmun Dhamecha, the two accused in the same case.
Khan's lawyer said that though the detailed order of Special Judge V.V. Patil is awaited, they plan to "appeal to the Bombay High Court today or tomorrow seeking bail".
All eyes on Mumbai special court, suspense over bail or jail for Aryan
The Special NDPS Court in Mumbai is the focus of national attention as the bail plea of Aryan Khan — son of Bollywood megastar Shah Rukh Khan — and 7 other youths come up for hearing later on Wednesday.
The arguments in the bail pleas of Aryan Khan, Arbaaz Merchant and Munmun Dhamecha were completed last week and Special NDPS Judge V.V. Patil had deferred the verdict till Wednesday, but the hearing of the remaining accused is pending.
The hearing comes under the backdrop of a senior Shiv Sena leader Kishore Tiwari filing a plea before the Supreme Court Chief Justice N.V. Ramana demanding a high-level probe into the affairs of Narcotics Control Bureau (NCB) and the 'violation of Aryan Khan's fundamental rights'.
Meanwhile, the NCB has reportedly found the mention of a heroine in one of the WhatsApp chats of Aryan — who has been inside the lockup or custody for 19 nights continuously since his detention on October 2 and arrest on October 3.
The NCB has reportedly counselled him and other co-accused, offered them their religious holy books like Bhagwad Gita, Quran or Bible, Aryan reportedly is full of remorse and has promised to 'reform' himself after release.
However, Nationalist Congress Party National Spokesperson and Minister Nawab Malik has challenged these claims and demanded the NCB should release videos of the purported counselling sessions instead of indulging in selective leaks.
In one of the most high-profile operations, Aryan Khan, along with 7 others was caught when the NCB team led by Mumbai Zonal Director Sameer Wankhede swooped on an alleged rave party aboard a cruise ship on October 2 evening.
During subsequent investigations, another 12 persons, including a foreigner have been nabbed in the same case, while some others have been raided or questioned.
Simultaneously, fingers have been raised at the NCB's style of working, the involvement of a fugitive and a politician, friends of the sleuths as 'independent witnesses', capped by the unprecedented plea to the CJI seeking a probe into the central narcotics agency's alleged 'mala fide doings'.
Bhopal man arrested for raping 13-yr-old girl
Bhopal Police on Monday arrested an accused for allegedly raping a 13-year-old girl. The matter came to light after a police complaint was registered. The accused has been arrested under sections 376 and 501 of the Indian Penal Code (IPC).
According to the police, the accused is known to the victim. He runs a grocery store where the victim used to visit to purchase goods.
According to the victim's complaint lodged at Bhopal's Sukhi Sevaniya police station, the accused invited the victim to his home on Saturday and allegedly raped her. He also threatened her of serious consequences if she told anyone about the incident.
However, after another person who knew the victim, came to know about the incident, she narrated the entire story to her parents.
Subsequently, they lodged a police compliant on Monday, a senior police official, Vijay Bahadur Singh, from Sukhi Sevaniya police station, told IANS.
"Further, investigation in the matter is underway," he said.