Babar Azam can become world No. 1 batter in all three formats, feels Dinesh Karthik
India wicketkeeper-batter Dinesh Karthik feels Pakistan skipper Babar Azam has it in him to become the world No. 1 batter in all three formats of the game, which will be a unique first in the annals of the game.
The 27-year-old Azam already has the top ICC billing in both white-ball formats, but is ranked fifth in the longest format behind the likes of Australia's Marnus Labuschagne and Steve Smith, New Zealand's Kane Williamson and prolific England run-getter Joe Root.
But Karthik, who has played a key role in Royal Challengers Bangalore (RCB) securing a Qualifier 2 berth in IPL 2022, is quite confident that the Pakistan captain will soon be topping the ICC Test batting charts as well.
"One-hundred per cent (he is capable of achieving that)," Karthik told The ICC Review on Friday. "He is a high-quality player who is at the peak of his batting prowess and he has got some Test matches coming up.
"He has been phenomenal in all three formats of the game and he has done well in different batting positions too. I wish him all the best and think he has the potential. He has got all the following of Pakistan helping him in abundance to go on and do special things for his country," added Karthik.
Azam is close to achieving 3,000 Test runs and has so far played 40 matches, with a highest of 196. He has smashed six centuries and averages a healthy 45.98, besides scoring 21 half-centuries.
Australia batter Labuschagne is currently ranked first in the Test batting ranks, but it's been the 'Big Four' of India's Virat Kohli, England's Joe Root, Australia's Steve Smith and New Zealand's Kane Williamson that have dominated red-ball cricket for the past decade.
While Babar still has much to do to match the feats of the 'Big Four', Karthik thinks it's only a matter of time before the Pakistan right-hander joins the group.
"It is a very strong 'Fab Four' that we are talking about and they have obviously been there for much longer, but there is no doubt that Babar has all the credentials and he is going to make it a 'Fab Five'," said Karthik.
"There is no doubt he is there or thereabouts… he is a very special player."
Karthik noted that Azam had made subtle changes in his batting technique of late, which had helped him become a better cricketer.
"The two things that struck me when I watched him bat is his balance and his striking point when he plays a ball. Whether it is on the front foot or the back foot, his ability to strike the ball more often than not under his eyes, has been phenomenal. He strikes the ball at the point where it is optimum power for where the ball is pitched and that makes him a very special player."
Karthik, who recently made a re-entry into the India national side being selected in the squad for the five match-T20I series at home against South Africa, added that he was confident the Pakistan cricketer would develop further.
"When you play international cricket you have got to keep changing a little bit here and there to keep improving your technique. Sometimes just by one per cent a lot of the time so that so you can go on and achieve success in that particular tour you are on, so I think he has definitely tweaked his technique a bit here and there over a period of time," added Karthik.
India U-17 girls go down to Chile 1-3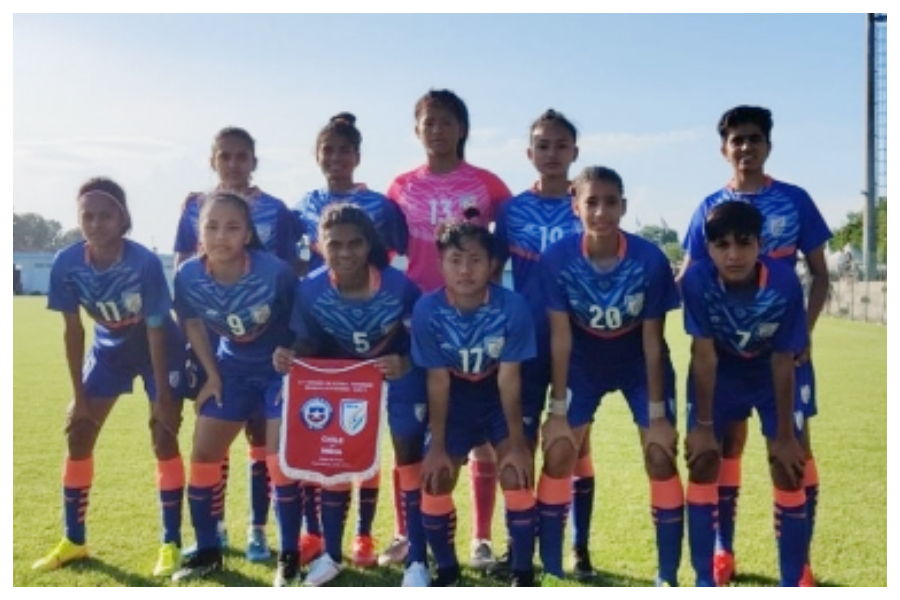 The India U-17 women's team suffered a 1-3 loss to Chile U-17 in a friendly game at the Aquileia, Italy.
The match started on Friday night at a relatively slow pace compared to the previous game against Italy. The first real chance came in the 10th minute when Naketa took a free-kick from long range but her shot missed the target. India were struck with a blow right after that as Chile scored in the 11th minute via Katerine Ramos.
India tried to bounce back from the setback, and on the 15th minute mark, Shubhangi crossed the ball and Lynda was able to take a shot but it was saved by the Chilean goalkeeper. Chile though secured a two-goal lead in the 19th minute, when Danlela whipped in a cross and Maitte put the ball into the back of the net with a header.
India did not give up though and kept attacking. In the 21st minute, Lynda attempted a shot from Astam's cross but the former missed the target by a whisker. The pace of the game slowed down a bit after Chile's second goal.
In the 26th minute, Chile's Yennifer Pasten got injured and had to be substituted as Ambar Rolino came in for her. Chile got a corner in the 34th minute which was easily cleared by the Indian defence. India went into the break with a mountain to climb in the second half.
India started the second half on the front foot as Anita made a run down the right and took a shot but it was collected by the goalkeeper. Chile also kept attacking, this time through Ambar in the 43rd minute as her dangerous free-kick was cleared by the Indian defenders.
Coach Thomas Dennerby made a double substitution in the 51st minute as Kajol and Nitu Linda came on for Lynda Kom and Babina. This change had an immediate impact as India scored on the 55th minute mark. A cross from Neha landed at the feet of Kajol who tucked the ball away into the back of the net from a header.
However, India's hopes came crashing down when Ambar scored the third goal for Chile and restored their two-goal advantage in the 67th minute.
India: Monalisha Devi, Naketa, Astam Oraon (Captain), Neha (Misha 68′), Lynda Kom (Kajol 51′), Anita Kumari (Sudha 78′), Purnima Kumari, Shubhangi Singh, Pinku Devi (Shelia 68′), Babina Devi (Nitu Linda 51′), Kajal (Rejiya 78′).
Aussie skipper Finch overwhelmed by response from Sri Lankan fans during fifth ODI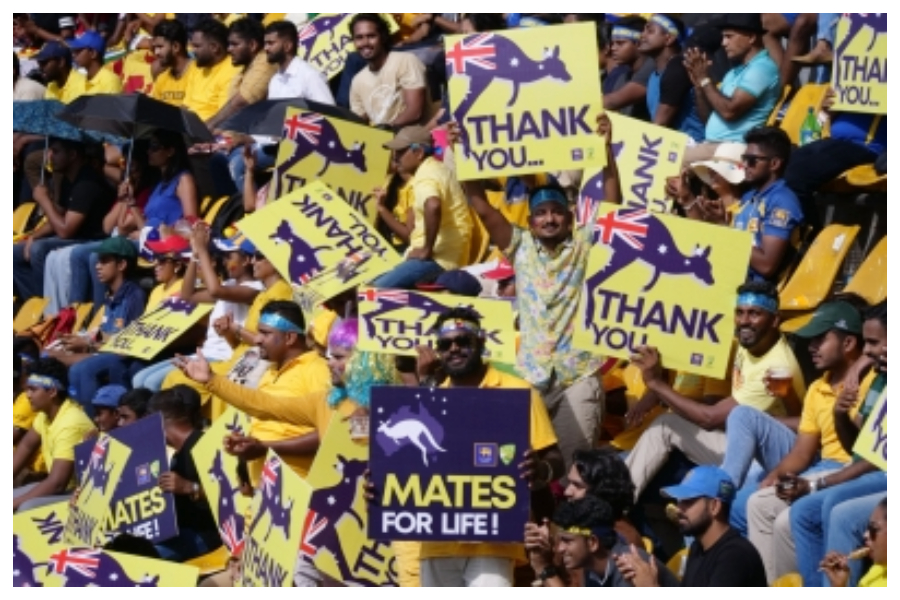 Australia white-ball skipper Aaron Finch has been overwhelmed by the response his team has received during the limited-over series, comprising three T20I and five ODIs, which concluded at the R. Premadasa Stadium on Friday night.
While Australia won the T20I series 2-1, Sri Lanka clinched the ODI series 3-2. The limited-overs series will now be followed by a two-Test series beginning at Galle on June 29.
Speaking about the hardships the Sri Lankans have faced over the last few months in the wake of a severe economic crisis, Finch said, "We're very grateful that we've been able to tour here. We know the difficulties that Sri Lanka has faced in recent times. Hopefully over these eight white-ball games we've been able to provide some joy to people in the country."
Despite the recent problems faced by the country, including long hours of power cuts, the Sri Lanka team showed the world their extraordinary spirit, winning their first series at home against Australia in 30 years.
Finch, the captain of the side on its first tour of the country since 2016, added that the support provided by the people of the island nation was "second to none".
Thousands of people in Australia's traditional colours descended on the R. Premadasa Stadium for the final ODI in a show of solidarity for the visiting team, and Finch said it was simply wonderful.
"It was outstanding, the Sri Lankan people are wonderful people. The support that they provide is second to none. They are great cricket supporters, it's not just constant noise; they ride the emotions of the game. When Sri Lanka are up and about, that's as loud as anywhere you'll visit in the world," Finch was quoted as saying by ICC.
In a video shared by cricket.com.au, Australia all-rounder Glenn Maxwell said, "That was pretty extraordinary. I was just saying to the boys that was one of the most special feelings. Being able to walk around the ground and have a foreign country cheer for you.
"A lot of times when Australia tours we are generally the enemy and there's not too many Australian fans in the stands. But to have the support and fans that are here at the moment is truly extraordinary.
"Everyone's wearing yellow. They've got all the Australian flags all over the place. It's extremely special and it's a credit to everyone that's been able to get out here. It's been such a tough time obviously for the locals. For them to come out and support us, hopefully, both teams can entertain them and they've had a really good time during the one-day series."
Maxwell banking on ability to tackle good spin bowling in tough conditions after Test recall
On the verge of making his first Test appearance after almost five years, Australia all-rounder Glenn Maxwell is banking upon his ability to tackle good spin bowling in tough Sri Lanka conditions ahead of the series opener at Galle on Wednesday.
Maxwell last played a Test match against Bangladesh in 2017 at Chattogram, the same year where he got his only Test century against India in Ranchi and was rushed to the squad in Johannesburg amid the ball-tampering saga in 2018. With left-handed batter Travis Head recovering from a hamstring injury, Maxwell was handed a return to the Test squad for the two-match series against Sri Lanka.
"I think I bring a lot of experience in these sorts of conditions and being able to tackle good spin bowling in tough conditions. It's something I pride myself on, having quick feet and being able to find a way through adversity in tough conditions. Looking back to 2017, being able to get a Test hundred in India is something I'm extremely proud and to be one of only a couple of people in the last decade to do that is something I'm hoping holds me in good stead for this as well."
"My game plan probably isn't going to change a whole lot, probably just going to be a little more time consuming, being able to spend more time at the wicket, without any run-rate pressure on and I'm certainly looking forward to that opportunity to bat long periods of time," Maxwell was quoted as saying by ESPNCricinfo after the end of ODI series.
The surprise return to the Test side also means that Maxwell might get a new Baggy Green as his original one has deteriorated and hadn't been in his kit bag before leaving for Sri Lanka. "I didn't want to be presumptuous and it turns out I'm glad I didn't bring it because it's completely disintegrated. So I'm going to have to get a new one for this Test tour. I'll look like a first-gamer out there."
"My last Test was a win in Bangladesh and (the cap) is full of all sorts of different things. It's stayed in the little bag that we get. I took it out last year and had a look at it and it was deteriorating, thought that's not a good sign. My wife took it out yesterday and said 'I don't think I can bring this', it looked terrible, so think when I get home I'll see if I can get it fixed up but it's not looking great at the moment."