Ayushmann to play undercover cop in political action thriller 'Anek'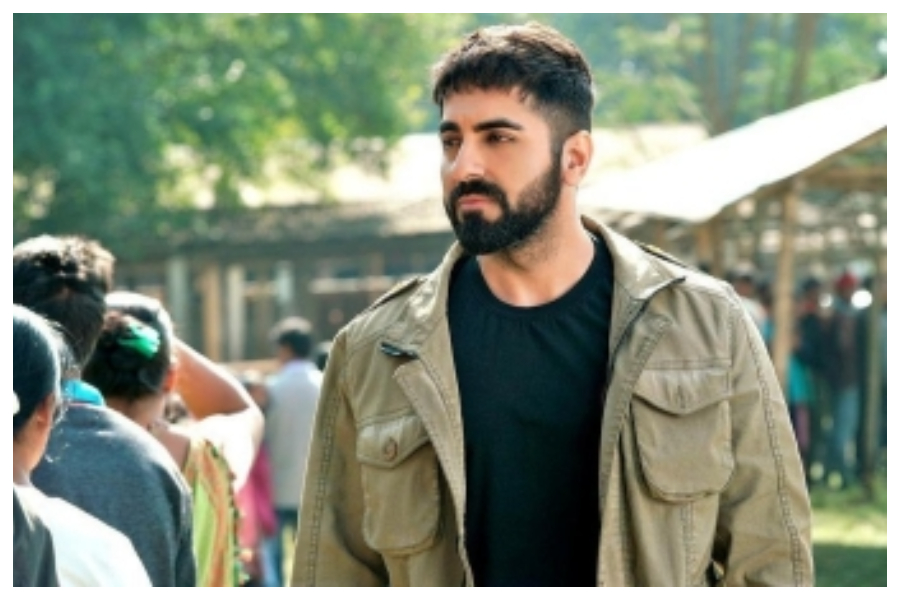 Bollywood star Ayushmann Khurrana will be seen in the avatar of an undercover cop in the upcoming political action thriller 'Anek', directed by Anubhav Sinha.
Although, he has earlier played a cop in 'Article 15', which too was incidentally directed by Anubhav, this will be the first time when he will be essaying such a character.
While talking about his character in the film, Ayushmann said "This is the first time the audience will see me in this avatar. I have played a cop before but this is the first time they will see me going undercover. Joshua in Anek is street smart and intelligent."
He further mentioned, "He knows his way around people and can fight bad guys not only in a physical capacity but also with his great intellect. I was very pumped to try my hands at portraying Joshua as it gave me an opportunity to explore something I hadn't done before. I owe it to my audience to offer them new experiences with each film"
Sharing his approach for this character, he said, " As an undercover cop, Joshua has the perfect traits of a spy and I had to work on my physical and mental skills to portray that. Right from his observation skills to his ability to combat the enemy, the character's journey keeps one intrigued and gripped throughout. Also, the action sequences had to look real and raw to fit into the world of Anek and to portray what Anubhav had envisioned, I was inscribed with the right amount of guidance and training."
Talking about the film, director Anubhav Sinha said, "I am excited about 'Anek's' release as it has a lot in store for the audience. Ayushmann has put everything into portraying Joshua, there is no one else who could have done it better than him. Not only is he a great actor but he was pretty dauntless when it came to performing action as an undercover cop in the film."
Jointly produced by Bhushan Kumar's T-Series and Anubhav Sinha's Benaras Mediaworks, 'Anek' poses a question about what it truly takes to be an Indian above all its divide and how one man is on a mission to unite the nation!
The film, shot in the north east, is set to arrive in cinemas on May 27, 2022 after its release date was moved from May 13 to accommodate the release of the Ranveer Singh-starrer 'Jayeshbhai Jordaar'.
SRK's Mumbai bungalow Mannat gets a diamond-studded nameplate
Superstar Shah Rukh Khan, who is known as the king of Bollywood, has added more jewels to his crown – quite literally. His bungalow, Mannat is one of the iconic places in Mumbai, and now he has cranked it up a notch by getting a diamond studded nameplate for his residence.
Several fan clubs of the 'Chak De! India' star recently shared the pictures of the nameplate on their social media as they swarmed to the King's castle to take a glimpse of the shimmery nameplate, which surfaced roughly two months after the previous nameplate.
In the pictures, two diamond nameplates could be seen with Mannat written on the left side and Landsend written on the right. Previously, it was a blackboard with Mannat Landsend embossed on it.
Landsend because the sea-facing bungalow is situated in the land's end part of Bandstand in Bandra.
SRK often greets his fans from his balcony as he did recently on his birthday on November 2. Fans now have all the more reason to put the camera shutter sound in action with the installation of the new nameplate.
On the work front, SRK has three big-ticket releases in the pipeline first of which is 'Pathaan' from the YRF spy universe. The film will mark SRK's return to the silver screen after a hiatus of 4 years. Additionally, he also has Rajkumar Hirani's 'Dunki' in which he will share the screen with Taapsee Pannu and south director Atlee's 'Jawan'.
Alia Bhatt, Ranbir Kapoor bring home their baby girl
Bollywood star couple Alia Bhatt and Ranbir Kapoor were seen bringing home their baby girl on Thursday.
The new proud parents reached their home Vastu on Thursday morning. Alia was glowing in an all black outfit while Ranbir was seen sitting in the car cradling their bundle of joy as they travelled from Sir HN Reliance Hospital to their home.
Alia, who delivered her first baby on November 6, had announced the birth of her first child in a joint note by her and Ranbir on Instagram.
It read: "And in the best news of our lives: Our baby is here.. and what a magical girl she is. We are officially bursting with love – blessed and obsessed PARENTS!!!!! love, love, love. Alia and Ranbir."
The couple, who started dating in 2018 on the sets of 'Brahmastra Part One: Shiva', got married earlier this year in April.
Khan Squared: SRK to appear in Salman Khan's 'Tiger 3' as Pathaan
The daredevilry of 'Pathaan' is going to spill into 'Tiger 3'. That Salman Khan will appear in 'Pathaan' in his Tiger avatar had been confirmed some time back, but now comes the news that Shah Rukh Khan will show up in 'Tiger 3' to enact a thrilling sequence.
'Pathaan' as well as the 'Tiger' and 'War' franchises ('War' being the superhit film where Hrithik Roshan plays RAW agent Major Kabir Dhaliwal) are three important pieces of the spy universe unspooled by Yash Raj Films.
"Shah Rukh Khan will shoot for 'Tiger 3' immediately after the release of 'Pathaan', thus confirming his presence in the Tiger franchise. In Aditya Chopra's spy universe, the paths of SRK, Salman and Hrithik will constantly cross to build up the grand finale of the spy universe," a well-placed source reveals.
SRK's shoot schedule for 'Tiger 3' is being planned immediately after January 25, 2023.
The source added: "This will be a massively mounted action sequence where Pathaan and Tiger come together for a very crucial scene. This will also be a huge cinematic moment for audiences to love."
"The spy universe is turning out to be deliciously thrilling because it brings the biggest superstars together in a riveting, edge of the seat sequences that are important for the plot to move forward. Now, all eyes are on when Hrithik Roshan will enter the spy universe."