#AskSRK: Shah Rukh Khan gives witty replies to fan queries
It was a fun-filled Tuesday morning for fans of Shah Rukh Khan as the superstar conducted an 'Ask SRK' session on Twitter, and seeing his replies, we must admit that his sense of humour has only become sharper with time.
When a Twitter user asked SRK why doesn't he burn the CD of his film "Ra.One" on the occasion of Dussehra, Shah Rukh's quip was characteristically witty: "Arre kitna jale pe namak chhidkoge!"
Not only this, when another user asked him when he planned to do films with his younger son AbRam, SRK left netizens in splits with his reply: "As soon as I get his (AbRam) dates."
One fan even made King Khan nostalgic and emotional by sharing pictures of the actor's late parents.
"Gift for you bhai, dekhlo please bahut mehnat ki hai… I know perfect nahi hai but you will like it.. love you," the user wrote.
Responding to the tweet, Shah Rukh thanked him and said that he has saved the pictures and "will print them out and keep in my room".
After "Zero", Shah Rukh took a break from signing any new film for a while. It's been almost a year since he was last seen on big screen.
Many fans asked him about his upcoming projects and why he is staying away from the movies.
"Aapne Bollywoood se kinara kyu kar lia?" a user asked him. SRK replied with trademark humour: "Ha ha Main khud hi Bollywood hu".
After answering several questions, SRK shared that it "was good to hear from" everyone.
"Ok all. Need to go now. Gauri's birthday, so will pass on all your wishes to her. Lots of love to you all and was good to hear from you on #AskSRK . Be well. Be happy. And don't forget to pray," he concluded.
Sahher Bambba to be seen in B Praak music video along with Emraan Hashmi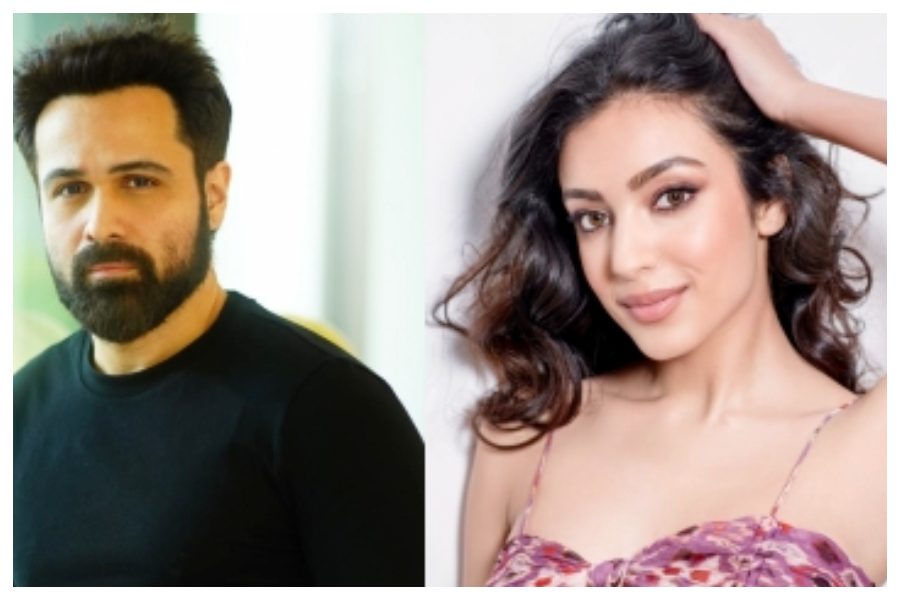 Actress Sahher Bambba, who was last seen in the rom com 'Dil Bekaraar', is set to star in a yet-to-be-titled music video along with Emraan Hashmi and performed by B Praak.
The actress has been a fan of B Praak's tracks so when the opportunity came knocking on her doors, she jumped on it.
Sharing her feelings when she first got to know about the collaboration, she said, "Working with Emraan and B Praak was a dream come true."
Talking about her love for B Praak's music, she says, "I've been a huge fan of B Praak's music. I used to listen to his music on loop and when this opportunity came my way to collaborate with Emraan and B Praak, I was on cloud nine. It was such a fun experience working with the two of them."
The song, which will soon hit the airwaves, has been produced by Raj Jaiswal under the music label DRJ Records, with the lyrics of the song penned by Jaani and B Praak, both of whom have also composed the song with B Praak going behind the mic for the track.
Lin Laishram thanks Priyanka Chopra for acknowledging lack of diversity in 'Mary Kom'
Actress Lin Laishram, who impressed audiences with her performance in the movie 'Axone', has praised Priyanka Chopra Jonas for acknowledging lack of diverse casting in her 2014 film 'Mary Kom'.

In response to a question, Priyanka completely agreed and commented that someone from the northeast should have played Mary Kom: "I look nothing like her," she had said.

This acknowledgement was received as a welcome gesture from Priyanka which was then openly appreciated by Lin who had the same point of view on it.

We got an opportunity to speak with Lin on it where she said: "It's really gracious and brave of Priyanka to finally accept this and put it out there. My admiration for her has only grown immensely. Inclusivity I feel is very hard to understand unless you are excluded."

With OTT gaining prominence, it seems that merit and authenticity are slowly getting the due importance that they deserve. I'm very thankful for this welcome change and looking forward to good work coming our way."

Lin is an international model and actress who hails from Manipur.

'Mary Kom' that was helmed by Omung Kumar, is based on the life of the eponymous boxer from Manipur who won several honours for the country.


'Chidiya Udd' was a tightrope walk for Sikandar Kher
Actor Sikandar Kher, who is gearing up for his next venture 'Chidiya Udd' has called the show a tightrope walk as the show not just caters to a mass audience but at the same time aims to clicks with the international audience.
The actor will be seen sharing the screen with Jackie Shroff, with whom he has earlier worked in 2019's 'Romeo Akbar Walter'.
Talking about the show, the actor says, "Extremely excited for 'Chidiya Udd' as it has an international feel and certainly looks like a show that will go far and wide and be worthy of a world audience. It was a very tricky tightrope to walk for all of us because with this show, we are trying to capitalize on a certain mass audience that the country has and also reach out to the global viewer."
"So there were certain dos and don'ts that came with the territory and we had to be careful with the tonality. I think we've hit the right blend of both sides. I am grateful to Harman and Vicky (the producers) for providing me with this wonderful opportunity."
The show, which also stars 'Slumdog Millionaire' actor Madhur Mittal, is produced by Harman Baweja and Vicky Bahri. Helmed by director Ravi Jadhav ('Banjo', 'Chhatrapati Shivaji' and the 'Timepass' duology), 'Chidiya Udd' will soon be available for streaming on MX Player.