Arvind Kejriwal launches 'Delhi@2047' to make Delhi 'world-class' city
Delhi Chief Minister Arvind Kejriwal on Tuesday launched 'Delhi@2047', an initiative that seeks partnership with corporate houses and philanthropic bodies to help realise Delhi government's long-term goals across sectors.
While launching the vision card for Delhi for the next 25 years, Kejriwal said the initiative is to prepare a roadmap for the development of the city in all sectors, including health and education.
He asserted that the Aam Aadmi Party government has presented a small portion of vision for Delhi till 2047 during the last annual budget, setting a target to increase Delhi's per capita income at par with Singapore by 2047.
"Through this initiative, we will prepare a roadmap for development in all the sectors to make Delhi a world-class city. In the last five years, so many developments have come especially in the health and education sectors but there are still many sectors where the city needs development on an urgent basis," the Delhi Chief Minister said.
He asserted that among the long list of vision for Delhi, many things are achievable in next one or two years and these need to be done on an urgent basis, such as cleaning of Yamuna, ensuring water availability, and tackling air pollution, among others.
There are many other things which will take long time to have impact on the ground, he said.
"During the second wave of Covid-19 pandemic, we have found that collaborative efforts of the government and private agencies have strengthened our power in fighting against the virus. With this learning, I can say that Delhi can be made a world-class city by involving the private sector," Kejriwal said.
During the virtual address, Kejriwal informed that the Delhi government has decided to set up nearly 1,000 lakes across the city.
"As of today, nearly 100 public services are being provided at the doorsteps of the people. Also, the e-vehicle policy has been introduced with a long-term vision to shift Delhi's 100 per cent fuel-run vehicles into e-vehicles," he added.
Speaking about the civic system in the national capital, the Delhi Chief Minister said the failure in waste management has always given a bad name to the country and now it has to be changed.
"Delhi represents the whole India and hence its civic infrastructure should have a world-class system. I believe that the civic system of Delhi can be improved by involving private sector. It's not rocket science, but it is achievable," Kejriwal said.
Kejriwal said that for sustainable development of the city, the Delhi government needs suggestions from the corporate sector.
"It is the beginning of preparing a roadmap for 2047 and with more ideas and suggestions the list of vision will increase," he added.
Prez Murmu to address joint sitting of Parliament first time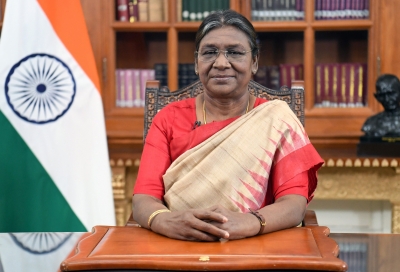 President Droupadi Murmu will address the joint sitting of Parliament for the first time since being elected to the post. She will outlay the government's vision for the current year.
The Parliament Budget session will commence from Tuesday and the Finance Minister will table the Economic survey. She will present the Union budget on Wednesday.
President Droupadi Murmu, in her first Republic Day-eve speech, hailed India's G-20 presidency, saying it is an opportunity to promote democracy and multilateralism, and also the right forum for shaping a better world and a better future.
"India holds the presidency of the Group of 20 nations. With our motto of universal brotherhood, we stand for peace and prosperity of all. Thus, the G20 presidency is an opportunity to promote democracy and multilateralism and the right forum for shaping a better world and a better future. Under India's leadership, I am sure, the G20 will be able to further enhance its efforts to build a more equitable and sustainable world order."
She said the ultimate goal is to create an environment in which all citizens can — individually and collectively, realise their true potential and prosper.
The President had also commended the roles of farmers, workers, scientists and engineers in the nation's development and also praised the armed forces and paramilitary forces.
Pawar meets LS Speaker to revoke disqualification of Lakshadweep MP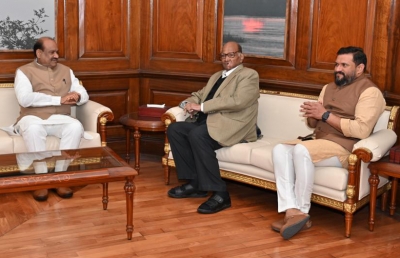 Nationalist Congress Party (NCP) leader Sharad Pawar on Monday met Lok Sabha Speaker Om Birla and urged him to revoke the disqualification of party's Lakshadweep MP Mohammed Faizal whose conviction has been suspended by the Kerala High Court.
Pawar said, "As the Kerala High Court suspended the conviction and sentence of the former Lakshadweep MP and hence we appealed to the honourable speaker to consider the matter of suspension."
He said that he met with the Lok Sabha speaker and requested him to revoke the disqualification of the NCP's MP.
The Election Commission (EC) on Friday informed the Supreme Court that it will consider the Kerala High Court order, which suspended the conviction of Lakshadweep MP Mohammed Faizal in an attempt to murder case, and take action in accordance with the law.
Advocate Kapil Sibal, appearing for Faizal, submitted before a bench headed by Justice K.M. Joseph that the by-election cannot go on as the high court has suspended the conviction of his client.
Faizal's conviction had resulted in his disqualification from the Lok Sabha. The bypoll was announced by the EC after Faizal was disqualified following his conviction in the case.
Senior advocate Maninder Singh, representing the EC, contended before the bench, also comprising B.V. Nagarathna, that the action will be taken in accordance with law against the backdrop of the high court order.
BJP govt in MP begins administrative surgery ahead of Assembly polls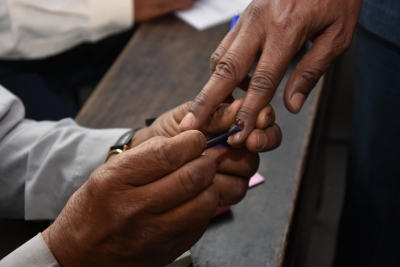 With around eight months left to the state legislative elections, the BJP-led Madhya Pradesh government has started an administrative surgery.
In a notification issued by Chief Secretary Iqbal Singh Bains late on Sunday, as many as 11 IAS officers, of them seven district collectors, have been transferred.
The transfer list issued two days before the Chief Minister Shivraj Singh Chouhan is scheduled to chair a high-level meeting with IAS and IPS officers in the state.
Gwalior collector Kaushlendra Singh has been shifted to Bhopal after being appointed as Additional Chief Secretary of Chief Minister Shivraj Singh Chouhan. Akshya Kumar Singh, 2010 batch IAS, who was serving as district collector of Shivpuri, has been appointed as new district collector of Gwalior.
Ravindra Kumar Choudhary (2011 batch IAS) will be the new district collector of Shivpuri, while Khargone collector Kumar Purusottam (2012) will be new collector of Ujjain. Notably, Kumar Purusottam was appointed Khargone collector following a communal riot in April last year. Shivraj Singh Verma (2012 batch IAS) district collector of Barwani will be replacing Kumar Purusottam.
Dr. Phatting Rahul Haridas (2012), who has been serving as collector of Shivni district, will replace Shivraj Singh Verma. Similarly, Sonia Meena, collector of Anuppur has been shifted to Bhopal and has been appointed as Additional Chief Secretary in Madhya Pradesh government.
Jabalpur Municipal Commissioner Ashish Vashishtha (2014 batch IAS) will be new collector of Anuppur district, while Kshit Singhal (2014 batch IAS), who has been serving as the CEO in Sagar Zila Panchayat, has been appointed as the new district collector of Shivni.
Sources told IANS that a major reshuffle of IPS officers, including Police Commissioner Bhopal and Indore, is likely to be announced soon. The names of SP to IG rank officers are also likely to be included in the upcoming transfer list.