Arnab's wife to SC cites Dave's silence on urgent hearing of Bhushan's plea, terms letter 'contemptuous'
The war of words has broken out in connection with the listing for urgent hearing of Republic TV editor Arnab Goswami plea on Wednesday in Supreme Court challenging the Bombay High Court denying him interim bail in 2018 abetment of suicide case.
The Supreme Court Bar Association president Dushyant Dave has strongly protested against selective listing of Goswami's plea.
While, Goswami's wife citied Dave's silence on urgent hearing on advocate Prashant Bhushan and termed his letter a malicious attempt and selective outrage to cause prejudice to the hearing her husband petition.
Goswami's wife Samyabrata Ray, in a letter to the secretary general, said she believes Dave has attempted to tarnish the reputation, the integrity, and the independence of the great institution of judiciary and has also attempted to cause prejudice to the free and fair course of justice.
"Further, I have been informed that in the case of Prashant Bhushan versus Jaydev Rajnikant the writ petition was filed on 30 April, 2020 (again under Article 32) in the Supreme Court seeking to quash an FIR registered against him by Gujarat police and the matter was listed to be heard on 1 May, 2020. Again, there was a stony silence on the part of Dave on this development," Ray said.
Earlier Dave, in a letter to the secretary general of the apex court, described selective listing of Goswami's plea as a serious issue. "While thousands of citizens remain in jails, languishing for long periods while their matters filed before the Supreme Court are not getting listed for weeks and months, it is, to say the least, deeply disturbing as to how and why every time Goswami approaches the Supreme Court, his matter gets listed instantly."
Ray said she is shocked and horrified at the extent to which certain vested interests are at work. "Neither do I know Dave, nor have I ever met him. However, the selective targeting of my husband's petition by Dave shall have to be opposed by me, given his silence on other matters which were taken up by this Supreme Court in its wisdom with urgency in the past", she said in a letter to the secretary general.
Ray insisted that Dave's selective outrage in the present case is not only prejudicial to the cause of justice for her husband "but is contemptuous as it tends to interfere with administration of justice."
Dave, citing former finance minister and senior Congress leader P Chidambaram, said even he could not get similar speed listing and had to spend long months in jail till finally the Supreme Court declared that he deserved to be bailed out. "So, likes of Goswami get special treatment while ordinary Indians are made to suffer, including Imprisonment, which are many times illegal and unauthorised", Dave added.
The hearing for Goswami's interim bail plea is in progress before a bench comprising Justice D.Y. Chandrachud and Indira Banerjee.
NCB drugs case: No bail for Aryan Khan, 2 others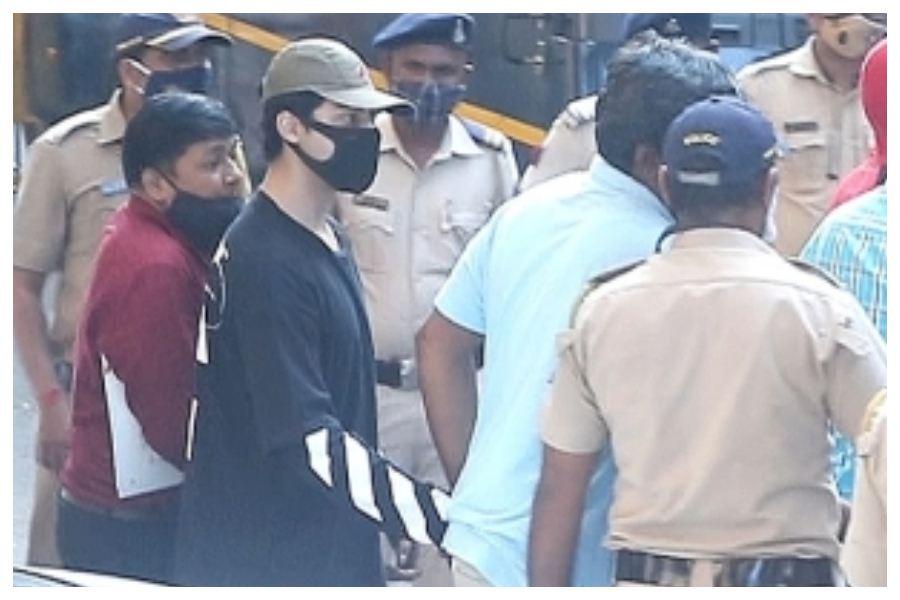 Mumbai Special NDPS Court on Wednesday rejected the bail plea of Aryan Khan, the son of Bollywood superstar Shah Rukh Khan.
The court also declined the bail applications of Arbaaz Merchant and Munmun Dhamecha, the two accused in the same case.
Khan's lawyer said that though the detailed order of Special Judge V.V. Patil is awaited, they plan to "appeal to the Bombay High Court today or tomorrow seeking bail".
All eyes on Mumbai special court, suspense over bail or jail for Aryan
The Special NDPS Court in Mumbai is the focus of national attention as the bail plea of Aryan Khan — son of Bollywood megastar Shah Rukh Khan — and 7 other youths come up for hearing later on Wednesday.
The arguments in the bail pleas of Aryan Khan, Arbaaz Merchant and Munmun Dhamecha were completed last week and Special NDPS Judge V.V. Patil had deferred the verdict till Wednesday, but the hearing of the remaining accused is pending.
The hearing comes under the backdrop of a senior Shiv Sena leader Kishore Tiwari filing a plea before the Supreme Court Chief Justice N.V. Ramana demanding a high-level probe into the affairs of Narcotics Control Bureau (NCB) and the 'violation of Aryan Khan's fundamental rights'.
Meanwhile, the NCB has reportedly found the mention of a heroine in one of the WhatsApp chats of Aryan — who has been inside the lockup or custody for 19 nights continuously since his detention on October 2 and arrest on October 3.
The NCB has reportedly counselled him and other co-accused, offered them their religious holy books like Bhagwad Gita, Quran or Bible, Aryan reportedly is full of remorse and has promised to 'reform' himself after release.
However, Nationalist Congress Party National Spokesperson and Minister Nawab Malik has challenged these claims and demanded the NCB should release videos of the purported counselling sessions instead of indulging in selective leaks.
In one of the most high-profile operations, Aryan Khan, along with 7 others was caught when the NCB team led by Mumbai Zonal Director Sameer Wankhede swooped on an alleged rave party aboard a cruise ship on October 2 evening.
During subsequent investigations, another 12 persons, including a foreigner have been nabbed in the same case, while some others have been raided or questioned.
Simultaneously, fingers have been raised at the NCB's style of working, the involvement of a fugitive and a politician, friends of the sleuths as 'independent witnesses', capped by the unprecedented plea to the CJI seeking a probe into the central narcotics agency's alleged 'mala fide doings'.
Bhopal man arrested for raping 13-yr-old girl
Bhopal Police on Monday arrested an accused for allegedly raping a 13-year-old girl. The matter came to light after a police complaint was registered. The accused has been arrested under sections 376 and 501 of the Indian Penal Code (IPC).
According to the police, the accused is known to the victim. He runs a grocery store where the victim used to visit to purchase goods.
According to the victim's complaint lodged at Bhopal's Sukhi Sevaniya police station, the accused invited the victim to his home on Saturday and allegedly raped her. He also threatened her of serious consequences if she told anyone about the incident.
However, after another person who knew the victim, came to know about the incident, she narrated the entire story to her parents.
Subsequently, they lodged a police compliant on Monday, a senior police official, Vijay Bahadur Singh, from Sukhi Sevaniya police station, told IANS.
"Further, investigation in the matter is underway," he said.