Amarinder Singh & Navjot Singh Sidhu bury hatchet, reminiscence old times, hint at bigger battles
Extending support to the protesting farmers who have been staging protests at Delhi borders for over 250 days against the three contentious farm laws enacted by the central government, Punjab Congress President Navjot Singh Sidhu on Friday said the real issue was theirs.
In his maiden speech after assuming charge here, Sidhu, who shared the stage with Chief Minister Amarinder Singh after a long break, also extended an olive branch to the protesting doctors, nurses, teachers and bus conductors, who have been on roads for their demands.
"My fights are not the issue, the farmers sitting in Delhi, the protesting TET qualified teachers, the problems of doctors and nurses and bus conductors are the real issues," Sidhu said.
Reiterating his commitment to provide the electricity to the consumers in the state at the highly subsidized rates, Sidhu, donning his trademark maroon Pathani suit with a scarf, asked his government that why the electricity was being purchased for Rs 12 per unit.
He also talked about costly power purchase pacts signed by the previous SAD-BJP government and still continuing in the Congress government.
"Choran di chori pakdi jaani chahidi ae (the thieves would be put behind the bars)," he said.
For quite some time, Sidhu has been targeting the Amarinder Singh-led government in the state by saying the state must do more for domestic and industrial consumer by giving power at Rs 3-5 per unit instead of surcharge inflated Rs 10-12 per unit, along 24-hour supply with no power cuts and free power up to 300 units to all.
Sidhu said there have been all sorts of speculations about him, but "positions are not the issue".
"Today every Congress worker has become the president, no difference between leader and workers," he said.
Remembering his ties with Sidhu's family, Chief Minister Amarinder Singh in his speech said they would work together for the state.
"I was commissioned in the Army, the year Sidhu was born. When my mother asked me to enter politics, his (Sidhu) father helped me. I used to go to his house when he was about six years old," said Amarinder Singh.
Ending speculations of differences between him and Sidhu, Amarinder Singh said, "We (Sidhu and Amarinder Singh) will work together for Punjab. Not just for Punjab, but for India. We share a long border with Pakistan…Pakistan, China and now with America's departure, Taliban in Afghanistan, all of them are going to come and sit at Kashmir's border, Punjab's border," the Chief Minister said.
Before Sidhu assumed the charge as the state President at the party office, Sidhu met the Chief Minister at the Punjab Bhawan here for the tea meeting.
The meeting between Sidhu and Singh, who had been at loggerheads, was cordial.
According to a video from the event, Sidhu greeted Amarinder Singh with folded hands and broke the ice by saying: "How are you, sir? Such a pleasure."
Amarinder Singh had invited all Congress MLAs and MPs for breakfast an hour before the new team to take charge, comprising four working presidents — Kuljit Singh Nagra, Sangat Singh Gilzian, Sukhwinder Singh Danny, and Pawan Goel.
Election Results 2022: AAP becomes national party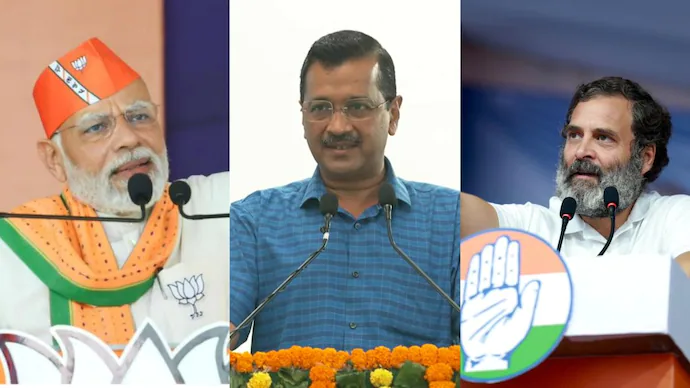 BJP is set for a record performance and a landmark victory in Gujarat and Congress was poised to form government in Himachal Pradesh according to the results and trends of the counting of votes on Thursday.
The byelection to six seats in five states also gave a mixed result with Congress and BJP leading on two seats each and BJD and RLD on one each. Samajwadi Party candidate Dimple Yadav has a massive lead in the bypoll for the Mainpuri Lok Sabha seat.
The BJP is poised to break all records of electoral performance in Gujarat, the home state of Prime Minister Narendra Modi and Home Minister Amit Shah, and is set to get the highest number of seats won by a political party in the state's history.
According to the latest information from the Election Commission, BJP is poised to win 158 seats in the 182-member Gujarat assembly having already won 79 seats and leading on 79 seats. Aam Aadmi Party has made its entry in the state assembly having won two seats and leading on two more. The party has increased its vote percentage to 12.87 per cent in an indication of its growing presence in the state.
The Congress is set to suffer its worst electoral defeat in Gujarat, having won seven seats and leading on nine.
The BJP, which has won its seventh straight election in Gujarat, is set to not only improve its own best record of 127 seats in 2002 – the first election with Narendra Modi as chief minister – but the Congress tally of 149 seats in 1985.
The Aam Aadmi Party headquarters in Delhi was decked up with colourful balloons, and music was blazing to exhibit the mood for celebrations that prevailed in the party as it will get the national status after the Gujarat Assembly election results on Thursday.
With the AAP's government in Delhi and Punjab, the party has achieved the status of a state party and the fate of becoming the national party depends on its performance in the Gujarat Assembly polls.
A political party needs to be recognised in at least four states to become the national party. To be recognised as a party in the state, it needs to win at least two seats and 6 per cent of votes.
In Himachal Pradesh, Congress is slated to win 39 of 68 seats, having won 26 and leading on 13. The BJP has won 14 seats and is leading on 12. Independents have won three seats and AAP failed to open its account in the state.
In terms of vote share in Himachal, Congress is only marginally ahead of the BJP having got 43.88 per cent of votes compared to 42.99 per cent of its rival. Others have garnered 10.4 per cent vote share in the hill state.
The Congress, which had not projected a Chief Ministerial candidate in the hill state, is planning a meeting its MLAs in Chandigarh with some of its leaders apprehending "poaching" attempts by BJP.
Celebrations began at the BJP office in Ahmedabad soon after it was clear that the party was on course to an overwhelming victory in the state. Congress workers also celebrated the party's performance in Himachal Pradesh.
Incumbent Gujarat chief minister Bhupendra Patel is set to take oath as chief minister of the state for the second time on December 12.
"The results of Gujarat elections are quite clear. People have made up their minds to further continue with the journey of development in Gujarat. We humbly accept the mandate of the people. Every worker of BJP is committed to public service," he said.
BJP president JP Nadda congratulated Bhupendra Patel, party's Gujarat chief CR Paatil and all the workers of state BJP for the party's landslide victory in the state.
Alpesh Thakor, BJP's candidate from Gandhinagar South seat said BJP has developed Gujarat.
"We will serve the people of Gujarat. It's a bumper win. We said earlier also that we will win over 150 seats," says Alpesh Thakor," he said.
Himachal Pradesh Chief Minister Jai Ram Thakur has tendered his resignation to the Governor.
"I respect people's mandate. I want to thank Prime Minister and central leadership (for their support) during last 5 yrs. We'll stand for the development of the state irrespective of politics. We'll analyse our shortcomings and improve during the next term," Thakur told media persons in Shimla.
Congress in charge of Himachal Pradesh Rajiv Shukla said the party will implement 10 guarantees in the state.
Congress leader Sukhwinder Singh Sukhu said that the party will form government in the state.
"BJP considered itself strong in Himachal Pradesh, PM Modi and Amit Shah visited the State several times. Congress is going to form the government with a full majority," he said.
Gujarat rejected those who engage in politics of empty promises and appeasement: Amit Shah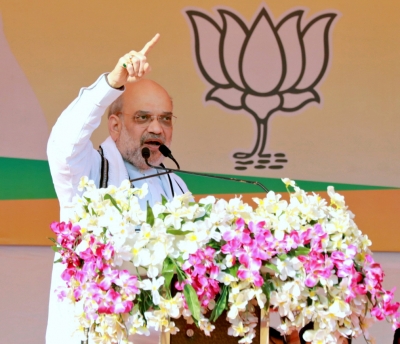 Reacting to the BJP registering a historic victory in Gujarat, Union Home Minister Amit Shah tweeted that Gujarat had rejected those who engaged in the politics of empty promises and appeasement.
Shah said that he salutes the people of Gujarat for the historic win.
He tagged Chief Minister Bhupendra Patel and state BJP president CR Patil in a tweet and congratulated them and all the BJP workers who worked tirelessly for the victory under the leadership of Prime Minister Narendra Modi and the chairmanship of JP Nadda.
Shah said that Gujarat had given an unprecedented acceptance to Modi's BJP, which worked for development and public welfare.
The Home Minister said that the massive victory showed that every section of the society, be it women, youth or farmers, was wholeheartedly with the BJP.
He said that Gujarat had always created history, adding that, the party broke the records of development in the state under Modi's leadership in the last two decades, which is why the people blessed the party.
This is the victory of the people's unwavering faith in Modi's Gujarat model, tweeted Shah.
Fake post on Shraddha Walkar-like case goes viral in Assam; police clarifies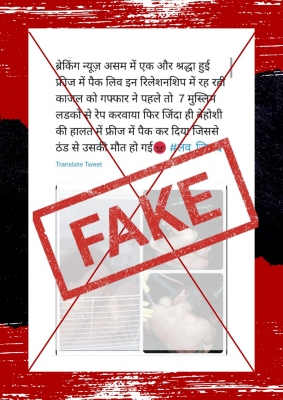 With an aim to disturb communal harmony in Assam, a group of unidentified miscreants on Wednesday shared a post on Shraddha Walkar-like case on social media.
Taking swift action, the state police termed it "fake" news and said that it was taken from a Portuguese blog.
The miscreants claimed about a Shraddha-like incident in Assam and termed it 'Love-Jihad'.
"A girl named Kajal who was in a live-in relationship was first raped by seven Muslim boys and then packed alive in a fridge where she died of hypothermia. Her live-in partner Ghaffar and his companions used to take the body out of the fridge and indulge in necrophilia daily."
The cyber cell of Assam police quickly jumped into action and found the post to be fake.
In a Twitter post, Assam police wrote, "An image from a Portuguese blog of 2010 is being shared with a completely false context on Social Media. Appropriate action will be taken against those found sharing such messages."
Meanwhile, a senior police officer urged the netizens for staying extra cautious while reacting to this kind of social media posts.
An investigation is underway.