Actress Shruti Haasan: My dad never punished, yelled at me
Actress Shruti Haasan says her father and actor-politician Kamal Haasan has never punished or yelled at her.
Shruti was treating her fans with a question-and-answer session, where one user asked the "worst punishment" she has got from her father.
Shruti replied: "My dad never punished, yelled at me. He wasn't like that. He was always using reason and logic, but I think I once made a mistake and he was like 'I am so disappointed'."
A second fan asked about Kamal, to which Shruti said: "He's very well. He's in Chennai isolating himself and doing well."
The actress, who is also known for her vocal prowess, said if given a choice between heavy metal and grunge rock, she would choose "heavy metal".
She added: "If I had to listen everyday… yeah… probably… without a doubt actually."
What's the first thing you would do when the lockdown ends, one asked.
"I would definitely go back to work. I miss working and I will go to work only when it's safe," she said.
Talking about her Telugu film "Gabbar Singh" completing eight years, Shruti said she feels lucky to be a part of such a super hit movie.
"It feels so good. I feel really lucky and blessed to have been part of such a big superhit movie… it changed a lot of things for me," she said.
NCB 'visits' SRK, Ananya Pandey's homes; conducts raids in Andheri
In a major development, teams of Narcotics Control Bureau (NCB) paid a formal 'visit' to the residences of Bollywood megastar Shah Rukh Khan in Bandra west, and actress Ananya Panday in Khar west, and raided a location in Andheri on Thursday as part of the ongoing probe into the October 2 luxury cruiser rave party.
"The NCB Mumbai Zonal Unit officials visited 'Mannat', the residence of Aryan Khan in connection with the (Cr.94/21 case) for seeking certain material related to the investigation of the case from Shah Rukh Khan, by following due procedure of notice, etc.," said NCB Zonal Director Sameer Wankhede in a statement later.
He also dismissed reports in sections of the media dubbing the NCB trip to the superstar's sea-facing bungalow as a 'raid'.
The development, which grabbed national attention, came shortly after the Bombay High Court this morning decided to take up his son Aryan Khan's bail plea on next Tuesday, October 26.
Simultaneously, Ananya Panday — daughter of Bollywood actor Chunky Panday and granddaughter of the renowned heart surgeon, the late Dr. Sharad Panday — has been summoned to the NCB offices this day for the probe and the actress.
The NCB has claimed that her name apparently figures in some WhatsApp chats of Aryan Khan recovered by the agency, along with others.
As part of its probe into the cruise ship party raids, the NCB has arrested a total of 20 persons so far, and more arrests are not ruled out.
It may be recalled that Nationalist Congress Party National Spokesperson and Minister Nawab Malik had last week claimed that among various Bollywood bigwigs targeted, Shah Rukh Khan was also on the radar of the central probe agency with sleuths keeping a watch on 'Mannat' in recent weeks.
Bombay HC to hear Aryan Khan's bail plea on Oct 26
The Bombay High Court on Thursday posted to October 26 the hearing of the bail application of Aryan Khan, arrested in a drugs case by the Narcotics Control Bureau.
The matter came up before Justice N.W. Sambre with Khan's lawyer Satish Maneshinde seeking urgent hearing on Friday or Monday.
However, Justice Sambre decided to take up the matter on Tuesday next, and Aryan Khan may have to spend five more days in custody.
Khan, the son of Bollywood superstar Shah Rukh Khan, has challenged a ruling of the Special NDPS Court on Wednesday, rejecting his bail plea, along with co-accused Arbaaz Merchant and Munmun Dhamecha.
NCB drugs case: No bail for Aryan Khan, 2 others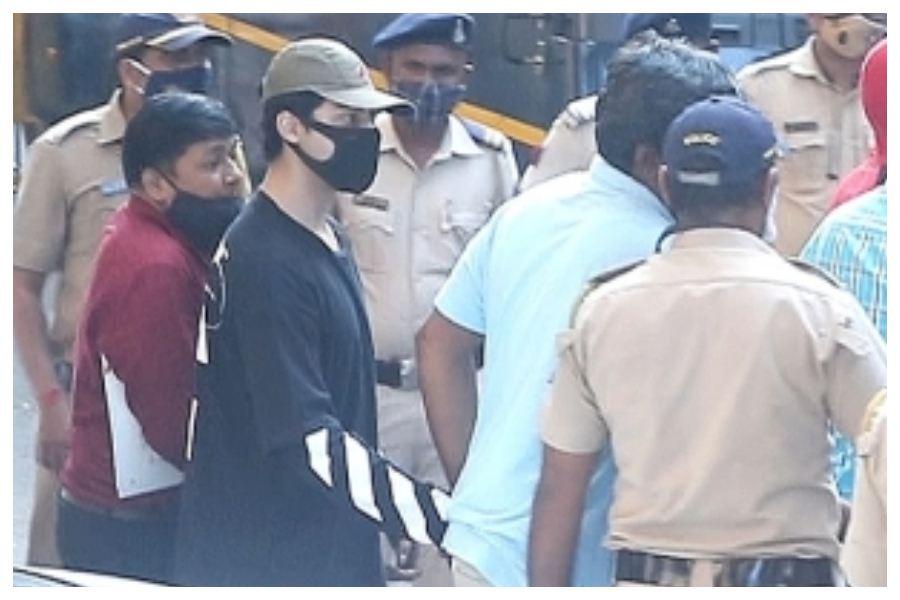 Mumbai Special NDPS Court on Wednesday rejected the bail plea of Aryan Khan, the son of Bollywood superstar Shah Rukh Khan.
The court also declined the bail applications of Arbaaz Merchant and Munmun Dhamecha, the two accused in the same case.
Khan's lawyer said that though the detailed order of Special Judge V.V. Patil is awaited, they plan to "appeal to the Bombay High Court today or tomorrow seeking bail".