2 Men who conned pensioners pan India of lakhs held
The UP Cyber cell has arrested two persons who posed as treasury officials and duped retired government officials.
Five members of their gang are still at large.
The two arrested, identified as Pramod Mandal and Mantu Kumar Mandal, had allegedly duped several people in Telangana, Andhra Pradesh, Delhi, West Bengal, Maharashtra, Madhya Pradesh, Karnataka, Odisha, Rajasthan.
The Cyber cell officials said that in Uttar Pradesh alone, the gang had duped persons of Rs 5 crore in the past one year.
The two were arrested from Kolkata in West Bengal by the cyber cell. The police also recovered different SIM cards, bank ATMs, Bluetooth sound systems, from their possession.
Pramod belongs to Dumka in Jharkhand, and Mantu is also from Dhanbad.
Additional Director General of UP Cyber Cell, Ram Kumar, said Pramod Mandal was the mastermind who had been booked in 36 cases of duping retired government officials. Kumar also said the arrested duo used to call their targets while impersonating as treasury officer or officer looking for the pension and other allowances that a retired employee is used to get from the department.
The cyber cell of the UP police got active after it received complaints from retired police pensioners of being duped.
Pensioner Chhote Lal was duped of Rs 11 lakh, while Ram Lakhan Chaudhary of Rs 10 lakh and Udaiveer Singh of Rs 10 lakh. All three were duped within a period of three months.
Several similar complaints were reported in the district cyber cell units of Lucknow, Hardoi.
In Lucknow, a retired secretariat official was duped of Rs 53 lakh.
"They easily tricked the target and used it to secure the password of their ATM or details of the bank account. Thereafter, the money was transferred in e-wallets which they encashed," said Kumar.
Another police official of the cyber cell said that each member in the gang was assigned a particular work like getting fake bank accounts opened, procuring fake SIM cards, making calls to victims, informing about police movement and for bank work to encash the money obtained through fraud. They were given the share of money as per the importance of their work.
Police said Pramod had formed a gang employing several of his kin and his distant relatives.
Efforts are on to arrest the remaining members of the gang.
Lingayat mutt sex scandal: Accused seer denied bail, custody extended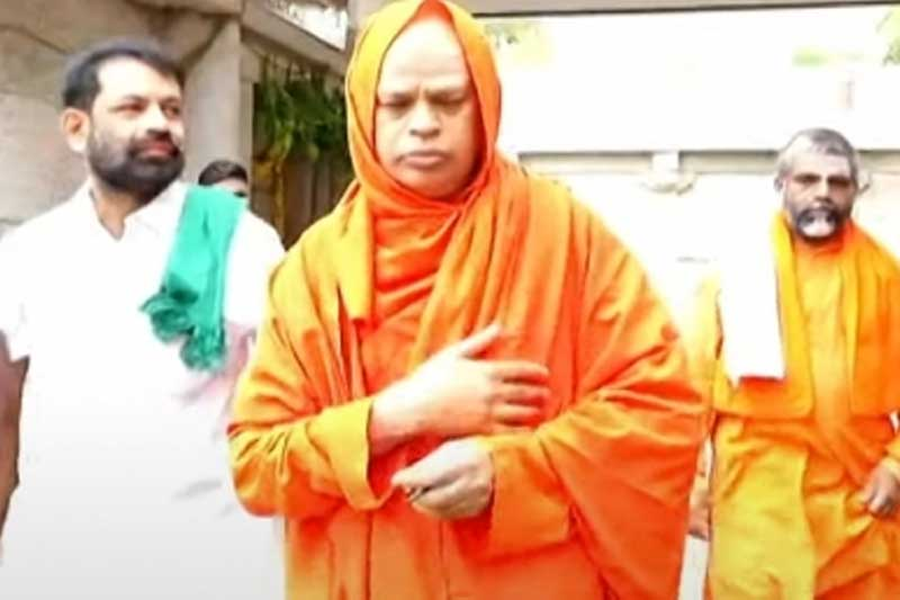 Denying bail to rape accused Lingayat seer of the Chitradurga Murugha Mutt, a court in Karnataka's Chitradurga district extended the Shivamurthy Murugha Sharanaru's judicial custody till October 10.
Second Additional Sessions Judge B.K. Komala has also extended the judicial custody of accused number two, hostel warden Rashmi, till October 10.
As the accused seer's judicial custody ended on October 10, he was presented before the court and after its order, he was taken to the Central Jail in the district.
The court had earlier rejected his plea to consider bail on medical grounds and also denied him special permission to have food from the Mutt and conduct worship during the imprisonment.
Meanwhile, Veerashaiva-Lingayat leaders have called a meeting on September 29 to discuss on the accused seer's decision not to step down as the head of the Chitradurga mutt in spite of the serious allegations under the Protection of Children from Sexual Offences (POCSO) Act and the Scheduled Caste and Scheduled Tribes (Prevention of Atrocities) Act.
The mutt, one of the richest among the Lingayat mutts, has 3,000 branches all across the country and runs more than 150 premier education institutions.
The letter circulated among leaders of the community states that as the accused seer is not coming forward to step down, it would affect the heritage and prestige of the mutt, sources said.
Actresses Nikki Tamboli, Sofia Singh taken to Tihar Jail to recreate meetings with Sukesh
Two actresses — Nikki Tamboli and Sofia Singh — were taken inside the Tihar Jail to "recreate" their alleged meeting with conmon Sukesh Chandrashekhar, a senior Delhi Police official said Tuesday.
"It was part of the ongoing probe into the Rs 200 crore extortion case related to Sukesh Chandrashekhar," the official said.
Chandrashekhar, presently lodged in Jail No. 3 of the Tihar Jail, was arrested last year for allegedly cheating and extorting money from some high-profile people, which includes former Fortis Healthcare promoter Shivinder Mohan Singh's wife Aditi Singh. Many women Bollywood actors and models have been questioned by the Enforcement Directorate for their alleged links to Chandrashekhar.
In April 2021, he was arrested in another money laundering case linked to the 2017 Election Commission bribery case, which allegedly involved a former AIADMK leader and others.
Notably, the Enforcement Directorate, recently in an application in Supreme Court, had mentioned that accused Sukesh has repeatedly committed offences, including that of money laundering during his incarceration in jail by subverting the legal system and prison rules with the help of his knowledge of technology and his "ability to con people".
According to the sources, 'Big Boss' fame Nikki Tamboli, 'Bade Acche Lagte Hai' fame Chahat Khanna, Sophia Singh, and Arusha Patil met Chandrashekhar in the jail premises and he introduced himself as a producer of the southern film industry.
A source said that Chandrashekhar's aide Pinky Irani, who was arrested later, had facilitated their meetings with Chandrashekhar. All these four actresses were given expensive gifts of renowned brands such as Gucci, Versace, and Louis Vuitton.
Chandrashekhar also transferred some Rs 5.20 lakh into the account of Patil, who has admitted to have met him but not in the jail. When Irani introduced Khanna to Chandrashekhar, the actress was allegedly given Rs 2 lakh and a blue-coloured Versace watch.
Chandrashekhar allegedly deposited Rs 2 lakh into the account of Singh and later gifted her an LV bag. She was, later on, given Rs 1.5 lakh more.
Irani got an amount of Rs 10 lakh from Chandrashekhar for introducing him to Tamboli, and she gave Rs 1.5 lakh to Tamboli. Later on, Chandrashekhar gave her a Gucci bag and Rs 2 lakh on their first meeting.
Ankita Bhandari's body found from Uttarakhand's Chilla canal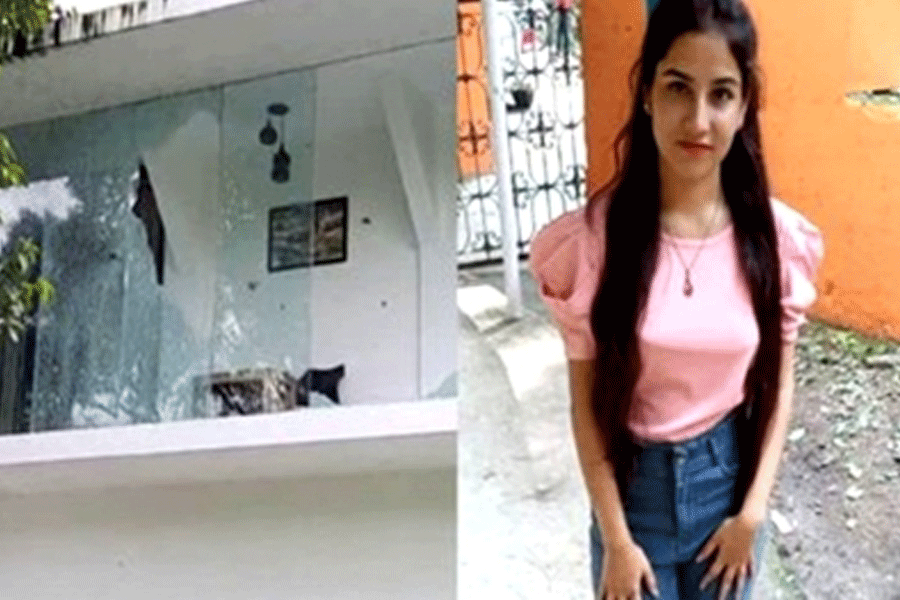 The body of Ankita Bhandari, a 19-year-old staffer at a resort in Uttarakhand who went missing a few days ago, was recovered from the Chilla canal in the state on Saturday and Chief Minister Pushkar Singh Dhami has ordered an SIT probe led by DIG P. Renuka Devi to probe the murder.
The prime accused in the case is BJP leader Vinod Arya's son Pulkit Arya.
Ankita, a resident of Dobhin Srikot, who used to work in the Vantara resort in Uttarakhand's Pauri Garhwal. She went missing on September 18.
The BJP has removed Vinod Arya as well as his other son Ankit following the incident.
Taking to Twitter, Dhami poste:, "Today morning, daughter Ankita's body was recovered. Heart-broken with this heart-wrenching incident."
On directions of the Chief Minister, the JCB razed to ground accused's illegal resort on Friday night.
Strict action will be taken against the officers who were involved in the illegal construction of the resort, Dhami said.
"It is our resolve that the those guilty of this heinous crime will bot be spared," he added.
Ankita's family had lodged a missing complaint on September 21 with the revenue police and on the District Magistrate's direction, the matter was trasferred to regular police the next day.
Taking cognisance of the incident, Ashok Kumar, Director General of Police, Uttarakhand, had directed the Superintendent of Police, Pauri for a speedy investigation into the incident.
Following their arrest, they told the police that after murdering Ankita, they threw her body in Chila Shakti canal.
Under the guidance of DGP Uttarakhand, the SDRF started search for Ankita in Shakti Canal, Chila Power House.
SDRF rescue team has been searching the spot and the deep divers were also looking for the body in the bottom of the canal.
The search operation had resumed this morning during which the body was found.
The body has been handed over to the district police.